Family camping trips have forever been a quintessential part of life down under and many of us Aussies keep fond memories of trips up and down the coast or out to the bush from years gone past.
It's a time to disconnect from the hustle and bustle of everyday life, to switch off the phones and spend some quality time together in nature. Not only do these trips help bring us closer together, but they also provide us with a much-needed mental recharge.
As the tough times continue, more and more of us have been missing out on our usual family camping getaways. Here at BCF, we believe it's important to remember that we can still make the most of what we have at home. So, if you have a backyard or outdoor area, why not try camping at home?
If you're thinking of trying it out but aren't quite sure what gear you need to make camping fun at home, we've put together a few essential tips for the perfect backyard camping experience!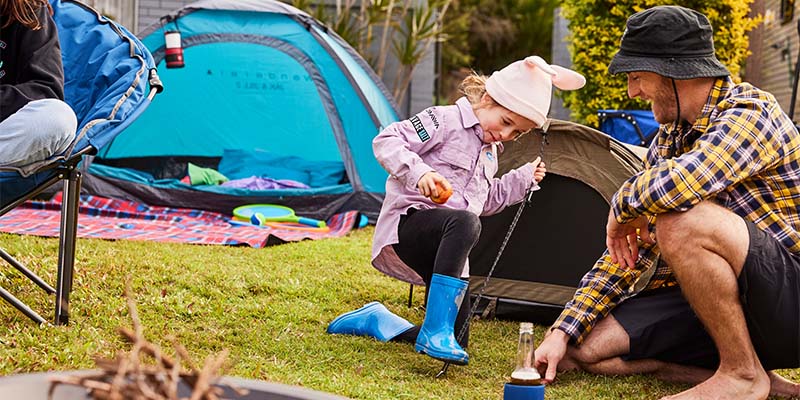 1. Somewhere to sleep
The first (and arguably most important) thing you will need is somewhere to lay your head for the night. If you're camping with kids, there's nothing more fun than a tent sleepover! We recommend a small, easy to set up instant tent like the Wanderer Jak and Jill 2 Person Dome Tent. It's an easy one for the little tackers to help out with and has more than enough room for a couple of rugrats.
If Mum & Dad are brave enough to camp out too, a double swag is an easy and comfortable option for the night.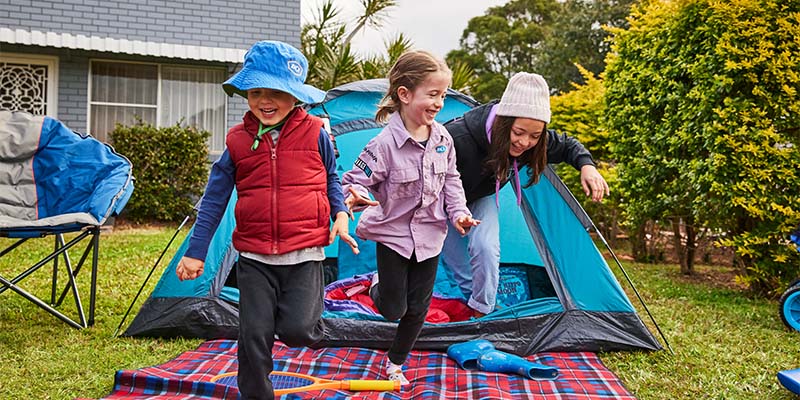 2. Get comfy!
Now that your shelter is sorted, it's time to make it feel like home. The best part about camping in the backyard is that it isn't far to go to your real bed! For the kids, their favourite pillows and blankets are a must, and hot tip – the more the better! The idea is to make it as comfortable and cosy as possible (toys are a bonus)!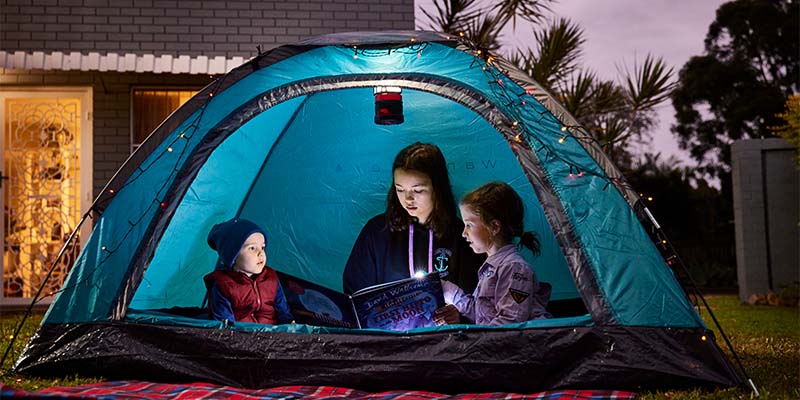 3. Light it up!
You've probably set up your shelter in daylight but beware that it can get pretty dark out there if you aren't prepared! If you have a backyard floodlight that can be handy, but why not get a bit more creative and string some fairy lights up around the tent or through any surrounding trees. This adds to the atmosphere and the young ones will have a blast switching them on! Lanterns and torches are also useful, especially for inside the tent at night.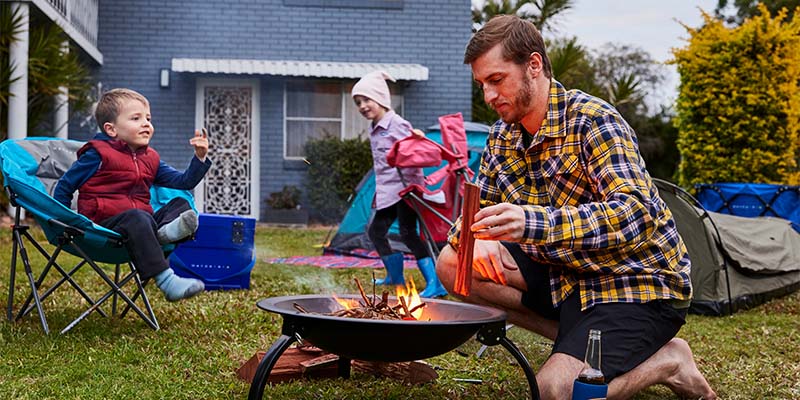 4. Build yourself a campfire
Poking at a campfire with a stick is one of life's simplest pleasures, and there's no better way to disconnect than by watching a few hours of the bush telly. A fire pit is an ideal piece of kit to have here so you can keep the grass from burning and restrict the size of the flames. If you're really trying to get into the spirit of things, throw a grill over your fire and get cooking! Flame-grilled steak or snags are always a crowd-pleaser, and for something nice and easy, why not try out one of our famous jaffle iron recipes. If you can't have a fire, a good old-fashioned BBQ is the next best thing.
Before you start the fire, ensure you have a bag of marshmallows and a set of marshmallow forks or sticks close by. These are going to come in handy for dessert!
Please check your local fire restrictions if you are in a metro or fire ban area.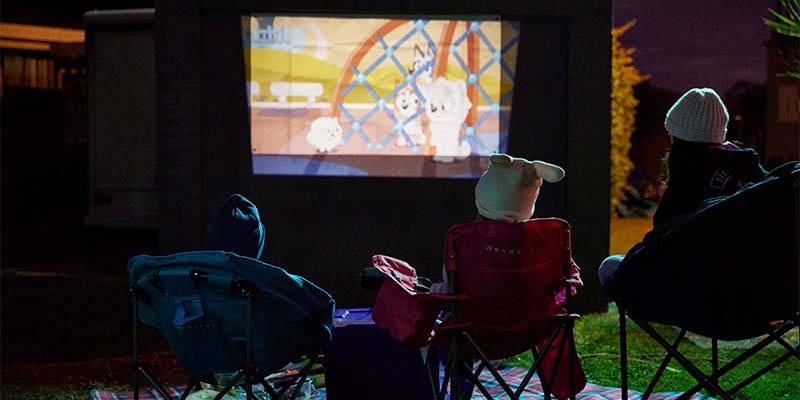 5. Entertainment is everything!
As any parent will know, there's no point going to the effort if you can't keep the kids entertained! It's important to set up plenty of games to play to stay busy. Think cricket, footy, hopscotch, board games, any of your usual favourites. It's also a good chance to add some education to your experience, and books make for a great pre-bedtime activity.
If the games and books aren't enough, why not try a movie night? Get yourself a little home projector and watch any wall turn into a movie theatre! Make sure to have plenty of snacks and pillows on standby.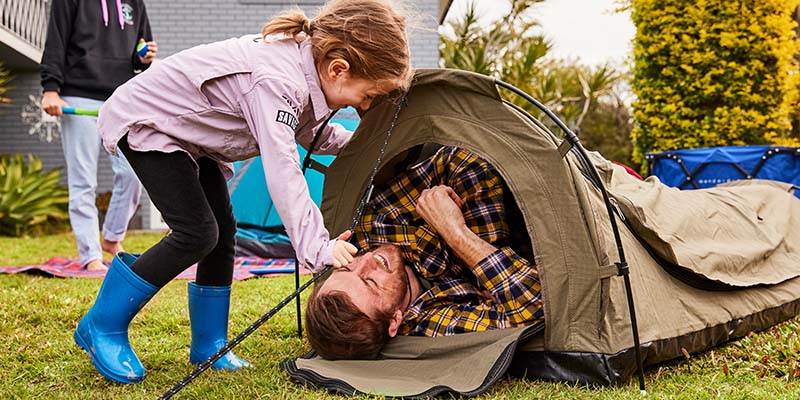 6. Test your gear out
A backyard camping experience doesn't have to be all for the kids. These campouts are a great chance for the more seasoned campers out there to put some new gear through its paces. Practising setting up, testing out the new chair, or trying that camp cook recipe you've been wanting to have a crack at are all great benefits of a night out the back.
So there you have it, the perfect backyard campout. There's no reason why you can't make a few new family camping memories this year and remember - there's never a bad time to disconnect… Even if it is just for a night in the backyard!