The thrill of seeing a hungry trout chase down your lure in crystal clear water before going 'SMACK' is something that every fisho should experience. There isn't a lot that beats the experience of catching trout in the skinny stuff - from the lush scenery to the aerial displays of a big brownie or rainbow. And most importantly, walking a stream and flicking lures is a great way to unwind and escape the hustle and bustle of everyday life. For those yet to try their hand at trout fishing in a small stream, we're sorry to say you're missing out! Don't fret though, the BCFing experts are more than happy to help guide the way and have pulled together all the info you'll need to hook up with one of these little foreigners the next time you head out with rod in hand.
Good things come in small packages!
Where to fish?
It might be hard to believe given their popularity as a species, but trout aren't a native fish to Australian waters. These little beauties were brought over in the mid-60s from Europe and would rather swim around in our cool, highland streams than join the other foreigners rolling their towels out on Bondi. Over time trout have spread to inhabit the many highland streams in both the mainland and Tassie and are a super popular target in Victoria's High Country and in the Snowy Mountains in New South Wales.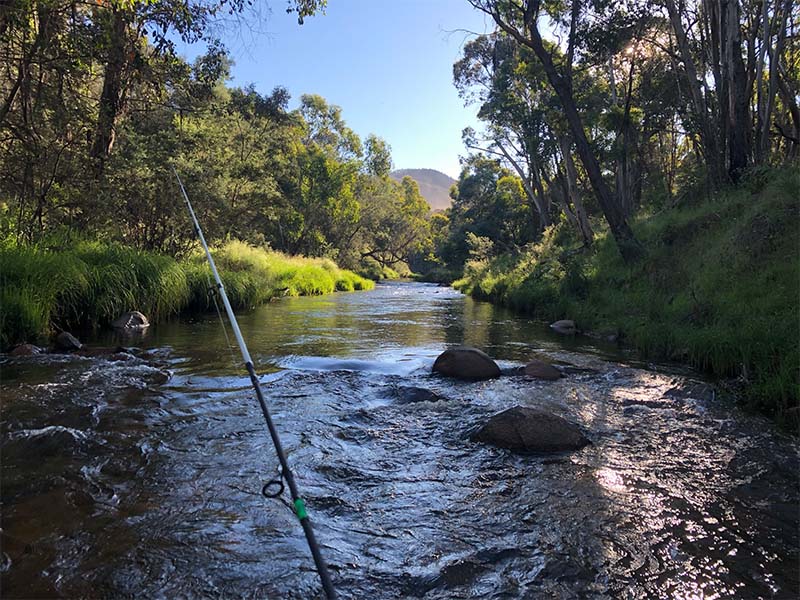 Good trout streams have a mixture of deep pools and shallow rifles.
Some of the most well-known trout waters such as the Mitta-Mitta River and the Thredbo River all have a massive number of little streams flowing in and out of them and are a great place to start your journey. The Steavenson and Acheron are both great trout streams and are very accessible to Victorian fishos of all shapes and sizes, yet this can be a blessing and a curse. Trout are a species that have their wits about them and will become harder to catch once they encounter a fisho or two. Therefore, it pays to move away from the beaten track and find water that isn't hit as hard. Although it can be hard work, at the end of the day it all pays off when you catch that trout of a lifetime. A great way to find hidden streams is to jump on google maps and look for smaller streams that flow away or into the bigger rivers that trout call home. There are often tracks that provide access to harder to reach sections of the river, so load up your 4-wheel drive and get ready for an adventure!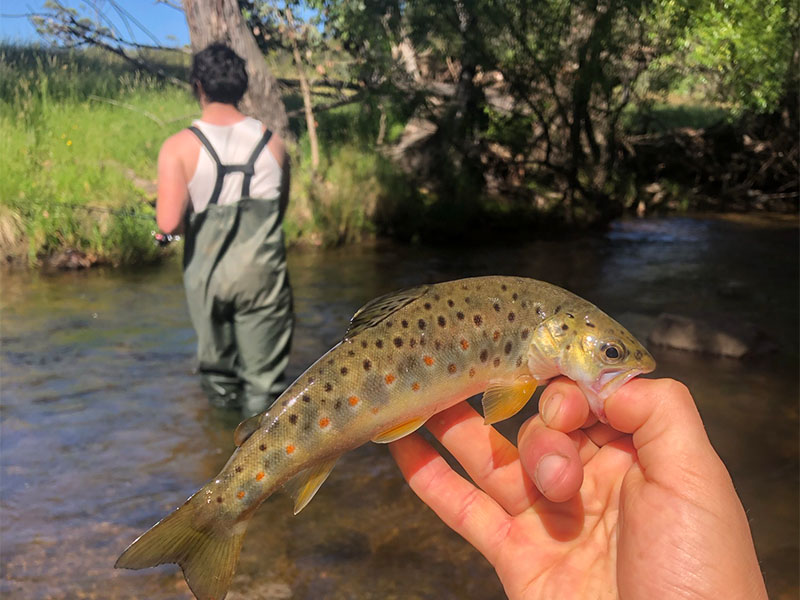 Even on the hot days, waders always come in handy.
How to identify a 'fishy' stream?
Fishing streams that see less fishos and hikers will usually hold more aggressive fish so it's always a good idea to head off the beaten track or walk that extra mile when hunting trout. Trout are also a lover of underwater cover. This protects them from birds and other predators while also providing the perfect ambush points to smash minnows, bugs, and hopefully your lure! Once you've arrived at your spot look to see if the stream has a good mixture of shallow riffles (fast running water) and slow-moving deep pools. Lots of structure in the water is also a good sign, and clear water will always be better when fishing with lures. If the stream you're fishing has all of these elements, you're in for a good day!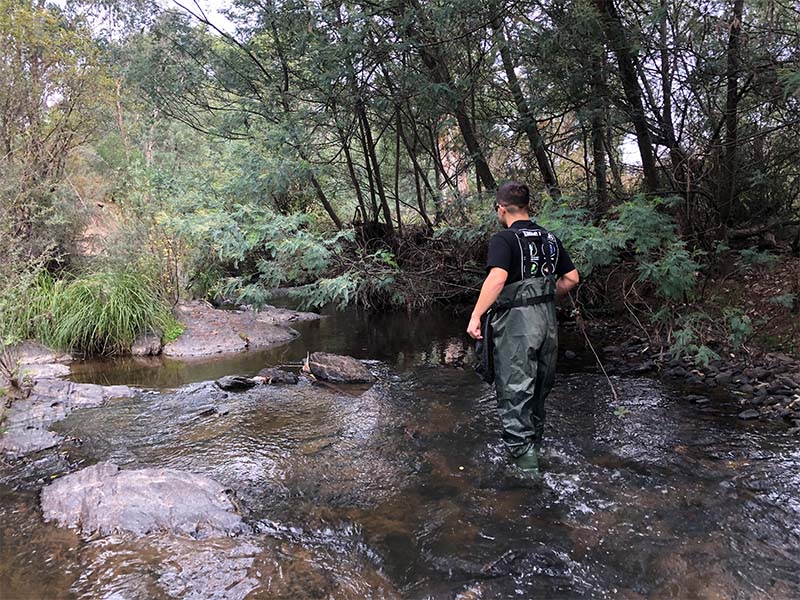 Stealth is the aim of the game, wear dark colours and tread lightly.
What gear to use?
Trout fishing in the streams requires ultra-light gear. Pairing a 1-3 kilo rod with a 1000 size reel will let you throw the tiny lures required to tempt a hungry trout. A shorter rod is best as many of these small rivers are surrounded by overhanging vegetation. A graphite spinning rod around 7 foot will do the job well, but if you really want a weapon for the streams, check out this Daiwa Exceler Spinning Rod that sits pretty at 6 foot 6.
Mepps spinners and trout streams, a match made in heaven.
Braid or Mono?
Braid and mono both have their own advantages, yet personal preference will play the biggest part in the line that you choose. Monofilament line has more stretch than braid, acting as a shock absorber that reduces the chance of you pulling hooks on a jumping trout. It's also more abrasion resistant than braid. Braided line is much thinner than its mono counterpart for the same breaking strain, which helps when you need a little extra distance in your cast. This is a reel bonus when you're trying to remain as stealthy as possible. Ultimately you can't go wrong with either, just make sure that you're using line that is as light as possible in either 4- or 6-pound breaking strains.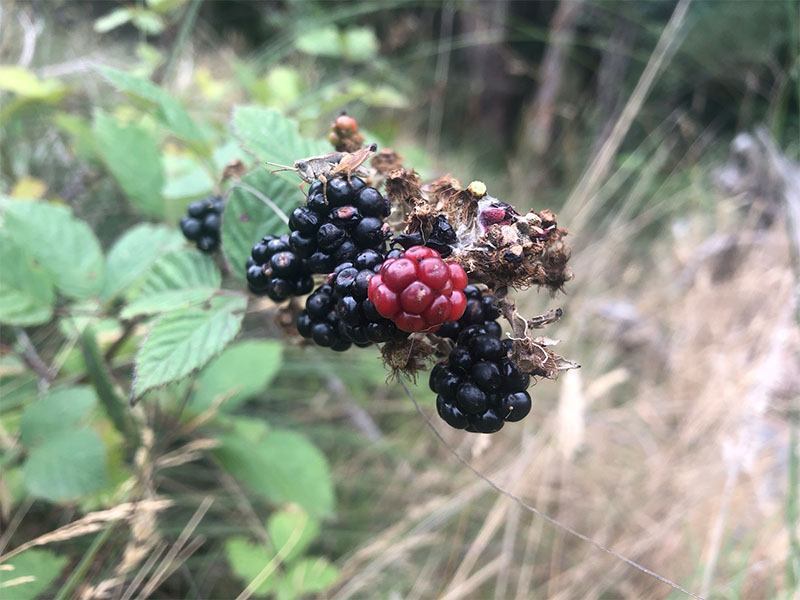 Most good trout streams have blackberries nearby. Buyers beware - some of these are sprayed with toxic chemicals so you might be better off bringing a packed lunch
What are the best lures to use?
In the skinny water there are three main types of lures you should have in your arsenal. These are inline spinners, small hardbody lures, and soft plastic lures. Spinners are a great way to fish small streams as they are inexpensive and easy to fish. Mepps have a great range of spinners that are perfectly suited to trout fishing in small streams. Small hardbody lures are great for 'matching the hatch'. They look like small trout and come in floating, sinking and suspending variations. Hard body lures up to 5 centimetres long are optimal for tiny trout waters. Rapala lures come in a large range of colours that are sure to get the attention of a brown or rainbow trout. Finally, there are soft plastics which have a lifelike look and feel, these are great for when the trout are finicky as they offer a very realistic presentation. Small paddle tail minnows work extremely well. Check out the range of soft plastics that Daiwa have on offer, you're sure to pick a winner.
All smiles for a ripper brownie!
Spinners are a great way to target a hungry trout.
What clothes and accessories will I need?
When trout fishing in streams you'll often find yourself in thick brush, far away from your vehicle. So, it's important that you bring everything you need with you. A small tackle bag or trekking bag will allow you to carry all the gear that you'll need. Most come with a few tackle trays for all your lures, as well as plenty of space for drink bottles and some snacks. A small net such as a kayak net is another trout fishing essential and will ensure that you don't lose fish. Pliers are another essential piece of kit to bring with you as they will enable you to unhook your fish for a quick release – which is highly encouraged when trout fishing. If you do choose to keep a fish or two for the smoker, a hessian wading bag clipped to your tackle bag will keep fish fresh while you continue casting.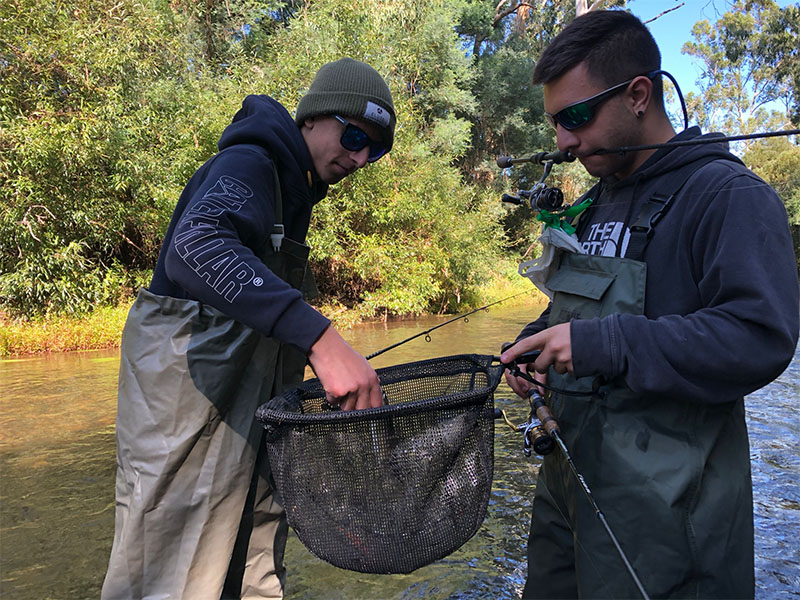 Trout fishing essentials - a good net, and a good mate.
Polarised sunglasses are another must-have item to take with you on your next trout fishing adventure. Spotters, Maui Jim, and Mako offer high-quality polarised sunnies that will cut out glare and allow you to see more detail under the water. A pair of waders will keep you dry as you wade through the water, and the attached gumboots offer some protection from sharp objects and snakes. It's also a bright idea to bring a snake bite kit along with you just in case.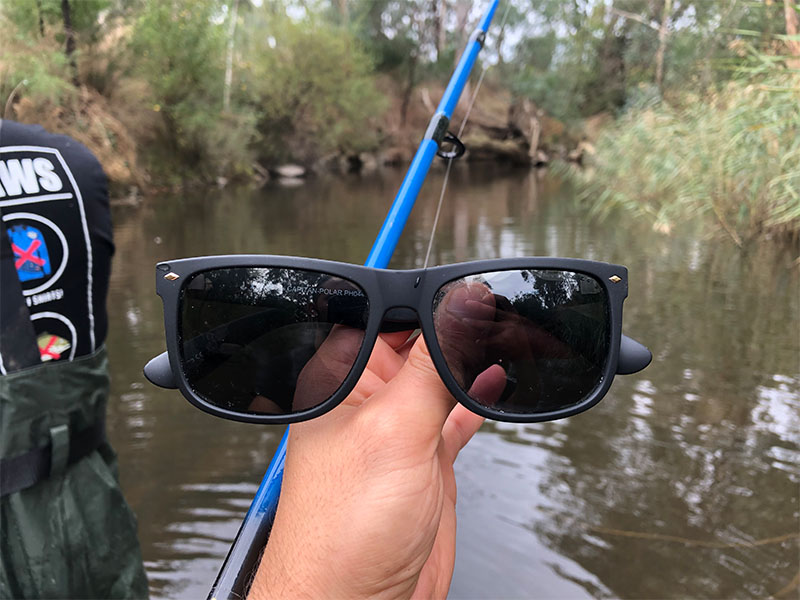 A good pair of polarised sunnies is a prettty bright idea.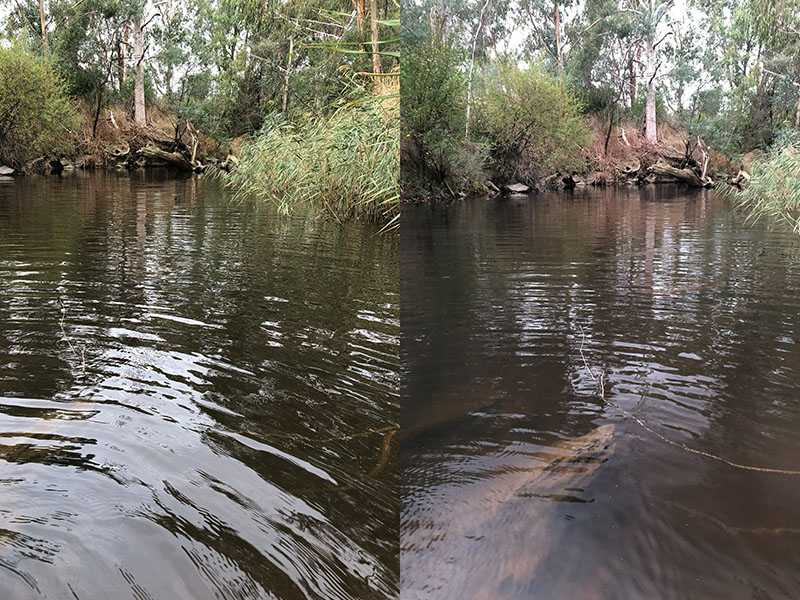 What a difference polarised sunnies make!
How to fish a stream for best results?
So, you've got all your gear together and you're standing on the banks of some bonza trout water, now what? The way you work a stream can be the difference between catching plenty of fish or no fish at all. The following tips will help you make the most of your trout fishing.
Cast and move upstream (against the flow). Trout sit with their heads facing into the current, waiting for food to wash past. It's important that you sneak up behind the trout and cast your lures in front of their faces, dragging it past the fish as you retrieve it.
Cast as close as possible to structure. Undercut banks, rocks and fallen logs are all great places for trout to hide.
Put in a few good casts and move on. A couple good casts is all you need! If the fish don't hit the lure on the first few casts they probably never will, so keep moving.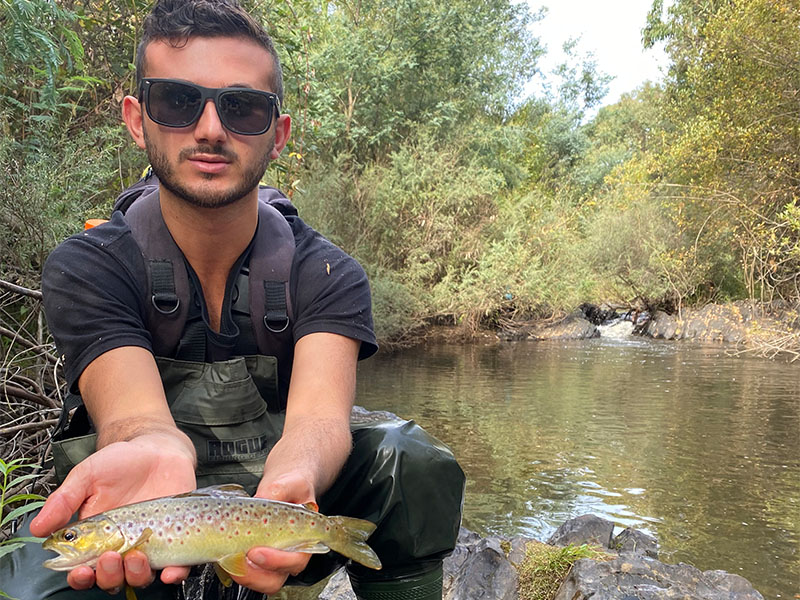 Catch, snap a good pic, and release.
The best part of fishing for trout in streams is the adventure that comes along with this craft. Trout fishing in streams can take you to some cracker places, and with only a tackle bag and a few lures you can have a ball!