Author: Nige Webster
Barramundi are one of the most iconic species to target in Australia. When you consider they can be caught in the fresh or salt water, fight with gusto and grow to epic proportions, it's pretty easy to see why.
On top of all that, the salt water variety taste incredible and they can be caught on a range of baits and lures. For the purpose of this article though, let's take a look at targeting barra concentration points with prawn, shrimp and cherabin soft plastics.
I can vividly recall a day when I hit the water with Troy "Dicko" Dixon from Wilson Fishing with a goal in mind: we were to test the award winning Zerek Cherabin lure on wild Queensland barramundi.
The act of thoroughly using a particular lure for an extended period always teaches plenty about its capabilities but it also educates in how to best catch fish given certain scenarios; this trip was no different.
We targeted barramundi of the Fitzroy River around Rockhampton with nothing other than the well renown Cherabin lure. The plan was to spend a few days exploring the capabilities of a soft prawn or cherabin imitation lure when it came to wild barramundi.
Being that these lures are made to be rigged light and weightless or adapted to fishing deeper situations, we knew we stood a good chance of tempting a few fish: we just had to find where and how the fish were feeding.
Buyer's guide – prawn imitation lures.
There are several soft prawn, shrimp and cherabin soft plastics available to anglers these days and they provide a versatile approach to targeting a range of species in both the fresh and salt.
Some standouts include the aforementioned Zerek Cherabin, Savage 3D Shrimp, Zerek Live Shrimp, Zerek Shrimp Hot Legs, Berkley Gulp Shrimp, Zman Shrimpz, Live Target Fleeing Shrimp and the Shimano Squidgy Prawn Paddle Tail among others.
The lure we focused on was the Zerek Cherabin and can be purchased in 4 and 6 inch sizes. The lures come equipped with pre-rigged weedless systems and the larger lure contains an additional standard jighead: this allows it to be rigged conventionally but in a manner that enables the lure to be used in deeper water.
The lure has been developed with a wide body profile, long appendages and a segmented and loosely jointed tail. It looks like a real animal and provides a seductive fluttering action as it falls through the water. The lure does not have to be aggressively jigged to attract attention as it looks authentic all the time. This is the reason I refer to them as a passive lure choice: they look the part when an angler is doing very little with the rod.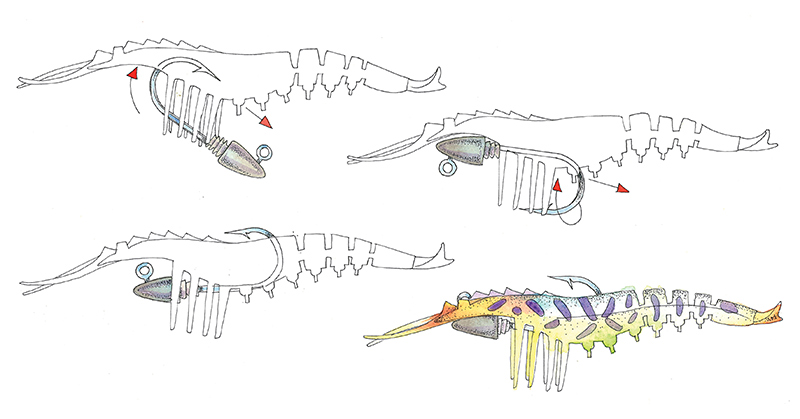 Adapting Zerek Live Cherabin
The Zerek Live Cherabin has been developed so that heavier jigheads can be fitted to the lure should you want to fish deeper water. After removing the light pre-rigged jighead get your hands on the jighead you wish to use and before attaching to your fishing line;
Slide the hook point just through the skin of the lure between the legs so it maintains a belly connection without being too deep.
Pull the hook all the way through to the top of the jighead and rotate the hook 180 degrees.
Bend back the lure and pull the hook point through the pre-set mid-body hook hole.
Pull the head of the lure over the jighead hook eye and attach fishing line: you are ready to fish with a new jhighead weight!
Targeting barra in the current shadows
The Fitzroy River is a typical barra river in many respects. It provides plenty of tidal movement, is host to many sand and rock bars, submerged timber, mangrove-lined banks and the main body is intersected by several small creeks and inflows.
Finding barra in new systems is about exploring, fishing and then exploring some more until fish holding patterns are better understood. These patterns change throughout a year and it pays to maintain the same exploratory approach every time you hit a waterway that you might not have fished for weeks or months.
A rule-of-thumb that stands true for many species and in most of the systems I have fished is that where you can locate food concentration points in combination with some current obstruction, the predatory fish won't be too far away. For example, ledges, rock or submerged timber structures that deflect current flow in a location that has ample food drifting past will be a prime place for predators to find protection and feed with less effort.
These precise locations where current is deflected can be referred to as current shadows and it makes a lot of sense that fish will favour these places: it is easy for a fish to hold in such a location and any food that hits the area will often fall out of suspension, thereby making for a very easy feed. For this reason, barra are often found in concentrations (referred to as staging) immediately around large rock, timber and drop-off structures.
Creek inflow points are a great place to find large numbers of fish. The channel ledge provides protection and a point where current drops out, and the creek offers a continual food supply. This effect is most accentuated during the latter stages of the run-out tide. Funnily enough, freshwater trout will hold in exactly the same situations in a flowing river environment.
Buyer's guide – prawn hopping tackle
Spin gear is perfect when casting and retrieving weighted prawn imitations. These lures are often variably weighted and casting the lighter weight offerings becomes much easier on standard spinning reels.
A spin rod in 4 to 8 or 6 to 10kg weighting with a fast action is ideal for finessing prawn lures through current shadows. Braided lines in the 10 to 20kg class will provide the sensitivity required to precisely fish your lure. Leader should be chosen on the basis of the type of structure you choose to fish but 20 to 40kg fluorocarbon leaders are a good starting point.
You will need to use a fairly heavy option as tidal flow increases so it pays to carry a series of jigheads weighted between ¼ and 5/8oz set on 3/0 to 5/0 hook sizes as various jighead brand hook sizes vary slightly.
Current shadow timing
Dicko and I were able to produce fish on the imitation cherabin lures at all stages of the tide. The ability to fish lightly weighted lures into shallows during the top of the high tide did produce several fish. However, focussing on current shadow points during the latter stages of the run-out tide and the start of the building tide definitely provided the best of the fishing. This made sense when considering the spatial location of available food supply.
The high tide coincided with lots of water and food supply spread out across much of the system. Finding concentrations of feeding fish at this stage was tough and we weren't quite good enough to find a regular pattern for catching fish. As the water ebbed and food and fish became more concentrated it became much easier to pin-point where to catch them.
Targeting the current shadow
Now that you know how to identify and locate a current shadow and barra holding point, it becomes easy to understand how specific types of lure or bait presentation can be very effective.
If you are able to get a lure into that 'relaxed' water immediately adjacent to structure, it stands to reason that you should be getting bites. There are two broad groups of lure used when targeting our barramundi: bibbed hardbody lures and sinking hardbody and soft plastic lures. It is possible to get bibbed hardbody lures into current shadow areas but it requires higher levels of complexity. Lures have to be cast into a precise location and retrieved with the end location in mind.
Tidal flow is constantly changing and it stands to reason that a sinking lure type that can be variably weighted offers the easiest way to consistently put a lure into prime current shadow location. Dicko and I settled into a routine that produced plenty of fish when using the Zerek Cherabins.
Observations of the local waters we were fishing and the bait that various fish were regurgitating once caught, suggested there were plenty of prawns and cherabins in the 3 to 4 inch size about during our trip. It highlighted that fish sitting in concentration points would happily eat a 4 inch prawn imitation lure put in front of them. We highlighted 3 to 4 prime current shadow locations and settled to be fishing those areas during the latter stages of the run-out tide and early run-in periods.
These areas included a couple of shallow rock areas dropping into deeper water and submerged timber points. Our tackle boxes were simple: a box of jigheads containing ¼, 3/8th and ½oz jigheads and one other box containing a bunch of Zerek Cherabins. The key to catching fish was using a suitable weight to enable 'dropping' the lure into a current shadow and the ability to 'walk' a lure through structure.
Barra retrieve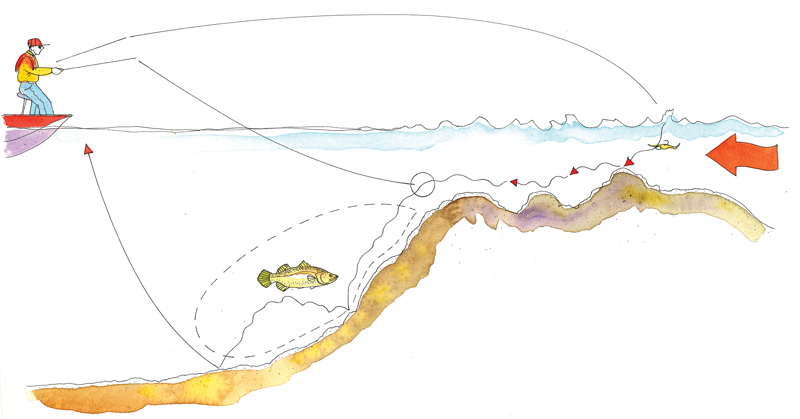 CURRENT SHADOW
Cast the lure up-current and over the current shadow area.
Keep rod tip high and retrieve slack line as lure drifts with current.
As lure touches structure, quickly jig lure up and over obstructions while continuing to retrieve slack line.
As lure reaches current shadow area, drop the rod tip to a 45 degree angle and pause retrieve to let lure drop into strike zone. Maintain a tight line by carefully retrieving slack line. Watch for any short and sharp bites.
As lure touches base of shadow zone, jig lure off bottom and maintain a tight line throughout to attract fish holding near bottom. Once past the area, retrieve and repeat process. As current regime changes, use heavier or lighter jighead weights to suit the approach.
An important factor in producing an effective retrieve is putting yourself into prime location regardless if you are in a boat or on shore. Ideally, you want to be adjacent to or behind the current shadow location when facing into the current direction. Dicko and I used bow-mounted electric motors, and at times an anchor to hold ourselves in position.
The aim of the retrieve is to cast the lure up-current of the fish concentration point and drift the lure back with the current. This can be accomplished by selecting a suitable jighead weight to match current speed and also by keeping the rod tip high during initial stages of the retrieve. In many cases we were drifting the lure through shallow rock and timber areas. This meant the lure was often striking solid objects: to avoid snagging on these, little flicks of the high rod tip were employed while continually retrieving line onto the reel, and this enabled the lure to be walked across shallow structure. Using highly visible braided line colours will greatly assist with identifying where your lure is in the water and when it is touching structure.
As the lure arrives at the current shadow location subtly drop the rod tip and stop retrieving loose line on to the reel: this will enable the lure to drop into the slack current location and hopefully into the open mouth of a waiting fish. It is of prime importance that you do nothing with the rod at this stage than keep it steady and maintain a tight line (this may mean retrieving small amounts of slack line). Bites register as a sharp tap that is often seen through the braided line before it is detected through the rod blank. In the event of a bite, sharply lift the rod as fish reject a lure as fast as they suck them in. Keep in mind that waiting fish are not expecting food to be actively darting around: a prawn finding its way into this area will usually drift slowly towards the bottom to evade detection: so keep it passive!
Should the lure hit the bottom at the base of the current shadow, hop the lure up and let it drift slowly back towards bottom. This will attract the attention of fish holding tight to the substrate.
This retrieve takes a little time to master but the moment you have that first bite and are hooked to a leaping silver bullet, you will be undoubtedly addicted to this style of fishing.
The barra current wrap
The current shadow concept is not new; many anglers have been using this thinking to catch fish for centuries in fresh and salt water environments. Understanding the concept and applying its science to your lure or bait fishing approach will definitely provide dividends.
If you are able to use a sinking lure that can be weighted to suit current conditions it will certainly make your life a lot easier and probably more successful.