Author: Nige Webster
Summer currents working their way around our coastline signals an exciting time for broad sections of the Queensland and NSW coastline, with mackerel among several razor toothed gang making their presence known.
While a variety of techniques exists to catch the likes of spanish, grey and spotted mackerel, trolling remains a popular and effective strategy. It provides anglers with the ability to cover a lot of ground up and down the coastline while presenting lures among bait schools that mackerel love to chew through.
Hard bodied, dead and live bait trolling techniques are all viable approaches to catch some of these speedsters. Trolling dead baits is a method that many of our local professional mackerel anglers use to catch fish. It reduces the issue of having to catch live bait, keeping them alive, and rigging and trolling them correctly. If you are eager to troll up a few mackerel this summer, check out my tips below.
Finding mackerel
The key to taking good numbers of mackerel is to locate them first. Every year these fish seem to show up in historically happy hunting grounds: many of these places have patches of reef where the mackerel seem to show up each season.
These fish move in with the current and haunt schools of bait until they choose to keep on moving along the coast. A day searching is best spent looking for bird activity, appealing current line and water temperature signals, as well as shows of bait, bottom structure and schooling mackerel.
A sounder that shows good definition of subjects in deeper water is a must: medium to upper end units within the Lowrance and Garmin range will do this.
High speed trolling is a favourite of mine when it comes to looking for mackerel. Schools of fish can be found scattered in broad areas of water so it pays to maintain a mobile approach. The faster you can move and sound the area, the more chance you have of locating and tangling with fish. This approach makes trolling at speed with hard body lures a great option. Active fish that are intersected will quickly rise to the wash of the boat and a well-presented lure.
Locating fish doesn't always have to involve driving around though. In the event that fish are known to be in the area, a more passive approach can be adopted. Mates and I have had great success in recent times by simply drifting through prospective waters while trying to make as much noise as possible.
School mackerel are alert to vibration as they use this sense to locate food; it stands to reason that they will investigate the sounds of idling motors, the beat of an onboard stereo and the pulse of a fish finder. Having watched fish congregate around a boat that is making noise has convinced me that they will come to investigate certain sounds.
This means that if trolling doesn't appeal to you, simply sit and wait for fish to find you; but make sure the motor is kept running, the fish finder is on, the beats are pumping on board and if you have technology such as a Hydrowave; all the better!
High speed trolling lures for mackerel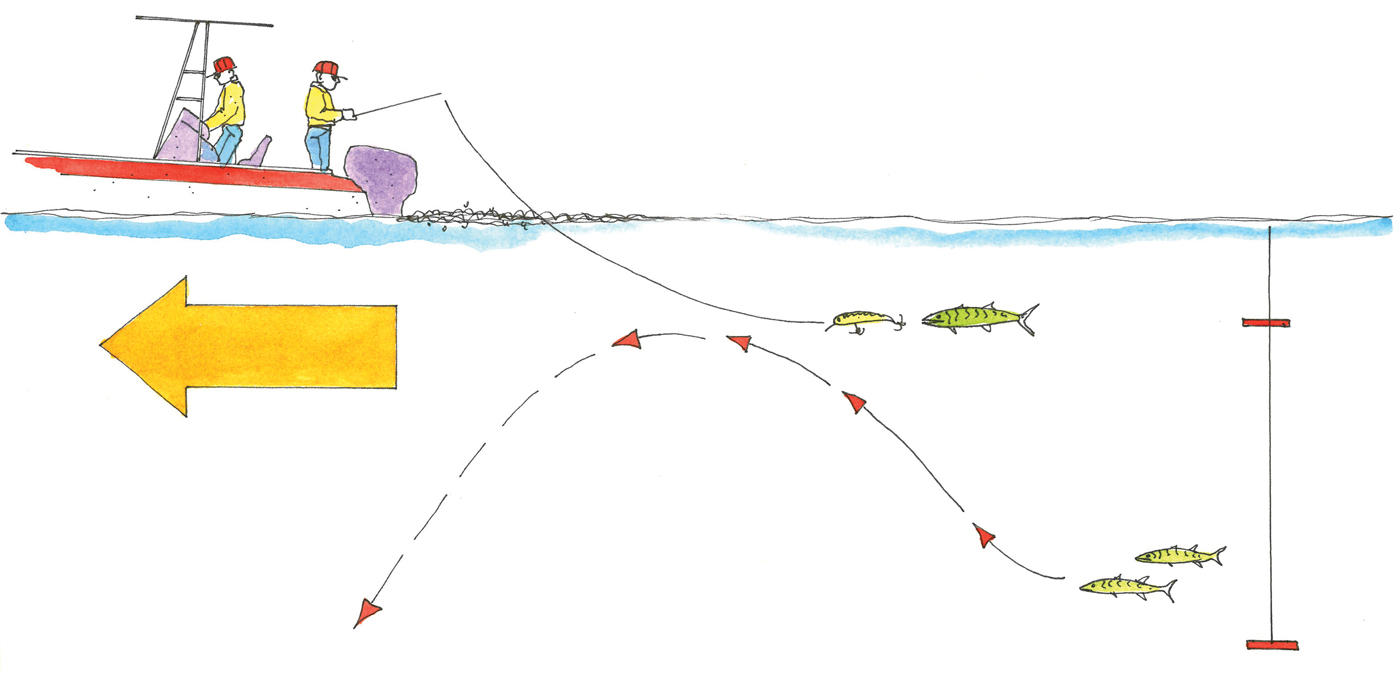 Covering Ground & Attracting Fishing
Trolling at about 6-8 knots, mackerel will rise to the wash of a boat to inspect the source of disturbance. A hooked fish will quickly attract deeper fish to rise towards the boat while 'following' a battling mackerel.
The majority of time when trolling for mackerel, I only use two rods. This is easy to manage and lends itself to the strategy of 'holding fish' which we will investigate shortly. I adopt the use of two spin rods in the 10 to 15kg weight range and pair them with spinning reels in 5000 sizes.
The reels are loaded with 25kg braided line and complemented with 4m of 40kg monofilament or fluorocarbon leader. I personally don't use single strand wire to protect lures as I believe it reduces the number of bites dramatically.
Lures must be able to swim straight and true when trolled quickly which reduces the choice of lures to a degree. Chosen models must be tough with regards to solid bib, split ring and treble hook construction. I most often troll with larger lures because I want the benefit of noise and body profile within the spread. Remember that mackerel are coming into the wash of the boat looking for a feed so make it easy for them to find an apparent feed when they arrive.
I typically troll with 20 to 16 cm size lures. Popular models include the likes of Classic Bluewater, Halco Laser Pro, Cutting Edge Axe, Rapala X-Rap and River2Sea Torpedo to name a few.
Trolling at good speed is the name of the game when searching for active schools of fish: speeds of 5 to 8 knots will provide plenty of noise and wash and should have active fish looking in the spread if they are about.
Spread the lures adequately to ensure fish near and far from the boat will find a lure as well as making it easier to turn without tangling. Place a lure 10 to 15m from the boat and the other 20 to 40m behind the opposite corner. If one of the rods buckles under the weight of a fish, try to keep the boat in gear for a few moments to secure the hookup and hopefully promote a bite on the other lure. Once the boat is put into neutral, keep the motor idling and begin to retrieve the hooked fish back to the boat, BUT, this is now the time to get ready to hook more fish and keep the school with you and your boat.
Holding mackerel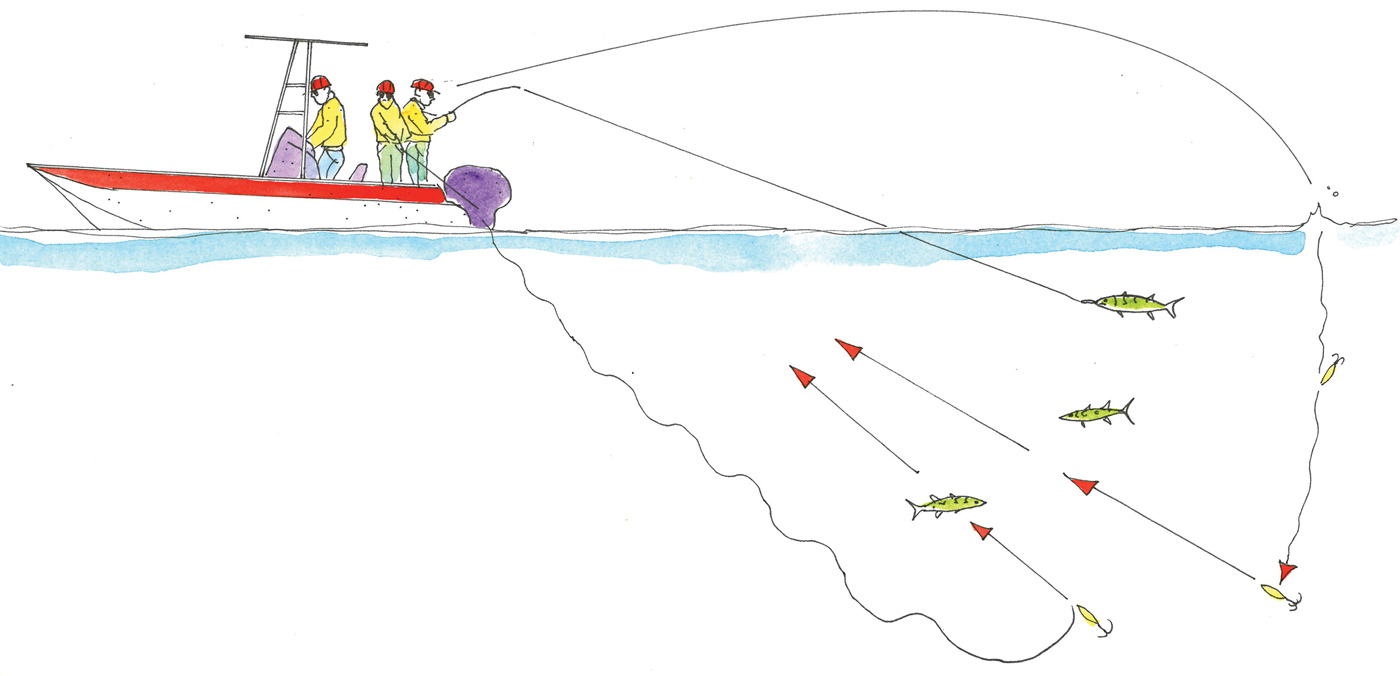 Holding Fish & Maximising Opportunity
While an angler fights a fish, other angler/s can cast a metal lure 20m behind this fish and let it sink before retrieving it at speed; this often produces a second hook-up.
The concept of 'holding' fish has nothing to do with picking them up. It is derived from the strategy of keeping a school of mackerel around your boat for as long as possible.
Trolling hard body lures will attract plenty of mackerel and having hooked one, the school travelling with that fish will nearly always follow it for some time. Underwater video we have captured clearly shows this to be the case in many instances. Once you understand this behaviour it is easy to formulate a plan to cash in on what can often be frantic fishing. A crew that fishes with me is primed once we have a hooked fish returning to the boat and all begin to reach for spin rods pre-rigged with heavy lures.
Spin rods loaded with metal jigs (slugs) are a great option when targeting the school of mackerel that follow a hooked fish; the school often swims up to and beneath the boat. While the angler with the fish hooked on the troll is left to manage and gaff their own fish, the remaining crew cast slugs 15 to 20m behind the boat and let the lures sink for a 10 to 30 second count before retrieving them as fast as possible.
If you can visibly see fish swimming behind the boat, then slugs do not have to be dropped into deeper water; on the other hand, if the sounder shows a school swimming through the transducer beam in 20 to 30m of water, then your lures are going to have to be left to sink for a longer period. Lures that will sink relatively quickly are handy to have on board: slugs in the 50 to 80g range satisfy most of my mackerel jigging requirements.
Speed is key when hooking school mackerel on metals; aim to choose spinning reels capable of high speed retrieves when choosing a suitable model. In many cases, two anglers dropping metal lures behind a hooked fish will encounter a double hook-up. The key is then to keep hooking fish for as long as possible and thereby keep the school of fish close to the boat.
Trolling with chin weighted baits
While lures are a deadly weapon for chasing mackerel, bait can also be just as effective.
Your standard trolling equipment will do the job of trolling chin weighted baits. These baits do not cause excessive drag or behave differently to many other lure choices on the market so there is no need to drastically change your equipment.
Spin rods or overhead outfits with braid or monofilament lines suffice nicely. Many anglers I fish alongside are using outfits in the 10 to 20kg range with braided lines of 30 to 50lb and monofilament or fluorocarbon lines in 40 to 80lb.
Trolling Tactics
It is easy to establish optimal trolling speeds when trolling weighted baits. The swim trial beside the boat will let you know how the bait swims at different speeds. The moment the bait begins spinning or swimming poorly, you know it is time to change the speed. The advantages of using a weighted dead bait over a live bait includes the flexibility to be able to troll faster. This means you can test a variety of troll speeds until you find one that the fish respond to on any given day.
I typically employ a standard spread behind the boat, mixing the distances behind the boat that baits are being trolled. Vary distances from a rig just behind the motor wash to baits swimming 30 or 40m behind the boat.
Strategies which can increase strike rate on some days include rising bait and "wogging" strategies.
The rising bait involves free spooling a bait while you are at idling speed. Allow the bait to sink deep into the water column before engaging the reel and increasing troll speed. The bait will gradually rise up as the boat moves thereby covering a wide range of the water column. The visual of a bait appearing to be escaping to higher water is sometimes too much for the predators to resist.
The "wogging" technique is a jigging style trolling method. The approach involves jigging the rod back and forth while the bait is being trolled. The speeding lift and slow drop of the bait will often produce strikes when just a consistent trolling speed is applied to the bait. Combining this method with a skirted bait will combine to provide seductive fluttering movement to the bait. This is a definite winner on some days!
Baiting for mackerel

Chin Weighted Troll Bait for Razor Gang Brigade
Wire inserts protruding from the chin piece are pushed through the head of the bait and downturned to hold in place. Make sure to measure the bait and rig hooks before pushing head onto wire inserts.
A short length of wire or heavy mono is rigged through coloured skirt. The squid like skirt provide fluttering movement to the bait and make the bait more attractive when it is "wogged". Wogging is a technique used by pro mackerel anglers and involves jigging a rod or line. The speeding up and drop back of the troll bait enables fluttering of the skirt and often encourages fish to strike.
Chin piece adds weight to troll bait to swim attractively.
Rig gang hooks to chin piece eye and set up hooks so lower hook is downturned.
Downturned lower swing hook increases hookup.
One of the simplest rigs for trolling dead baits is the chin weighted bait. Chin guards are a product which enables you to rig a bait on to a weighted chin piece. The chin piece facilitates an upright and straight swimming action in any dead fish bait. There are several brands on the market, but one of my tried and tested varieties includes the Citer Chin guard which can be found in most good tackle stores. Chin guards will come in varieties of weights and sizes and come equipped with one to two head rigging pieces of wire.
These flexible and pre- set wires are used to fix the head of the bait to the chin guard. By pushing a thawed bait on to the wire, the metal can be flexed downward to firmly hold the bait in place. Choose a chin guard which suits the type of baits you wish to use. A selection of chin guards including ones with and without gang hooks can usually be found. The hookless models enable anglers to rig chin guards with differing numbers and sizes of hooks. This gives anglers the flexibility to rig chin weights to suit a variety of baits, fish species and trolling conditions.
Other inclusions to the chin guard rig include the rigging of a plastic skirt and short length of single strand wire above the chin guard. The wire can be used to prevent bite off when a predator strikes at the head of the bait. Many anglers are choosing to fish with heavy leader material (80 to 100lb) these days to prevent wire shy fish baulking at it's addition to the rig. Placing a skirt above the chin guard adds a lot of movement (and colour) to the rigged bait and can be the catalyst for increasing the number of strikes the rig encourages.
There is no limit to the type of bait that can be chin weighted and trolled. The beauty of chin guards is that rigs can be adapted to suit most sizes of bait. The key to rigging the bait correctly involves laying the bait alongside the complete chin guard rig prior to rigging. Aim to rig the bait so it swims belly facing down as if it were the living and swimming real thing. Identify the locations where the wire and gang hook points must pierce the bait.
Rig the bait by starting with the tail hook and work towards the head as per standard gang hook rigging practices. The flexible chin guard wires can be bent towards the bait prior to rigging to enable easier rigging of the head of the bait. Too much flexing, pushing and pulling of the bait can result in a damaged bait that refuses to swim well or stay correctly attached.
The final stage of rigging involves some quality assurance. Lay the bait in the water beside the boat and swim the bait to ensure it is swimming seductively. If the bait is swimming like a live one, you are ready to put it out to see some action!
Mackerel magic
With summer just around the corner, it's time to get your gear ready for an all-out assault on the myriad mackerel that are on their way.
By adopting some of the trolling techniques outline above, you're going to put yourself in the best position to ensure your date with the razor gang is a successful one.