Golden perch are an iconic freshwater fish in this country and for good reason. They look good, fight relatively hard and happen to inhabit the south-east corner of Australia which is where a big portion of us live.
This means that a very high percentage of us have decent golden perch fishing within an hour or two of where we live and probably much closer than that. Add to these facts they are actually fairly easy to catch when conditions are right and not too much expertise or fancy gear is needed. There isn't going to be anything tricky in this article, but I'll cover a few tips and techniques that will certainly get you on the right track to having some fun with these golden nuggets that swim.
Dam Goldens
Golden perch have been a stocking success in many eastern Victorian, New South Wales and Queensland impoundments. It is in these bodies of water where truly great golden perch fishing can be experienced. They grow to impressive sizes and fish over eight kilograms are common. Unlike Murray cod fishing, where many long hours of fruitless casting must be endured, perch fishing can be more rapid-fire, with multiple fish landed in short succession when fishing is good.
Fishing is best in these dams during the springtime. There is no doubt about that. September, October and November are the pick of the months if you want the best chance of some hot action with these fish.
It's during this time of year that the water begins to warm, making the goldens and other creatures they may be feeding on more active. They prepare to spawn during this time, which is another reason for the spike in activity. A switched-on angler can take advantage of these conditions and encounter plenty of active and aggressive fish with some simple lure casting techniques.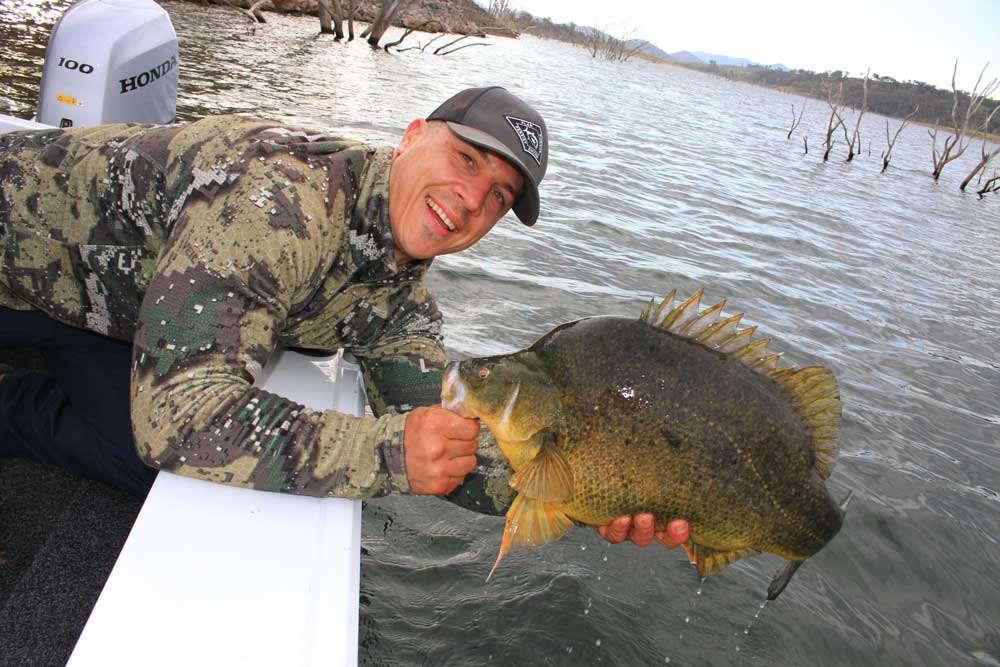 Once they get this big they are almost as tall as they are long!
Boat
When arriving at any dam for the first time, it's easy to become a little overwhelmed by the task of finding fish in large bodies of water. The first thing I would normally do when fishing a new water is go for a drive around in the boat and scout the lake for good structure, which is mostly on the shallow water on edges of the dam. You don't need to be a sounder expert or study the underwater topography to know what areas may be successful.
During springtime the goldens won't be holding too deep so look for areas near the shoreline in shallower water. Edge fishing anywhere from one to six metres is ideal. Banks that feature areas of obvious structure a little different from the surrounding shoreline is always worth a cast or two to start. This could be anything from a few dead trees (even small spindly ones), weed beds, rocky sections or points that sticks out into the lake.
If, for example, there is a gently sloping bank that is relatively featureless for a distance before becoming steeper and rocky before returning to gentle and featureless again, you can assume there is a good chance the rocky section will hold fish. While there will be golden perch cruising most banks during springtime, we are trying to locate sections of shallow water shoreline with the biggest concentrations of fish. Even a small amount of structure will hold fish if the surrounding areas are relatively featureless.
As far as the slope goes, to start out I'd suggest a medium sloping bank. Again, there will be edge fishing on shallow sloping banks and very deep banks but I find the moderate slopes to be very productive and easiest to fish. Once we have selected some productive looking shorelines (try and find a few that look promising as they likely won't all end up producing) it's time to fish.
Position the boat with the electric motor close to the shore and direct your casts parallel to the bank and out into slightly deeper water. For example, your boat may be sitting in a metre of water but you should be fishing 3 to 6 m and working your lures along the bank and also up the slope back towards the boat.
Work the section of bank that you have selected thoroughly and take note of the depth the fish or bites are coming from in case a pattern forms. If you get no action within 20 to 30 mins move to another bank.
Lures and Techniques
For this form of fishing, I prefer to use soft plastics and vibes. I personally prefer soft plastics for a few reasons but both work well. I find that a single upturned hook on a softy can be paused on the bottom of the lake without picking up weed or slime, whereas the two trebles of a vibe have more of a chance of fouling when in contact with the bottom. I will admit the hook up ratio of the trebles is probably slightly higher though.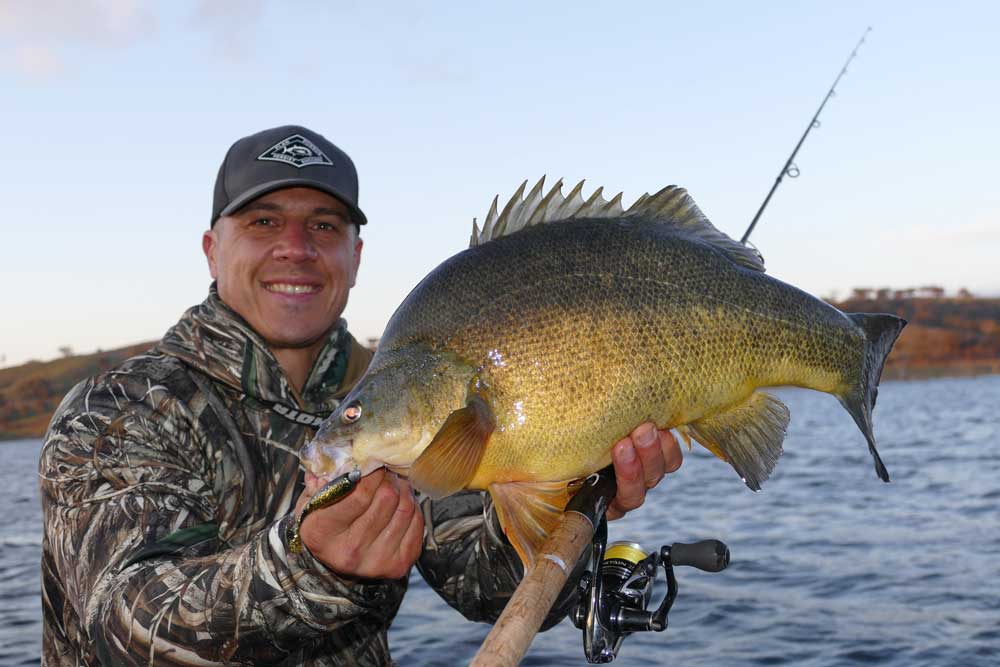 Soft plastics prove a cheap, easy and effective way of targeting these fish in dams.
Any paddle or curl-tailed soft plastic in the 2 to 3 inch range will work a treat. I prefer darker colours like brown, black/gold and purple. The ZMan range is my go-to brand. Tough and super soft means these lures have maximum action at slow speeds. Jighead weights around 1/8 and 1/16 oz are about right for the depths mentioned. You need to be able to achieve good distance with your cast but don't want your plastic plummeting to the bottom.
When retrieving the lure along or back up the slope of the bank I like to use a very simple lift-drop retrieve. Cast the lure out and watch the line to ensure the lure reaches the bottom, and then lift the rod tip 2 to 3 ft and let the lure fall back down to the bottom. Take up the slack in the line as the lure is dropping and be ready for the hit. You'll find 90 per cent of your hits will come as the lure is dropping, so pay attention.
From the bank
If you don't have access to a boat or just enjoy fishing from the shore, there's no reason you can't enjoy plenty of success. The same banks that you would edge fish in a boat are suitable from the bank.
Weed beds can be a problem so polarised sunglasses are helpful for spotting breaks in the weed to put casts into. Edge fishing from the bank can also make it easier to spot fish. If you have the right bank that allows you a little height to be able to look into the water and the sun is at the right angle, fish can often be spotted with ease. Approach carefully when you attempt to cast at these fish. While they may not seem to spook in the same way a trout will, if they notice your presence it will often be impossible to get them to eat. This can be very frustrating when you have several 5 to 8 kg golden perch in front of you in easy casting distance, but they ignore all offerings.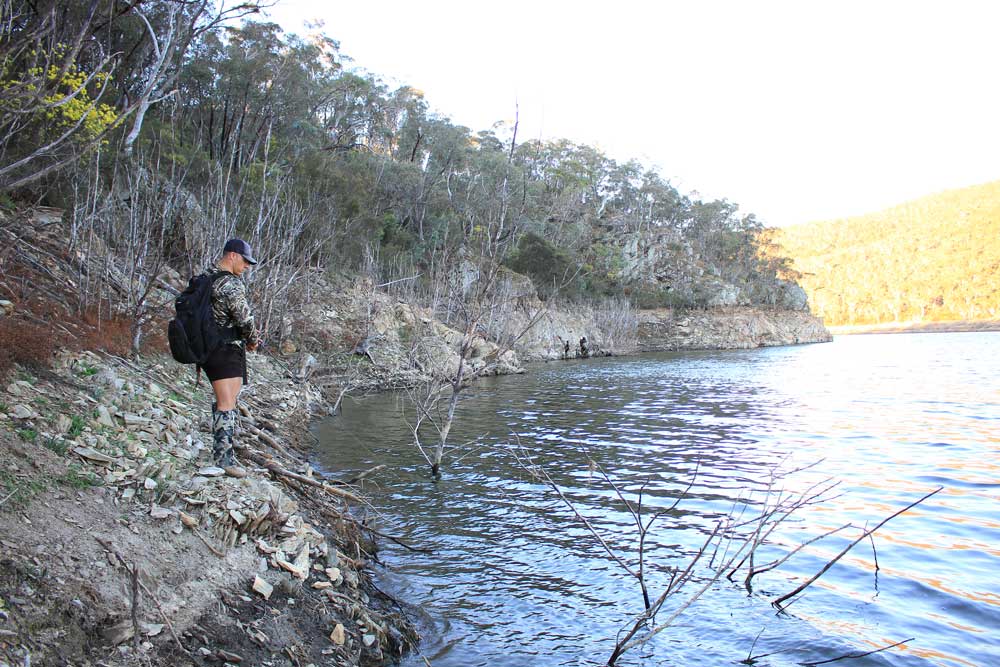 Work steeper banks like this by slow rolling your lure back up the bank. Long casts are not needed.
Use the same lures and techniques as you would in a boat from the bank. If the banks are very steep or there is a cliff section, try slow rolling your plastic or vibe up the bank. Casting lures from the shore for goldens can be very visual and exciting form of fishing, as a lot of times the fish will annihilate your lure within centimetres before it leaves the water. If you get a hit or a swipe from a fish that doesn't connect, throw your lure right back in there as a golden perch that is aggressively feeding will usually have another crack.
FACT BOX - TACKLE
The tackle for this form of edge fishing is simple. Light spin gear is ideal. I will usually use 6 to 8 lb braid for main line with an 8 lb leader. I'd think about bumping it up to 10 lb braid/leader if fishing among trees or other heavy structure. A 2500 spin reel and a 2 to 6 kg rod of 6 to 7 foot is all you need.
FACT BOX – BEST LURES
ZMan GrubZ – 2.5 inch with 1/8 or 1/16 oz jighead
ZMan MinnowZ – 3 inch with 1/8 or 1/16 oz jighead
Ecogear ZX40 and ZX35
Jackall TN50
Jackall Mask Vibe 60