Author: Nige Webster
As the water warms around the country, many species of fish cease winter habits and return to the happy hunting grounds of the estuary flats. The shallow waters of most of our estuaries play host to a variety of abundant food supply for predatory fish.
Targeting fish with a variety of lure and bait types is a popular pastime for spring and summer estuary anglers.
A popular lure choice for many fishing the shallows is that of soft plastics. I have fished for bread and butter species such as whiting and bream with soft plastics for a long time, and have more recently gone to the next level to explore the effectiveness of these lures for bigger and more brutal shallow water estuary speedsters.
Regardless of your target species, whether big or small, it's safe to say soft plastics are a deadly weapon across the board.
Some popular locations around my area of the Sunshine Coast to target large fish in the shallows include the waters around Fraser Island. Hervey Bay and the Urangan area to the west of Fraser Island are near to some extensive zones of shallow water. These waters are host to a variety of species during the spring and summer months including our popular bread and butter species such as flathead, bream and whiting. However, they have the added attraction of hosting larger species such as golden, diamond and giant trevally that cruise the warmer water shallows in search of prey.
A little strategy and a well-presented soft plastic are often all that is required to put yourself in the box seat for some adrenalin filled fishing. The visual aspects of this style of fishing make it extremely captivating, regardless of whether you choose to chase our bread and butter favourites or some larger fare.
Shallow water patterns
Most estuary flats play home to worm, yabby, baitfish and prawn supplies. These food sources congregate in the shallows because predators have to take some risks entering these waters to prey on them. The risks are obviously worth the reward because under certain conditions and at specific times many predators frequent the shallows looking for food.
The low light periods and rough weather makes it easier for fish to feed in the shallow water with less chance of being eaten themselves. These periods also make it harder for anglers to spot these fish and target them on the flats. This means we have to watch for those sunlit days with lower wind to make spotting fish that little bit easier. As always, a pair of good polaroid sunglasses aids in this exercise.
Periods when fish are often actively feeding on the flats also tend to coincide with specific tide times. A building tide will often have fish, like members of the trevally family, trying to push up into the shallows to find their food.
Tidal periods ranging from the quarter of the run in and through to the top of the tide are great times to cruise the flats looking for feeding fish. The deeper water gives fish more confidence to push right up into previously shallow areas to find food. Fish will feed on the flats during the first quarter of the run out tide, but as water drains from the flats, they tend to start pushing into deeper water.
Different moon phases may produce more actively feeding fish. The week around each of the new and full moon often produce times where the fish are a little more active.
Finding fish
Finding flats fish is often the hardest aspect to catching them.
The tendency for bigger species to alter patterns when feeding over the flats from day to day can make for testing times. Just because you found fish in a location one day, doesn't mean you will find them there the next!
There are a few strategies you can adopt to make finding fish on the flats a little easier. A good tactic is to plan to be mobile until you have found groups of travelling and feeding fish.
Once you have found them, try not to lose them! Good places to begin searching for fish on the flats include various types of shallow water structural features. Look to start inspecting likely looking patchy weedbeds, darker patches of sand, yabby beds and any areas that display bottom colour change as these areas can highlight places where fish might cruise and feed. Fish will often enter the flats through specific areas such as slightly deeper channels.
Keep your eyes peeled for these types of travel lanes as they etch their way from deeper water up onto the flats.
Always be on the lookout for big, cruising bottom dwellers like the various ray species that frequent the flats. These guys are often tailed by various flats' predators like members of the trevally clan. Placing a well-positioned soft plastic near these rays can often result in an unexpected hook up from following fish.
Further signs of fish include areas of nervous bait and prawn activity. Watch for obvious signs such as tailing fish and faster moving shadows traversing the shallows.
Buyer's guide
When it comes to targeting larger species on the flats using soft plastics, light equipment is the order of the day.
The beauty when targeting larger predators in the shallows is there is often limited structure for them to break lines on. This is handy because long, subtle casts are often required when it comes to fooling these larger fish. Longer casts are more easily made when using lighter rods and line classes to distribute small soft plastic offerings. Add to this the pleasure and reduced fatigue from using lightly weighted rods and reels and it makes the whole process very enjoyable.
A good 7ft rod in 4 to 8kg weighting, married with a 3000 to 4000 size spinning reel is perfect for fishing the flats.
A good braided line of 10 to 14lb breaking strain will assist you dramatically in your flats pursuits.
Aim to complement braided lines with 3 to 4 m of 12lb fluorocarbon leader (longer than my usual 2m leader) and your outfit is ready to cause damage. When fishing the flats in sunny conditions I opt for slightly longer leaders than usual.
There is a huge range of soft plastics on the market these days that will all produce big fish on the flats. Although the minnow style plastics will work, I prefer to use creature style lures that are equipped with leg-like appendages. For this reason, the shrimp/prawn and yabby or crab imitations make great soft plastics to have in the box.
Successful lures include models like the Berkley Gulp 3-inch craw and shrimp lures, and others including Z-Man shrimp and Savage 3D Shrimps. Naturally-coloured soft plastics have provided more consistent results over several seasons of fishing the flats.
The process of selecting a jighead to accompany the soft plastic is not difficult. Choose a hook size that matches the size of your chosen soft plastic and then choose a jighead weight that will enable you to cast the required distance. Good options include 1/8 to 1/6oz jigheads in No 2 hook sizes.
How to approach the flats

One small twitch off the bottom about a metre away form your target is often all it will take to have it charge the lure.
The approach to targeting big flats fish needs to be strategic. Certain tactics may improve your success rate dramatically. Use the position of the sun to guide the direction in which you choose to travel across flats. Choosing a direction that assists you to see easily into the water can be the trick to spotting those harder to see fish at times.
If you are fishing on days when the light is poor and fish are harder to spot, a handy tactic can be to wait and ambush fish. Set up a position near some of the travelling lanes that fish are likely to use when entering the flats. By quietly waiting and watching in such a position, you can set yourself up to cast at unsuspecting fish as they enter your area to feed.
An effective catalyst for improving success on the flats is the ability to move quietly across these shallow areas. Long drifts with the wind, the use of an electric motor or poling yourself across the flats are good strategies. Many flats fish are even cautious of electric motor noise these days, so keep the use of the electric to a minimum where possible.
Catching fish on the flats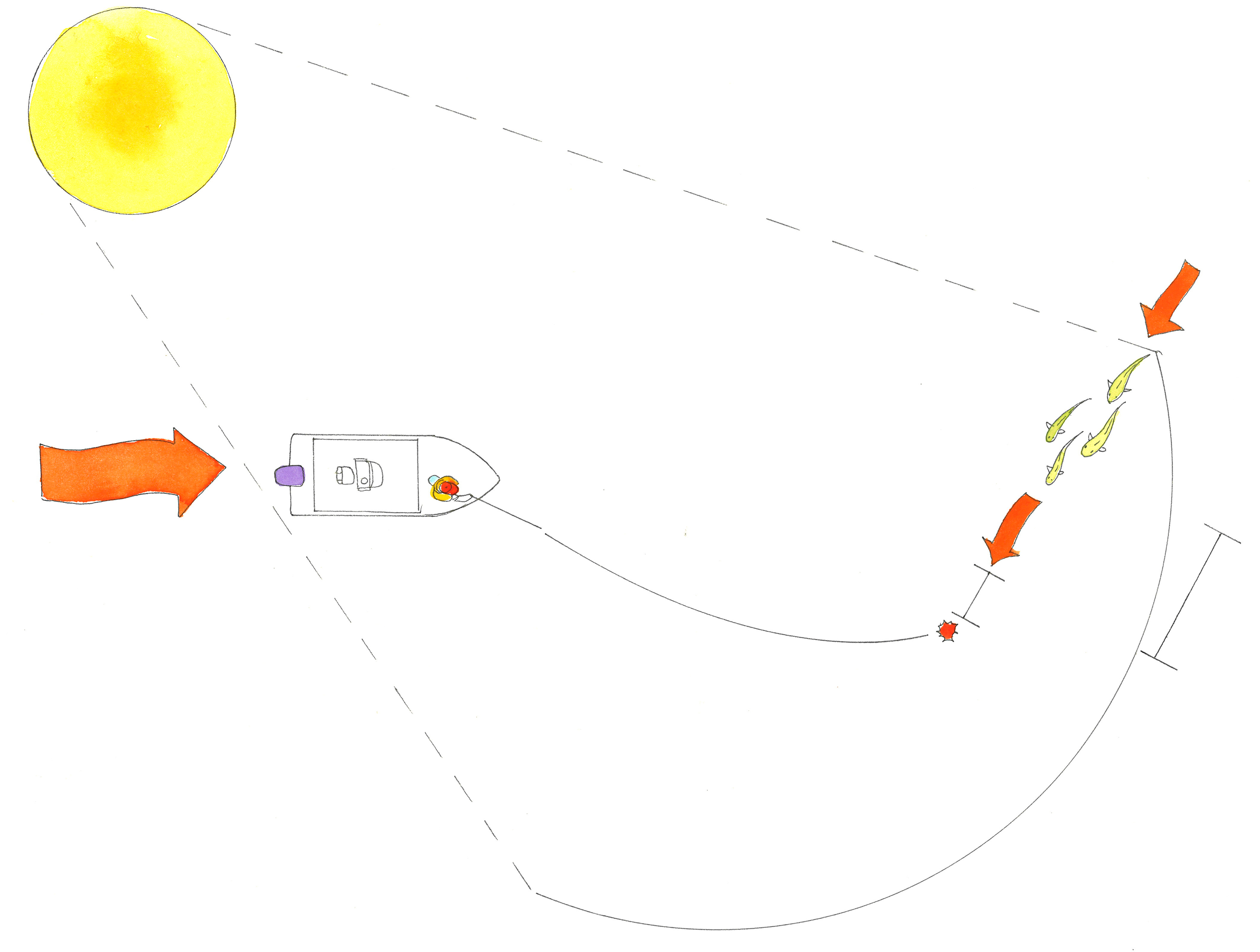 Use the sun to advantage and to establish boat direction to move across flats so visibility is optimal
Having spotted the fish, establish direction that they are travelling.
Cast the lure a good 10 metre ahead of the fish and let it sink to the bottom.
Wait patiently until the fish are within a metre of the flat plastic before subtly hopping it 1ft off the bottom.
A good strategy when getting the chance to cast a soft plastic on the flats is to choose a lure that looks like available food types. Three and four inch soft plastics stand a good chance of matching available food supply size. If there are prawns about, then aim to start with prawn imitation soft plastics, alternatively start with yabby imitations.
Having spotted a cruising fish or patch of fish, make sure you can be in a position to make one good cast ahead of them. You don't always get many opportunities to cast at cruising fish so wait until the moment is right and then make most of it!
A good, accurate cast is the order of the day. Make sure you initially determine the direction the fish are moving and then cast a good 5m ahead of them. Try to feather your cast as much as possible so the lure does not land too heavily. Having landed a cast ahead of fish that has not spooked the group, let the plastic simply sit motionless on the bottom.
When fish get within a metre of the plastic give the lure a single subtle hop up off the bottom that moves the lure no more than a foot. Then watch the body language of the fish. If you have surprised the fish by leading them to believe they have just startled an unsuspecting piece of food, they will charge the lure.
The position of the fish in the water will often give away whether they have eaten a plastic. Fish like golden and diamond trevally will often stick their faces into the sand with tails held up high and the body of a fish will visibly quiver. If you haven't felt a tap through the line at this stage, this is still the time to lift the rod. In 90 per cent of the cases you will come up solid with a fish!
If you feel that satisfying tap through the line, lift the rod and hold on. The initial run of solid flats fish like trevally is powerful, fast and long! The key to fighting these fish is to be patient. Chase fish if you start to run low on line. Catching these shallow water predators is an absolute rush, so when you find fish having a good bite, take advantage!
Flats fun
Targeting big, shallow water fish like the ones available at Hervey Bay is in my opinion one of the most exciting forms of spin fishing you can try.
The visual aspect is second to none when combined with the adrenalin rush when fish charge across flats and takes lots of line under a screaming drag. The intriguing and sometimes challenging manner that is sometimes required to catch these fish, all adds to the satisfaction when you fool one of these speedsters.
Regardless of whether you plan to head north and chase the flats fish around Fraser, the visual tactics of using plastics in the estuary shallows is as effective on the bigger species as it is on our bread and butter fish.