Author: Nige Webster
Bream are not only one of the most popular target species for recreational anglers, but seasoned tournament fishos too. And it was on that tournament scene over a decade ago where I learnt how effective deeper diving hardbodied lures (crankbaits) worked around a variety of estuarine structure could be.
It became apparent fairly quickly that an approach that targeted deeper, slightly less pressured fish produced better results than many of the tried and proven methods of years gone by. Now, having spent many years practising this retrieve, I have realised how many predatory species fall victim to this presentation.
Why deep diving crankbaits work so well on bream
Tournament anglers are always looking for an edge over competing anglers. That edge has often emerged through developing a subtly different presentation. As pressured fish populations become accustomed to seeing certain lure and retrieve styles, a new lure prototype combined with an original presentation is often met with significant success. Casting popular lures such as soft plastics, shallow diving hardbodied lures and metal vibes have long dominated the tournament scene; however, access to and development of some great deeper diving hardbodied lures meant several anglers worked hard at improving effective deep water retrieve patterns and experienced significant success.
The classification of shallow versus deep diving bream style hardbodied lures can be a little ambiguous but in my opinion the dividing line sits around the 1.5m mark.
Shallow diving prototypes include those that operate within the top 30cm of water down to the 1.5m mark. Most of your standard deeper diving models operate within the 2 to 5m range. Many of these lures are recognisable by their larger bibs and depth classifications often imprinted on the plastic bib.
Design and the availability of new and unique hardbodied lures have improved dramatically in the past few years. The growth of sport fishing for estuarine species has resulted in several companies developing exciting new prototypes and importing specialised lure types from overseas markets.
The ability to present these lures into deeper water means we can now fish a different option when our other styles of presentation and lure choice are not producing the desired results.
Crankbait buyer's guide
There are many popular lure brands and models on the market today, which makes it easy to get confused as to which to start with. I suggest having a look at the range of options and choosing one you think will work the best for you.
The brands I carry in my lure box today include the Halco RMG range in the new natural colours, Savage Fat Head, Luckycraft, Ecogear, Jackall Chubbys and the Atomic Hardz lures. I am a big fan of the natural colours so most of my lures come equipped in a range of greens, browns and clear finishes.
One vital asset is the use of chemically sharpened treble hooks. Gun anglers that fish deep water hardbodies all change treble hooks to chemically sharpened if the particular lure doesn't already sport them.
Another reason to change hooks is to adjust the buoyancy of the lure. The buoyancy of a lure can be affected by applying the use of more heavily weighted trebles. Heavier gauge Owner brand hooks can often be used to adapt a slow floating lure into a neutrally buoyant or suspending lure. Additionally the use of tack on lead weight can also be used to produce this effect.
Although I use my boat to catch a lot of fish with deep diving crankbaits, I have found the shorebased approach to be equally effective. The fact that much of the good structure to be targeted with deep diving lures is attached to the edges means the shorebased angler is well and truly in the game.
Tackle for crankbaiting bream
Using the right outfit will make all the difference to working deep diving hardbodies. Fast action rods in the 6ft 10in to 7ft and 1 to 3kg and 2 to 4kg classifications are ideal for engaging this style of fishing. The rods will enable accurate and distance casting as well as having the sensitivity to effectively work a retrieve and then set hooks and battle bream from their chosen structures.
I fish a range of brands and recommend the likes of Berkley, Daiwa, Shimano, Loomis and Savage Gear.
Getting the lure a good distance from the boat can be the difference between catching quality fish or not on some days. The 3 and 4lb braid breaks around the 6 to 8lb mark, which is plenty for most estuarine bream fishing around the country.
Leader diameter is an important consideration when targeting fish on deep water hardbodied lures and successful anglers aren't over gunning here. Most of the anglers I fish with use 2 to 3m of 2 to 6lb fluorocarbon leader when using hardbodied a deep water crankbait approach. The fine diameter associated with using these lines means a very natural presentation is made possible.
On days when the fishing can be tough, this can mean the difference between catching fish, or catching nothing! It may sound scary casting around $20 plus lures on 2lb line, but it is surprising how easily large fish can be fooled out into open water on light line. The fact an angler has to fish more gently with light line classes means that fish are less likely to panic and in many cases find themselves at boat side and in a net before they realise something has gone decidedly wrong!
Areas to target bream
Our estuarine systems are full of quality fish holding structure. A good place to start fishing deep water cranking structure is to locate the areas where most anglers won't consider this approach as their first option. I have found that effective areas worth targeting include any form of floating structure (boats, pontoons etc.), bridge and jetty pylons, rockwalls and deeper bottom rock structure.
Any area that contains some shade, or some form of protective structure in the 2 to 5m depth range is a good place to begin targeting bream with a deep diving hardbody lure approach.
The key to a successful deep water crankbait approach is to find ways to get your lure into and retrieved through the prime strike zone. There are a few handy tips to assist you becoming proficient at this and a good way to walk you through the approach to fishing these structures is to deal with them individually.
Boats & pontoons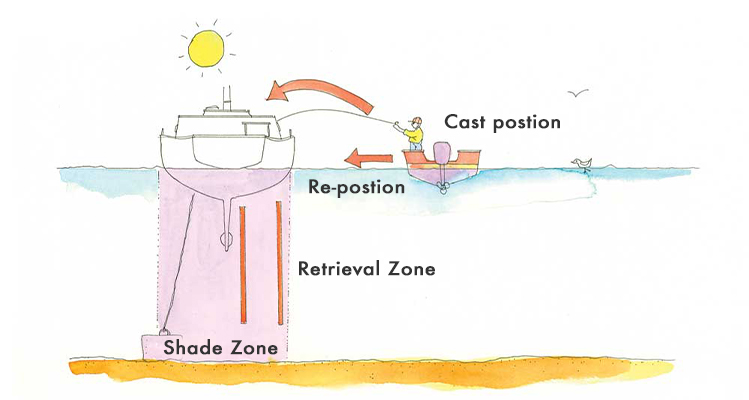 These floating structures are a haven for sheltering and feeding bream (and many other species for that matter). Fishing these structures is all about doing some maths before you start casting at them. What you have to establish is where to cast a lure so that when you retrieve it, the lure passes through the prime fish holding zone. As I am always a bit wary of casting at other people's property (and my aim can be a bit off at times) an approach I favour is the angler position strategy.
This approach involves casting past the structure (not tight against it) and then re-positioning your body or your boat so that when you retrieve the lure it is pulled under the structure and through the key fish holding areas. By carefully positioning yourself and then holding the rod in a strategic position, a lure can easily be retrieved in the prime area without stressing about making pinpoint accurate casts all day.
Bird's Eye View of Boat Hull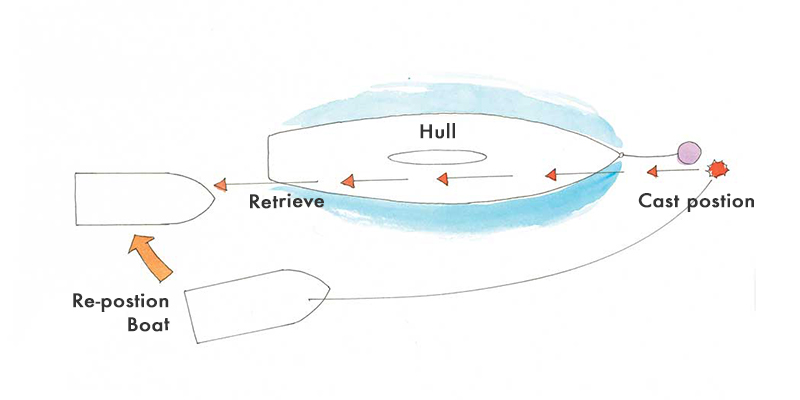 When fishing boats, I like to cast parallel to the hulls (landing casts way past the front of the mooring buoys) and then positioning myself so as to retrieve the lure along and under the boat. I typically focus on the shady side of the boat when doing this. In the event that I am targeting pontoons, I like to make a cast to the shore side of a pontoon and then re-position so as to retrieve under the floating structure.
Following this I also like to cast parallel to the face of the structure and retrieve deep along this margin. In the event that fish are hooked under these structures, drop the rod tip and gently and consistently wind them back towards you, it is surprising how easily they follow the rod tip back out on occasions.
Bridge & jetty pylons
Bream are well known for feeding several metres below surface but tight against solid pylon structures. By retrieving hardbodied lures past these fish, anglers can hook some cracking bream.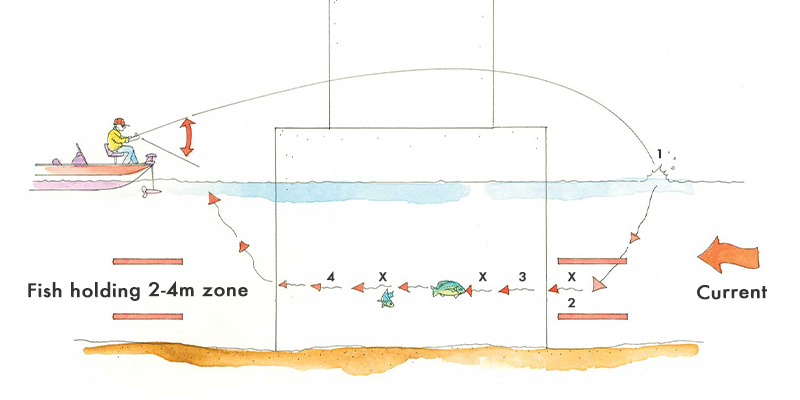 Bridge Tactics
Cast lure past pylon
Retrieve lure down to required depth
Pause lure before continuing retrieve.
Retrieve at varying speeds with intermittent pauses (X = pause).
The position of the angler is paramount when developing a successful presentation in this case. A prime position involves being in a location that allows you to cast along the length of a bridge pylon or set of pylons. Having cast the lure, position the rod tip so the lure can be retrieved down and along the structure and kept as tight to the hard stuff as possible.
Rockwalls
Rockwalls are a prime holding point for bream yet some anglers are fishing them more effectively than others when using deep water crankbaits. The successful anglers are often choosing to position themselves tight against the edge of the rockwall and fishing parallel to the structures. This varies from the approach whereby anglers sit off the area and cast in towards the rockwall.
By sitting tight on the structure and making long casts along the wall, a lure can be kept for much of the retrieve tight against the drop off and key fish holding location.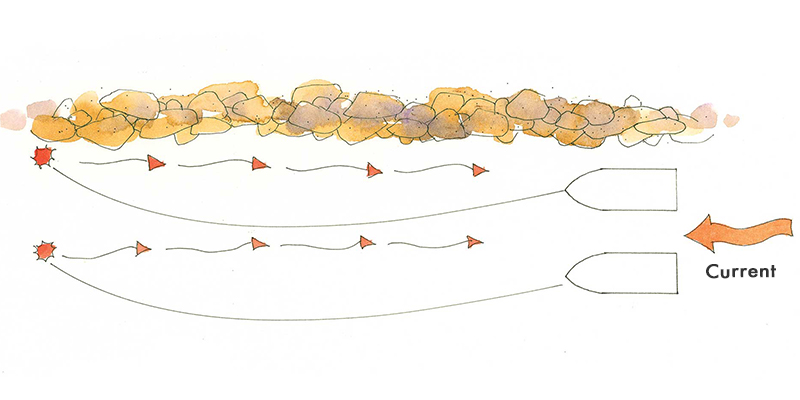 Deeper reef
I've spent many hours targeting shallow reef using shallow diving hardbodied lures.
A key to catching fish in these areas involves using a lure that gets to the required depth and bumps along the bottom through much of the retrieve. By design, this will mean targeting bottom structure in the 3 to 5m zone.
To effectively fish these structures often means drifting with the current through the target area. By casting across the tidal flow, the lure can be wound down to the required depth and then slowly retrieved close to and along the bottom as the current drifts angler and lure through the area.
When to crankbait for bream
Deep water crankbaiting will be more effective during certain key periods. It can help to develop a plan of attack that includes targeting some locations at certain tidal periods and times of the day.
As with many species, some tidal flow tends to get the fish feeding more actively. Tidal flow will encourage food and predator concentration around certain structures. I will often focus my fishing during the quarter and three quarter period of the tide (run in or out). These points denote the stages when the tide just starts to increase its flow and when it just starts to reduce flow rate.
The stages of the day where the light levels increase as the sun rises are often those when fish seek deeper structure and holding stations. As the days starts to grow older, I will often begin to focus on deep water cranking the prime structures.
In the event that a waterway is becoming pressured through angling or boat activity, I have found the fish will feed more closely to deep structure. During weekends or times of peak activity, I spend more of my time concentrating on the deep holding fish.
How to retrieve crankbaits for bream
A successful retrieve on any given day can be a moving target. By this, I mean there can be a large variation to what will make the most effective retrieve from day to day. As a rule of thumb, the more active the fish, the faster I am usually able to retrieve my lure however, the tougher the fishing becomes, the slower I am often required to retrieve a lure to catch fish.
The most basic retrieve when targeting bream with deep diving hardbodied lures is to cast it to the desired location and slowly and consistently retrieve it through the target area and back to the rod tip. This is often referred to as "slow rolling" the lure. Where the fish are active, this retrieve can be very effective.
In the event that I do determine the fish are active, I can often throw a sporadic twitch or short sudden darting of the lure to entice a strike within the slow rolled retrieve. This can be done by either twitching the rod tip or undertaking one very quick revolution of the reel handle while retrieving the lure.
In the event that the fish are subdued, an effective retrieve often means keeping the lure in the strike zone, and in front of the fish for as long a period as possible. This is achieved by making the retrieve as slow as possible.
To develop this retrieve, pull the lure down and into the designated target area, and then pause the lure. Having paused the retrieve for a period, begin retrieving the lure as slowly as possible with regular pauses thrown in to slow the retrieve even further.
This retrieve is deadly when fished with suspending lures, and in many cases a solid strike will occur while the lure is paused and suspending or dead drifting with the current. The lifelike imitation of a wounded or "hiding" baitfish will often produce reaction-type bites. The vibration of a lure moving past the fish followed by a pregnant pause leaving the lure in the face of attracted fish is the key to producing these strikes.
As you begin any new day on the water, aim to establish what depths the fish are holding and what retrieve the fish are most tuned into. On some days, the lure will have to be bumping bottom structure to get a response while on other days, the bites will come in the way of suspended fish, holding in mid water. Vary retrieve types until you find an effective pattern that can be repeated, and then enjoy the fruits of your labour!
Summary
The tricks I have learnt fishing the tournament scene have assisted me to "save" many a social day on the water. We all fish more heavily pressured waterways these days and having enough tricks up your sleeve to fool those tougher weekend fish can only be a positive.
The art of deep water cranking is just that – a handy trick that will work some days when many other options have failed. I still have my box of soft plastics, shallow diving hardbodies and blades stashed away in the boat, but my box of deep diving hardbodies is growing and is tucked right alongside all the others!