The assignment: 4 April 2022, I headed off to check out Rhapsody, a (very) remote bush camp south west of the Blue Mountains, NSW, about 3 hours from Sydney. I knew this place was remote when mobile reception ceased to exist two hours before I arrived at camp. This assignment, to tick off a bucket list item of mine - to see the massive 10-tier waterfall, Box Creek Falls, in the Kanangra-Boyd National Park, about 3 kilometres from camp. For an added bit of luxe, I thought it would be fun to hire a caravan from Camplify.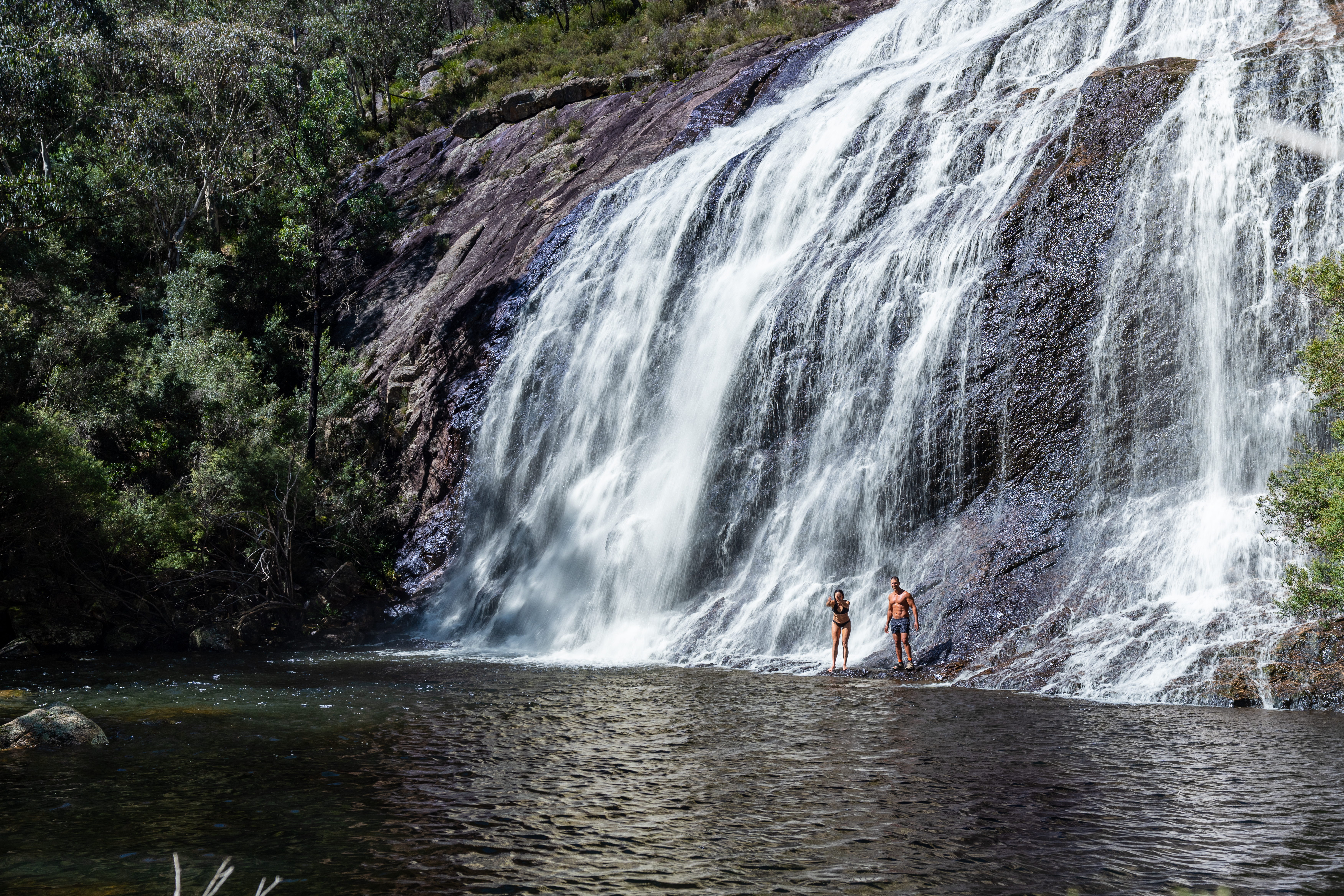 The access: Gingkin is the official name of this location, we saw just a few houses as we passed through what's known as 'town', and no local corner store for emergency supplies. The nearest major town is Oberon, about 45 minutes from camp. You'll need detailed directions from the host, it's very remote, 4WD is recommended!
The campsite: Two riverfront campsites to choose from with direct access to the Hollanders River, perfect for swimming, fishing for trout, and being lulled to sleep by the sound of the river passing over stones. Both campsites are well separated on different bends of the river, so you won't hear a sound - besides that of the river, wombats and other wildlife. This is cosy campfire territory! We arrived at 2pm and already the sun was dipping behind the towering river gums. Any firewood lying around is likely to be damp (unless you're staying in summer), so I recommend bringing your own dry hardwood, and plenty of it. We were there in April and it was around 3 degrees overnight. We certainly appreciated a warm night sleep in the caravan!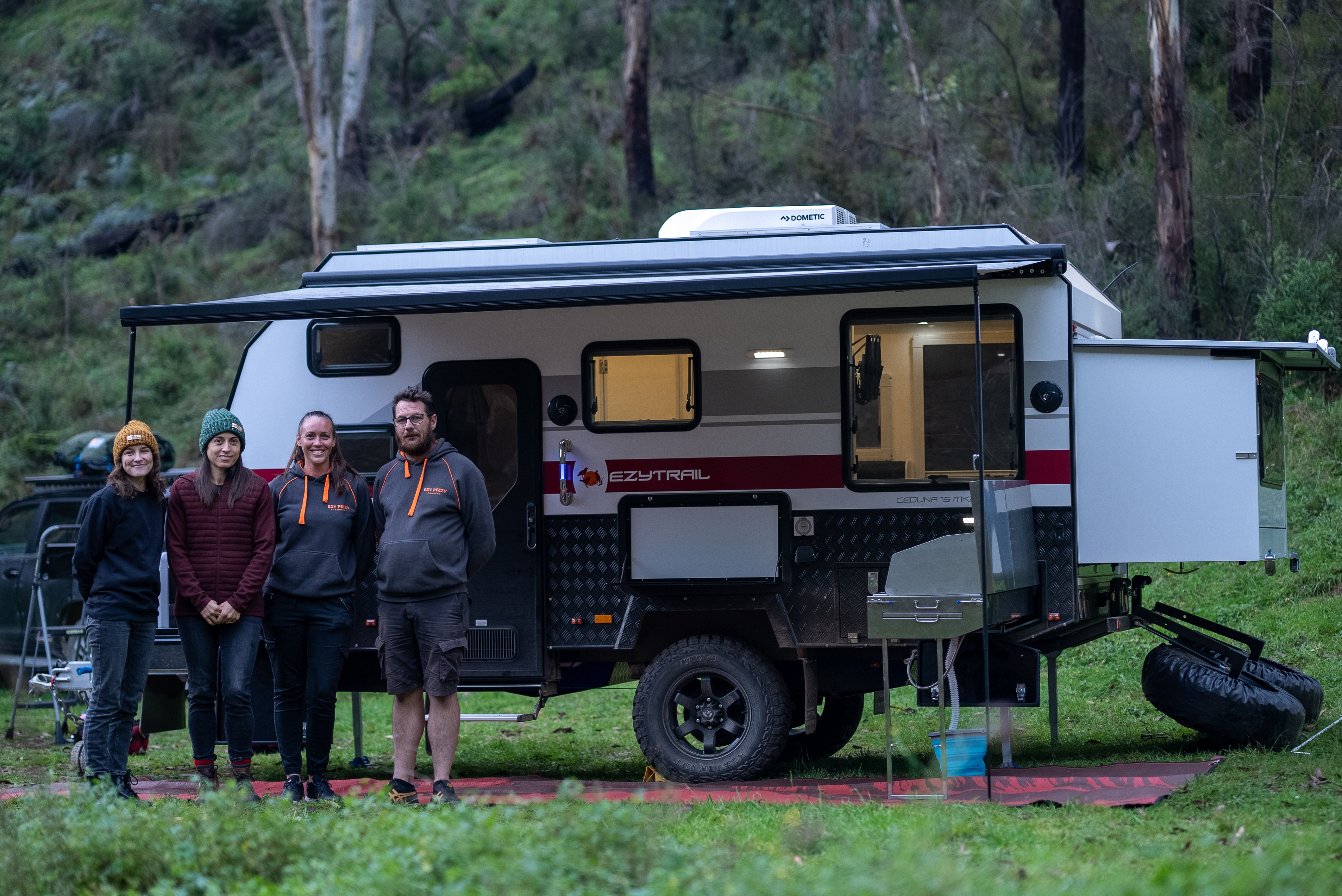 The amenities: Basic - just the way I like it. One pit toilet (which was smell and fly free), and one open-air cold shower gravity-fed with mountain spring water. There is running water to camp, as well as plenty of water from the river (always recommend boiling first).
The nearest place to swim: No need to go anywhere! The Hollanders River is right at your doorstep. The river is mostly shallow, has deep pockets and it's perfect for swimming or kayaking. Kids will love it as there are rapids and plenty of stones to skim. Parents will love it as they can sit on the riverbank and easily watch kids play. The river can flow fast after rain so supervision of children is a must. Pack the flotation devices for hours of fun up and down the river (guaranteed appetite builder).
The adrenaline rush: One of the items on my bucket list is now firmly ticked off, a 6-hour return hike to the Box Creek Falls, and it did not disappoint! I booked a guided hike with the host, Danny. He mentioned before we set off that he had a snake bite kit and an emergency beacon. He also informed us that if anyone breaks a leg it's helicopter-out material. Everyone ready? Awesome! Let's go! We climbed down steep rocky terrain to the river, where we waded through waist-deep fast-flowing rapids, and a few hours later picking our way through through thick bush we miraculously arrived at what is one of the most spectacular waterfalls in Australia - at least 10 tiers of pumping falls, with deep pools for swimming. There is no formed track to get to the falls and you definitely need a guide. Danny told us that people have gone missing in the National Park (and one body never recovered…) it's a dangerous place, so only try to find the falls if you have an experienced guide.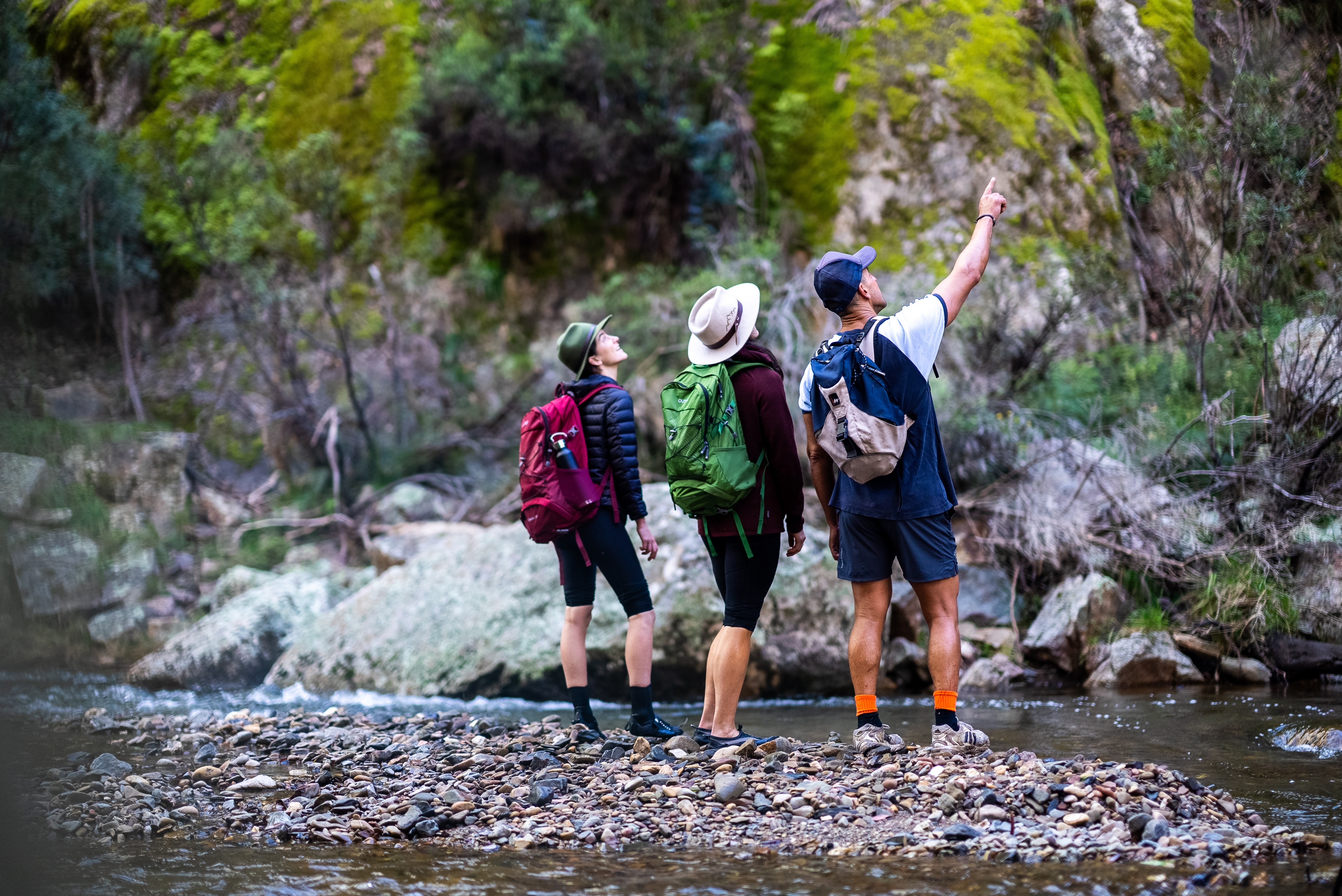 Featured Outrak Chasm backpacks
The tucker: The camp oven got a good workout this trip! We ate chicken marbella, a Spanish- and Moroccan-inspired chicken dish that includes olives, prunes, white wine and capers, pre-marinated at home so it was a simple throw-in-the-camp-oven meal. We made a simple damper for dessert drizzled with Danny's honey which we added as an extra to our booking. For breakfast before our big hike we ate hearty hot porridge sweetened with apple, currents, cinnamon, nuts and topped with a generous dollop of yoghurt followed by more drizzles of delicious farm-fresh honey.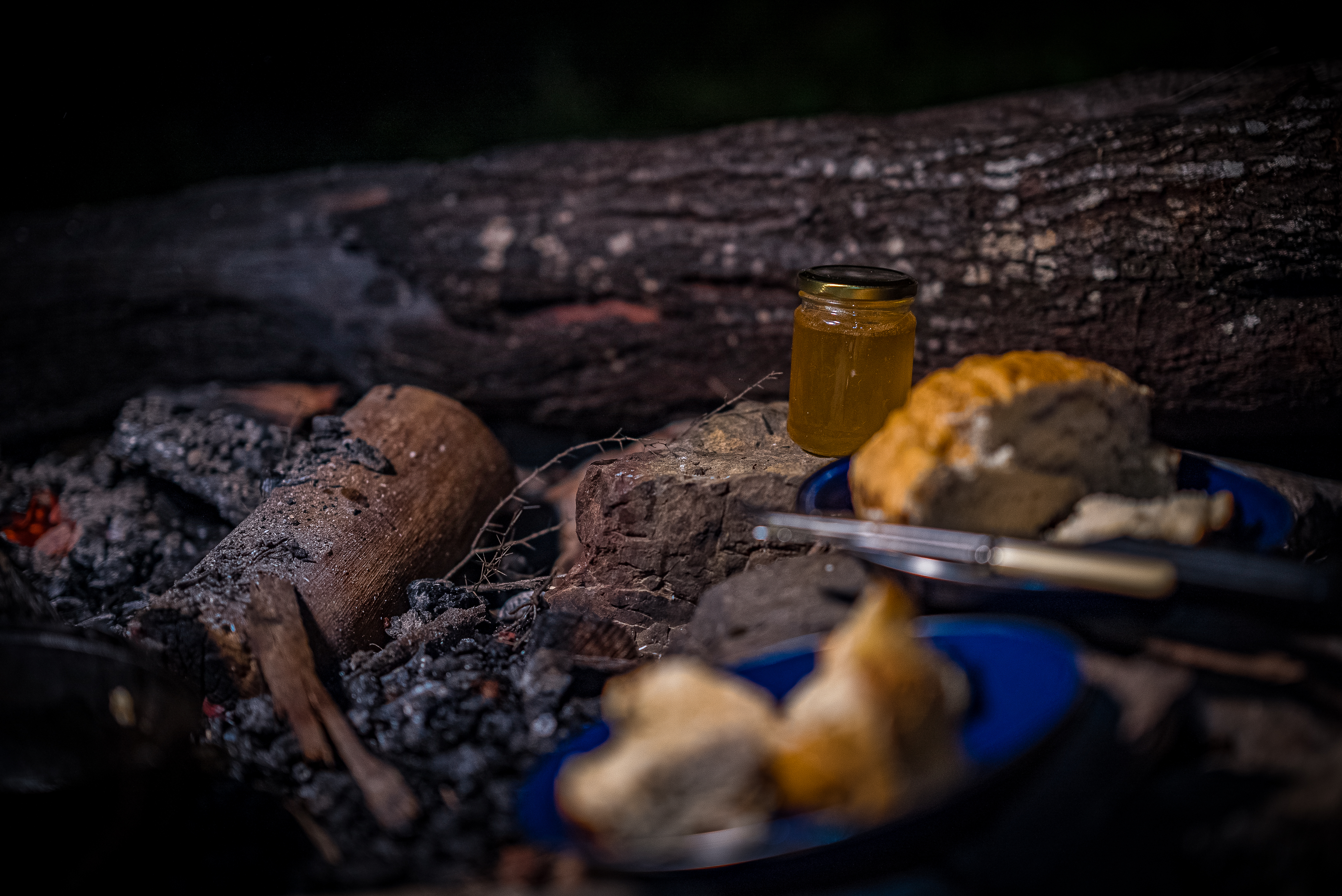 The vitals:
Rhapsody, Gingkin, NSW. We stayed at Platypus Flat
Nearest major town: Oberon, NSW
Cost: $80 for two, extra adults are $36 and extra kids are $18 (at time of writing)
Pets allowed: Yes
Toilet: Yes, one pit toilet
Showers: Yes, one cold shower.
Mobile reception: Optus - no, Telstra, a bit at the cattle grid 10 minutes from camp
Power: None
The gear: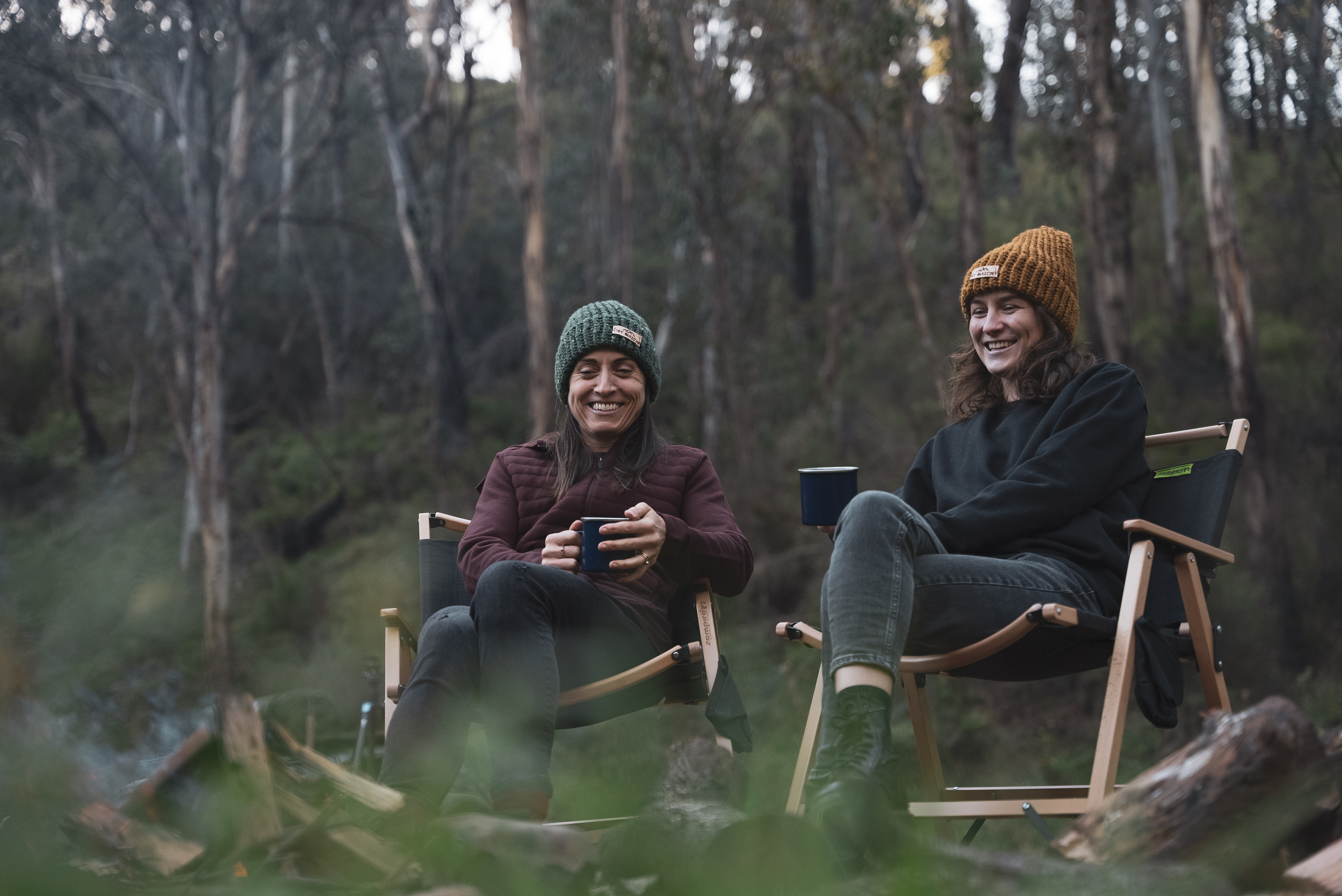 The final word… Chase those waterfalls! The guided hike was an experience we'll all never forget. The city-based camera crew were cursing at me for making them do the hike and carrying $25,000 worth of camera gear through waist-deep rapids. At one point I was worried about my teammates' safety (not mine, all in a day's adventure), but it was worth the effort to see everyone awe-struck when we finally made it to the waterfalls.
Watch the Host interview with Danny
Written by Brooke Wood
Brooke is an adventurer for Hipcamp, based in Moruya, New South Wales, Australia. She's a lifelong camper who has spent many a night under the stars, and prefers a swag over silk sheets any day. Her favourite campsite is anything close to a river, with nothing much else around (including other people).
To book your next camping adventure head to Hipcamp, or download the free app.