As people are becoming more reliant on technology in our everyday lives, we are finding it harder and harder to leave behind the creature comforts of home when we escape on a camping trip. Fortunately, the latest developments in portable power devices have been put to great use in ensuring we no longer need to go without. Caravanners, campers and 4WDers have all embraced the portable power option as it allows them the freedom to camp anywhere, with the peace of mind they will have enough power for all their appliances, plus keep any phones, tablets or computers fully charged. They also make for a handy backup power supply in the event of emergencies such as blackouts and ensure you can still have a ripper time on your next camping adventure. With such a variety of different options from generators, solar panels, battery boxes and battery packs, it can be tough to work out what is the right product to suit your needs. In this buyer's guide, let the BCF'ing experts help you in selecting the right portable power source. Chock-a-block full of useful information, we will run you through the different types of portable power, why you need them, regular power consumptions, plus some handy hints.
Why do you need a portable power source?
Designed with the purpose of making your next camping experience more enjoyable, portable power sources are a compact and quiet power alternative that can be used to charge and operate many camping appliances, while also allowing a few of the luxuries from home. If your idea of the perfect camping trip is heading off the beaten track or maybe you enjoy being self-sufficient at the local campground, this is the perfect addition to your camping setup. But, first, you must take into consideration a few important factors.
How often will you go camping or caravanning?
Will it be used frequently or simply once in a blue moon? Think about how long you will be away for. Will you be gone for a week or longer or will it only be used for a few nights?
Will you be close to town or completely isolated?
If you prefer to stay close to civilisation, portable power sources are less important as you will normally have some form of power supply close at hand, but if you are travelling further out whoop whoop you must make sure your power supply is large enough to see you through, as assistance may be hard to come by.
What will it be used for?
Think about the number of appliances that you will be powering, will it be used for your whole setup or just a few lights, chargers etc. Make sure you have a larger capacity if it will be powering a fridge.
How much free room is available?
Although most portable power devices are compact in size and have a rather small footprint, it is still advised when your vehicle or caravan is being packed that you maintain enough space for each person to travel comfortably plus any equipment or baggage you may carry.
Types of portable power sources
Whether you are hitting the local campground this weekend for a little R'n'R, taking the family away for the school holidays or you're planning well in advance for the next camping trip, the addition of a portable power supply to your camping kit can enhance your experience and get your appliances ready to go next time you head bush. With such a varied selection of products all capable of keeping the power going and more importantly, the drinks cold, we have decided to list the different types of portable power options, their features and the advantages of each style. This is to help you better understand which will best meet your needs and ensure your next camping adventure is a cracker.
Mains power
The benefits of staying in a powered campsite easily outweighs the added expense. With access to 240-volt electricity feel free to enjoy all of the comforts from home without the risk of running out of power. The added purchase of power boards and extension leads allows the use of multiple devices from a greater distance.
Plug any of your devices or appliances directly into the mains power and eliminate any chance of falling short
Most campgrounds around the country will have powered sites available for campers who are not equipped with their own power supply or simply enjoy the carefree camping experience mains power provides
Generator
If glamping is more your style or you don't like to leave home without a few little luxuries, a generator could be the perfect addition to your camping kit. Whether you are a 4x4 enthusiast, caravanner or avid camper, a portable generator is an extremely reliable item that makes light work of recharging batteries and powering devices on the go. Generators come standard with a built-in fuel tank and run on regular unleaded fuel readily available all around the country so you don't get caught out.
Some generators are more economical and release less emissions, making them better for the environment
When purchasing a generator, it's important to think about the size of the fuel tank and the efficiency of both your generator and the appliances used e.g. Will you have enough fuel to last the duration of your trip?
Perfect for campers who like to be on the move
Can be useful in the event of power outages or blackouts as a backup source of power
Below are some features commonly found on our range of generators.
Pure Sine Wave Inverter technology: eliminates the chance of damage to your smart devices by preventing power surges
Automatic throttle setting: the generator automatically adjusts the throttle setting to ensure fuel efficiency is maximised
Low oil and overload warning cut-out: keep your generator in tip top condition for years to come by protecting the engine and also stay informed when the oil level needs filling
Rated and Maximum power outputs: The model that best suits your needs should be determined by the required power output, number of appliances used and time you will spend away
230-240V, 12V and USB outputs: With a variety of different outputs to choose from you can use almost any appliance or device
Meets current emissions law and noise standards: Most campgrounds have a cut-off time and do not allow generators to run through the night, however, the lower dBa (decibel) rating means the campgrounds are not drowned out by the sound of generators running all day.
When powering sensitive equipment such as phones, laptops and DVD players, ensure your generator is equipped with pure sine wave technology as standard generators will emit an uneven power output that can cause damage.
Solar
The Earths sun is a potent source of energy that can easily be harvested with the use of a solar panel or solar blanket. Highly regarded for its renewable properties, solar is quickly becoming the first choice in portable power sources. Whether you are caravanning around the country, taking the tribe on the yearly family holiday or setting up the 4x4 to hit the dirt, solar power is available in a range of options including different dimensions, power outputs and materials, while also being compact and relatively lightweight. Top up any batteries or appliances as your solar device soaks up the sun's goodness, then as night sets in allow the energy stored in your power pack or battery box to power your devices and appliances through the night.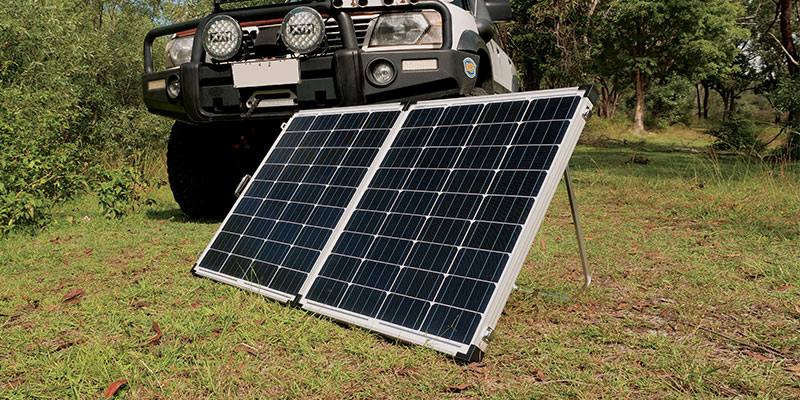 Use the power of the sun for an efficient and environmentally friendly source of energy
A solar panel can be used to charge other power sources such as batteries and power packs
Renewable clean power that is available all year round with even cloudy days producing some power
Can be installed virtually anywhere that has access to the sun making solar an extremely practical, portable and efficient form of power
Virtually maintenance free, only needing to be kept relatively clean to extend the life expectancy of your solar panel
Below are some of the features commonly found on our solar panels:
High quality monocrystalline silicone panels: For the purpose of providing a longer lifespan and ensuring better space efficiency
Adjustable feet: It is important that you position your solar panel correctly by using the adjustable feet to change the angle and make the most of the sun's rays
Long leads: Make the process of positioning your solar panel much easier with the included lead
Folding design: Compact and easily folds up, this makes solar panels and blankets a great choice for people who are short on space
Protective carry bag: Keep your solar panel free from scratches and cracks with the included carry bag
It is better to use your solar device to charge a battery rather than charge your appliances directly. The solar panel may struggle to reach the required wattage to charge your device directly, however, will be much more productive in storing the required wattage through a battery. It is also safer as the battery will regulate the amount of power being used at a constant rate.
Powered battery box
Using a powered battery box in conjunction with a separate 12-volt battery is ideal for use around the campsite or in the caravan With USB ports, Anderson style plugs and cigarette lighter 12-volt sockets you will be able to keep all your appliances charged and ready to go. Most battery boxes come with a handy built-in digital voltage meter so you can keep an eye on your remaining power level. Before purchasing a battery for your battery box measure the inside to make sure it fits.
Can power both 240volt and 12volt appliances
Accommodates up to 130AH size batteries
Charge the battery in your powered battery box using either mains power with the provided 240volt adaptor, in your vehicle with the DC cigarette socket, or via your solar panel or Anderson plug connection
Battery pack
A great choice if you need power on the go, the battery pack is a compact and transportable power alternative that has made easy work of powering portable fridges and other 12V appliances for years. Available in both deep cycle AGM and Lithium-ion varieties, the latter weighing a mere 7kg, with up to 44A/H of run time, allowing you to power all your beloved camping appliances. When it comes time to charge, use any of the 12V charging ports or even attach a solar panel for easy charging.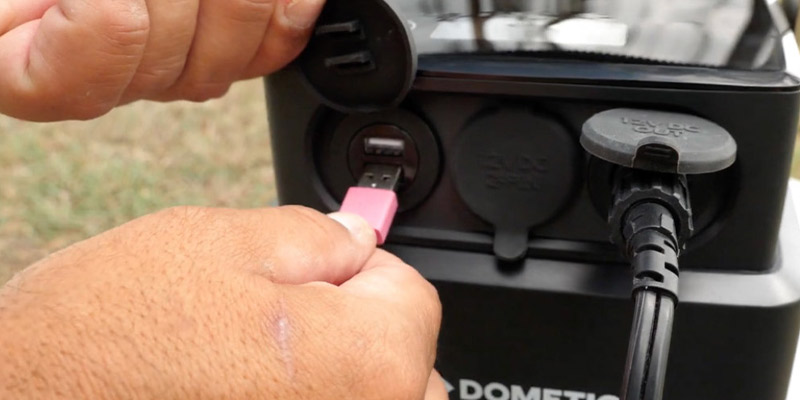 Safely remove the risk of running your car battery flat by using an alternate power pack to run your appliances and devices
Can be moved around easily with its lightweight design
Can be used to jump start a vehicle in the event of a flat battery with the use of alligator clips
Ideal for running 12volt portable fridges and LED lighting
Below are some of the features commonly found on our battery packs
Available in both lithium-ion and deep cycle AGM varieties
Rugged and portable design for power on the go
Includes multiple 12volt outlets (lithium ion comes with 2x USB sockets for charging devices)
Lithium ion provides 40AH while the deep cycle AGM has a 44AH capacity
Other things to consider
Will this be your primary source of power? Can also be used as a secondary or backup power supply.
How many appliances will you be powering? Keep in mind that more appliances will draw more power.
What type of sockets will you require to plug in different devices? Most power supplies come standard with a selection from 240V mains power, 12V cigarette lighter connections, Anderson style plugs and USB ports.
Do you need it to be lightweight/portable? Solar panels and blankets are a much lighter alternative, however, to get the most out of your device, we recommend using a 12V battery as the power supply and use the solar device to keep the battery charged and ready to go. A lot of solar panels won't charge a device directly and need a battery to complete the circuit.
Will noise be an issue? Some campgrounds have restrictions on noise pollution that has caused issues in the past with earlier model generators, but with the advancements in noise-reducing technology, later model generators have a lower dBa output that will make you much more popular with your neighbours.
Where will your power supply be located? Generators should never be used indoors as they emit toxic fumes which can cause severe injuries. To make the most of your solar panels it is wise to reposition the unit to take full advantage of the sun's rays all through the day.
Do you need a second battery? In your 4x4 we recommend the use of a secondary battery to eliminate the risk of running a battery flat and leaving you stranded. Most campers and 4WDers understand the need for a reserve power supply to run any lights or camping equipment plus keep the beers cold in the portable 4wd camping fridge/freezer. As the secondary battery will be used solely for running tools and appliances, it is best to use a deep cycle battery which is designed to provide a steady and consistent draw of power for longer periods, this will leave your main starter battery to perform the task of starting and powering your vehicle.
How long will the power last?
There are several things you must factor in when determining how long your power source will last.
What power source you are using?
What appliances or devices you will be powering?
What length of time will they be powered for?
In order to calculate how long your generator will be able to run before it needs to be refuelled
You must first take note of how many usable watts your generator has available (e.g. 1800 watts for a 2.1kVA generator)
Then calculate the total number of watts needed to power and run all your appliances and devices (e.g. 800 watts)
Now divide your first number by the second number to work out how many hours of run time you have available (e.g. 1800 watts/800 watts = 2.25 hours)
To calculate how long a portable battery will be able to run before in needs to be recharged
You must first take note of how many Amp Hours (Ah) the battery is (eg.100ah battery)
Then calculate the total number of watts needed to power and run all your appliances and devices (e.g. 180 watts)
Now you need to multiply the number of watts needed by the number of hours you plan to run your appliances each day (eg.180 watts x 2.5 hours = 450 watt-hours)
Next divide the number of watt-hours (450WH) by the battery voltage (12Volts) to find out the total amp-hours needed each day (450WH/12V = 37.5Ah)
Finally, you must divide the battery power (100Ah) by the number of amp-hours you will require each day (37.5) to find out how long the battery will last before needing to be recharged (100AH/37.5Ah = 2.66 days). Most batteries cannot be run down to 0. In some cases, if a battery is rated at 100Ah you can only use 50% of that number = 50Ah. Lithium battery packs can be run down to 0.
How much electricity is produced by your solar panel?
As solar panels come in a variety of sizes with different wattage ratings, it is important that you understand how much energy will be produced by your solar panel and also how much power you will need for all your devices.
To calculate the amount of energy that your solar device can supply your battery, we simply divide the number of watts by the voltage. This tells us the number of amps.
We then multiply this figure by the number of hours of sunlight. In the example below, you will be putting just over 50Ah back into the battery on an average sunny day (6 hours).
For example: 160watts / 18volts = 8.8 Amps X 6 hours = 53Ah per day
Safety tips
Each portable power source operates differently so it's important to understand the safety features and how to use the product cautiously.
Generators
Make sure your generator is switched off and at a cool temperature before attempting to add fuel
It is extremely important that when operating your generator, it is positioned outdoors in a well-ventilated location. Generators emit highly dangerous and potentially deadly carbon monoxide gasses which for this reason should never be operated indoors
Have the generator switched on and running before attempting to plug in any appliances or devices. Then turn everything on one at a time to ensure the generator is not overloaded
Many generators become hot when switched on for extended periods, keep children and pets well away to avoid burns and other injuries
When faced with rain or other weather events it is advised to only use your generator in dry and open areas, as generators can pose an electrical risk
Only use heavy-duty extension cords when connecting appliances to your generator and never plug directly into your mains power to prevent back feeding
Battery/Battery Packs
A battery or battery pack should never be left on charge for extended periods when not in use
Extreme temperatures can be hazardous on batteries or battery packs and should be avoided at all times (e.g. On a hot summer day never leave unattended in a parked vehicle)
Although batteries and battery packs may be durable, they should never be dropped or mishandled
In the event of battery leakage, never allow the liquid to come in contact with skin or eyes as battery acid is highly corrosive and can burn the skin.
Solar Panels
It is best not to touch the cells on a solar panel as they get quite hot after long periods in the sun, which can result in low-grade burns
To avoid injury to yourself and damage to both your solar panel, wiring and roof structures try not to sit or step on them, which can cause cuts and breakages
Here are some commonly used camping appliances and their approximate power requirements per hour:
| Camping Appliances | Running Watts W/H | Amps A/H |
| --- | --- | --- |
| LED Strip Light | 8 | 0.6 |
| Mobile Phone Battery Charger | 12 | 1 |
| Camping Light Kit | 29 | 2.4 |
| Laptop | 30 | 2.5 |
| 40L Fridge Freezer | 6-32 | 0.5-2.6 |
| Camping Fan | 41 | 3.4 |
| 80L Fridge Freezer | 6-51 | 0.5-4.2 |
| Water Pump | 50 | 4.2 |
| LED TV | 60 | 5 |