Enjoy your next outdoor adventure with your favourite refreshments on-hand whether you're camping, boating, fishing or just heading outdoors for the day. This buying guide breaks down all the decisions that go into helping you choose the best portable Fridge Freezer, Icebox or Cooler to suit your needs including:
What activity you'll use the Fridge Freezer, Icebox or Cooler for (e.g. camping, in your car, picnic, etc.).
How long you'll be using it for (a few hours, a couple of days, off grid).
How much storage space you need.
How much control you want to have over the internal temperature.
How much space you have available to store it and carry it.
What is the best portable Fridge Freezer, Icebox or Cooler?
Like everything else in life, choosing the best portable Fridge Freezer, Icebox or Cooler depends on your individual needs. What works for your mate may not be right for you; for example, a couple heading off on a caravan trip around Australia will have different needs to a family going to the beach or camping for the weekend. To help make your decision a little easier we're come up with the below guide.
#1. Which type of portable cooling option is best for my needs?
When investing in a cooling option there are many factors and personal preferences to be considered. Discover the types of portable cooling options available at BCF below: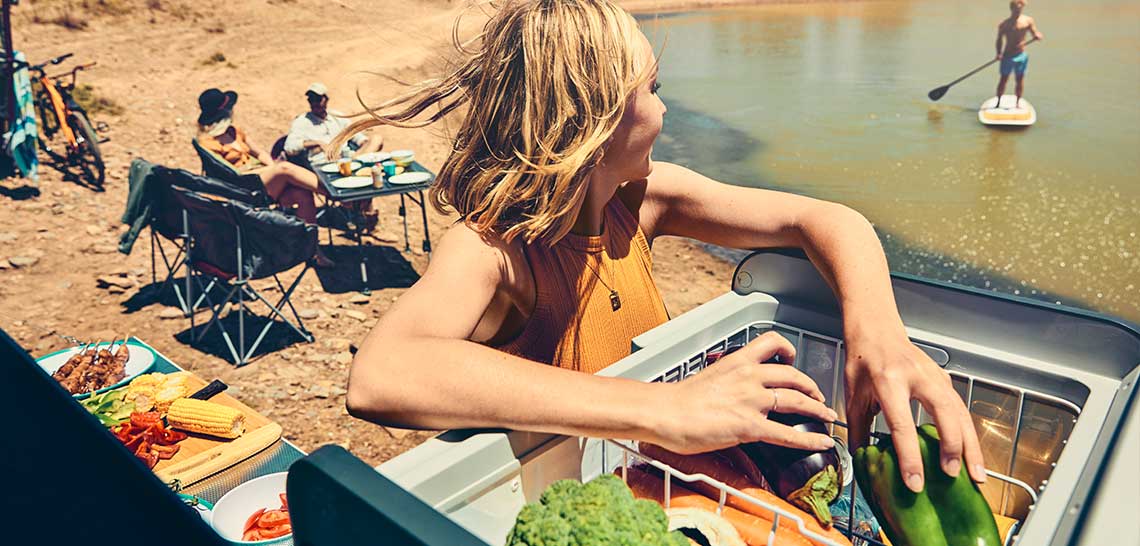 Fridges
There are three different types of fridges commonly available:
Fridge Freezer - designed to be used as a fridge OR freezer, but never both at the same time.
Dual Zone Fridge Freezer – dual compartments with separate lids adding versatility as each compartment can be used as either a fridge or a freezer.
Combi – dual compartments under the same lid. One compartment runs as a fridge only whilst the second compartment runs as a freezer only. In most instances the freezer compartment can be removed for more fridge space if required.
The benefits of all three styles are:
Portable – can be used in a vehicle, at a campsite or even at home.
Most can be run using 12/24V DC and/or 240V AC – in car 12V socket, solar with a battery pack, generator or mains power point.
No ice required.
Available in many brands and sizes.
It's also important to consider the room that fridges with vents need for their air flow as this allows the heat to escape for more efficient cooling. Additionally, most fridge freezers have a matching cover available for purchase. The covers are designed to protect your fridge freezer from general wear and tear whilst still providing easy access.
Store your fridge freezer out of direct sunlight to maximise efficiency.
Thanks to advancements in technology, you can now also purchase fridge freezers and accessories with additional features designed for your convenience.
Fixing kits to secure the fridge freezer to your vehicle.
Fridge slides to allow easy access.
Battery protection that automatically shuts off the unit to prevent a flat vehicle battery.
Digital display to easily set and see the temperature.
USB outputs to charge phones and other electronic devices.
Wi-Fi and Bluetooth connectivity so you can see and control the temperature using your phone.
Fridge thermometer allows you to monitor your fridge freezer's temperature to ensure your food and drinks stay fresh and cool.
Fridge/Ice Box stand is a lightweight aluminium frame with non-slip rubber on cross bars to lift your camping fridge off the ground.
Fridge basket is an ideal accessory for keeping soft foods (such as fruit and bread) away from products that may easily get freezer burn or be squished.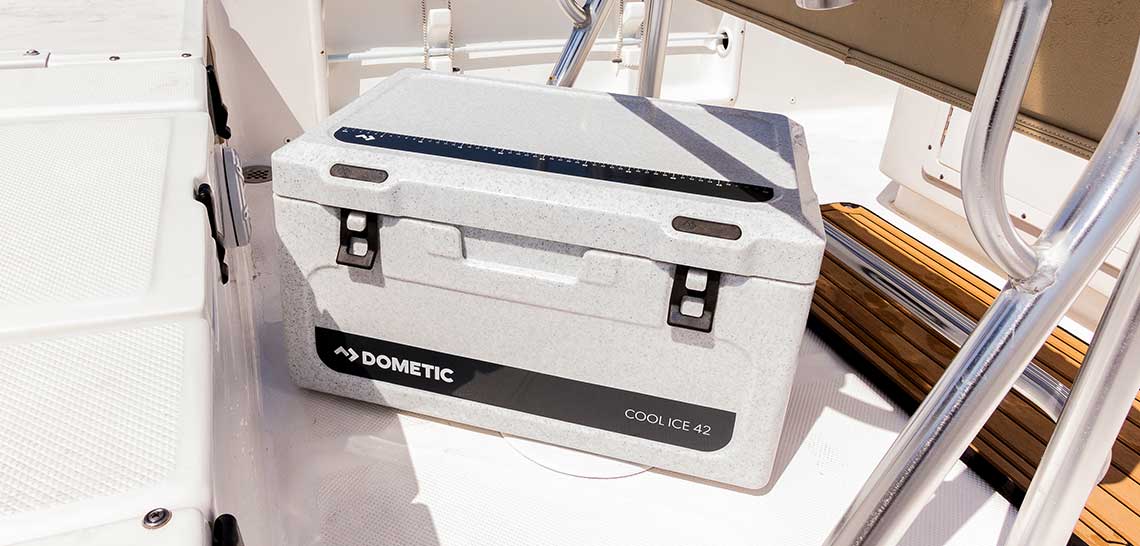 Iceboxes
Iceboxes are insulated storage containers designed to be filled with ice bricks or ice cubes and can keep products cold for up to 10 days.
Portable – can be used in a vehicle, on a boat, at a campsite or even at home.
Available in many brands and sizes.
Easily cleaned and drained.
No power required.
Longevity of ice retention is dependent on a number of factors – ambient temperature, type of ice used, how often the ice box is opened.
Pre-cooling your icebox before adding food and/or drinks will maximise ice retention. This can be achieved by adding ice or ice bricks a few hours before intended use to pre-cool the compartment. Adding salt to your ice can also assist with cooling.
Hard Coolers & Soft Coolers
Coolers are perfect for day trips and BBQs.
Great budget option that is perfect for food and drinks.
Lightweight and portable.
Available in many brands and sizes with hard coolers including options with wheels and extendable handles.
No power required.
The construction of a soft cooler offers the flexibility to be packed down for easy storage. It also doesn't take up much space so can be kept in your vehicle for those unexpected trips.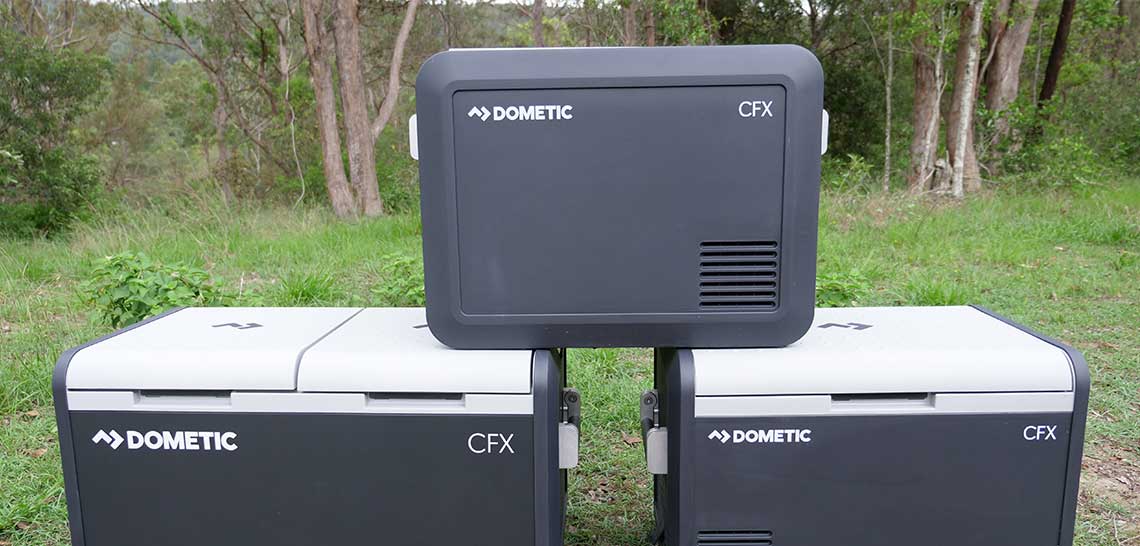 #2. Choosing the right size
Choosing the size of your cooling option depends on how many people and/or how much food and drink you require for your planned activity, plus the space you have in your vehicle to transport it. It's recommended to measure the size of your boot, tray or wherever you intend to place the cooling option for transportation.
It's best to keep in mind that when filled, you may need a friend to help move it if required.
All cooling options are measured to a litre capacity providing a guide to its storage capability. This measurement is factory tested and details the amount of physical liquid the cooling option can hold, the same way the capacity of your household fridge is measured.
Some brands also provide a can capacity guide that may help you visualise the size. Please refer to the individual item's specifications keeping in mind that this refers to cans only (no ice).
#3. Powering a portable fridge freezer
It's important to consider how to power a fridge freezer if you're leaning towards one of these products over a cooler or icebox. There are a few different power options to explore:
Electricity: Most fridge freezers can be run using 12/24V DC and/or 240V AC – in car 12V socket, battery pack, or mains power point.
Solar: It is important to select the right size solar panel for your fridge freezer. As an example, larger fridges will draw more amps therefore drain power faster so a higher wattage solar panel will be required. Solar panels need to be coupled with a battery pack as solar panels are designed to collect energy and battery packs are designed to store this energy for use when required.
Generator: fridge freezers can be connected directly to a generator. It is important to ensure you have the right size generator to run your fridge freezer.
The current draw of a fridge is measured in amps per hour. Smaller fridge freezers will use less amps/hours than larger fridge freezers as there is less space to cool. Please refer to the individual item's specifications for further details on power consumption.
#4. Quality
When you're investing in a camping fridge freezer, icebox or cooler, the quality can play a vital role in your decision-making process. One of the most important components to consider is the fridge compressor - after all, this is the heart of the fridge and determines the cooling performance of your camping fridge. Compressors can come with various components and technologies including compressor types such as the reciprocating compressor which only has one moving part that self-lubricates and is energy efficient due to the design. Less parts may also be a buying consideration from a maintenance perspective. Additionally, compressors can run at different speeds with either set speeds or, depending on the brand, the ability to change speed with conditions e.g. it may run faster when trying to cool the fridge when it is in the sun on a hot day. It's important to choose a compressor that is efficient so as to conserve your battery life for as long as possible during your camping trip.
The different materials in which the camping fridge is designed each has their own benefits. While metal coolers offer a tough exterior, polypropylene is one of the most durable plastics that are used in many coolers. Latches, seals and handles are the exterior pieces of your fridge or cooler that you need to ensure are high quality. Strong and durable handles are valuable for large iceboxes as they need to be capable of carrying the weight when it is full. If a latch breaks, the fridge won't seal - which means more power to keep the fridge cool which will drain more battery power and potentially leave you with a dead battery – not ideal if you're using your vehicle's battery.
When considering how you will power the fridge freezer, it will be equally important to check the cooling technology used. For those cooled by a compressor, you will need a 12/24v or 240v power source. Also, remember that fridges with vents need room for airflow (though they allow heat to escape for more efficient cooling) whereas iceboxes and hard coolers with insulation can keep products cool without power.