Whether being used as a shade for parents as they cheer on their kids at the soccer carnival, an extended awning for your camping area that can be relocated with ease, or maybe you're having a group of mates around for a backyard bbq and want a shaded place to sit where you can avoid sun and UV exposure. Gazebos are easy to assemble, built tough with solid and durable materials that are capable of providing years of protection against the harsh Australian elements. The versatility of the gazebo is practically limitless, however many customers are becoming confused when purchasing due to the diverse range available. The BCF'ing experts have put together a buyer's guide to help you in selecting a gazebo that best fits your individual needs. We will also try to answer some of the commonly asked questions and provide some handy tips.
What to think about when buying a gazebo?
Although many people may believe that the gazebo is just a simple sun shade, the truth is they are capable of so much more. With such a diverse range of shapes, sizes, weights and configurations, it is important for you to identify what attributes you require in a gazebo before purchasing. Below is a few questions that you should ask yourself to ensure you choose the correct gazebo.
How often will your gazebo be used?
Gazebos have been manufactured as a temporary form of sun shelter. They do a brilliant job of protecting from the elements including light showers and gentle breezes, however to extend the life of your gazebo it is recommended that they are not used as a permanent structure and should be packed away and stored in a dry and temperate location when not in use.
Will you be using this camping? The occasional outdoor event/bbq or for a weekly market stall? We have a range to suit all.
How large does your gazebo need to be?
Gazebos vary in sizes from the "Wanderer Compact" gazebo that is compact in package size, but still a full 3m x 3m ground to canopy shade solution, perfect for use at market stalls and a lightweight option that can easily be carried down the beach or to the local park. The 3m x 3m would be the most popular size providing extra shade and structural integrity that has become a firm favourite among campers and day trippers alike. On the other end of the scale the 6m x 3m gives the most amount of coverage for family and friends to gather under. They are great for larger parties, group camping and poolside hangouts. Before making your final purchase we advise you take into consideration any furniture you may wish to use such as camping chairs, tables and picnic rugs and how many people will you be seating. With the correct positioning you will be astonished by how many chairs can fit under a 3x3 metre gazebo.
Where will your gazebo be used?
Beach, Park, Pool or campground. It is important when making your selection that you consider where your gazebo will most commonly be used. This question is in regards to the solidity of the ground and if any extra gazebo accessories such as sand bags, frame weights or guy ropes and pegs may be required to keep your gazebo secure.
How much do you want to spend on a gazebo?
If you are somebody who spends more time in the great outdoors then they do at home, it would be beneficial to purchase a Gazebo that is capable of the task at hand. In most situations the initial outlay reflects the quality and life expectancy of the item, using superior materials and thicker frames. If your gazebo is only going to see daylight once a year an entry level gazebo may better suit your requirements.
Do Gazebos handle weather conditions?
One of the questions most commonly asked by customers is how well will it handles heavy rain and strong winds? Please be advised that these products are sold as sun shelters and as such we do not recommend use in wind and rain.
Always stake or weight down your gazebo at all times once set up. This will help to eliminate the risk of injuries to yourself and others, while also preventing damage to the gazebo.
What are some different types of gazebos?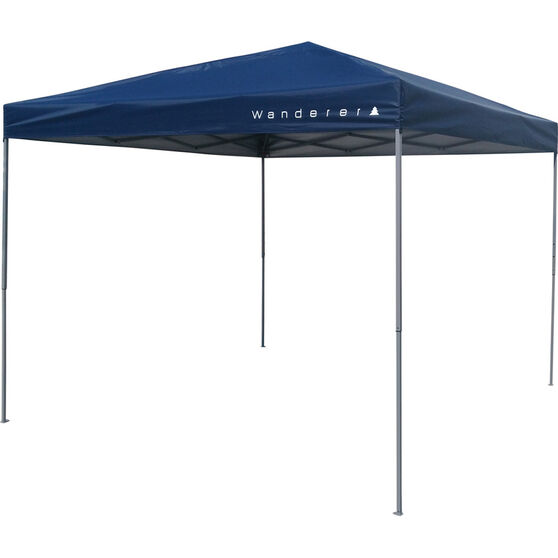 Standard Gazebo
Light weight and portable, the standard gazebo is perfect for anyone who may lack the physical ability to handle other heavier models. With a clever frame design that makes set-up a breeze, even when travelling solo and a durable canopy for sun protection. The perfect addition for beach gatherings and sudden picnic adventures.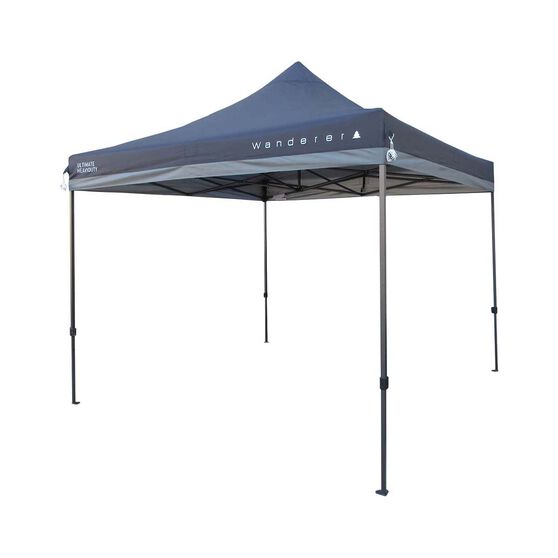 Ultimate Heavy Duty Gazebo
With thicker legs and frame providing added support and durability, the ultimate heavy duty gazebo has found a home with many families around the country. They come in a variety of sizes, to cater for different situations with the 3x3m model the most popular. Take it on an overnight fishing adventure, use it as a handy extension to the tents awning or pick a spot by the river for a BBQ with the family.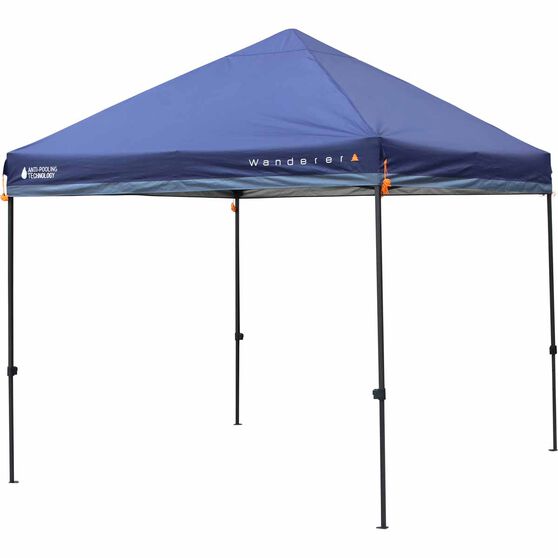 Anti-Pooling Pro
These gazebos come with a clever anti-pooling pro frame design that has been created to prevent water from collecting in the middle of the canopy top, instead it encourages water to roll off the sides and down onto the ground. Perfect for use in locations where moisture, or light showers are common, such as the tropical north or coastal environments. They have been constructed with a durable, powder-coated steel frame and a Polyester top with a 50+ UV rating for superior sun protection.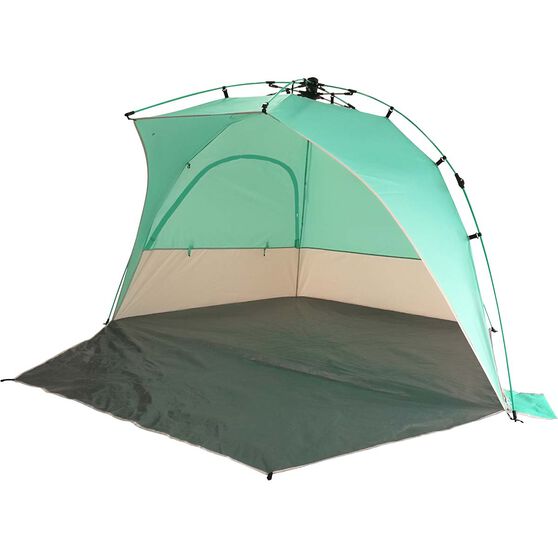 Beach Shelter
The ideal accessory for any beach adventures, these shelters are a lightweight and portable option, designed for quick, single person assembly. They are available in both polyester and poly-cotton canvas with an instant fibreglass frame for added durability and Provide UPF50+ sun protection so you can spend your free time enjoying the sunshine while staying protected from harsh UV rays. Each beach shelter comes equip with sand pegs so you can keep your shelter secure once you've found the perfect relaxation spot and a convenient carry bag for easy storage and transportability.
What Gazebo Accessories are available at BCF
Purchasing your new gazebo is just the tip of the iceberg, now you have the freedom to kit it out however you see fit. BCF stock a large variety of gazebo accessories to help meet your individual needs and enhance your camping experience. From gazebo wall kits, tent hubs, cooking stations or sand bags, ensuring your next adventure in the great outdoors is one to remember.
Solid Wall Kits
Solid wall kits provide privacy and protection for you and the whole family. They come in both single and double sizes, which fits most gazebo dimensions. They make for a handy wind break or secure location to get dressed. Made from high quality, silver coated 420D polyester for added durability and weather protection.
Mesh Wall Kit
Mesh wall kits have become very popular, especially among families with smaller children. They provide ample protection from insects and pesky mosquitos, while still allowing great ventilation and enjoyment from the afternoon breeze. Constructed from durable no-see-um mesh they are the perfect addition to any gatherings where food and drinks will be left exposed.
Sand Bags & Frame Weights
When using your gazebo on soft ground such as sand, the added purchase of sand bags or frame weights is a must. Helping to weigh down your gazebo and aid in keeping it secure, you need simply to fill it with sand or water and attach to the legs of your gazebo - they also provide flexibility when pegs can't be used. We recommend using a combination of sand bags, frame weights, pegs and guy ropes for added security.
use the holes in the feet of your gazebo to secure with extra pegs
Gazebo Bar Table
Whether you are planning a simple overnight stay or a longer family vacation, the importance of having somewhere to rest your cold bevvy at the end of the day is paramount. Fitting comfortably along one side of your gazebo, it not only makes for a fantastic bar table, but the applications are almost limitless with a convenient cooking location, added storage and clothesline as some handy ideas. Constructed with an aluminium frame and MDF table top for durability and effortless portability.
Gazebo Hub Tent
Gazebo hubs can be used to transform your sun shelter into an extended living area and ultimate sun shelter. They fit to most 3 metre frame systems and can be used for anything from sleeping quarters with a capacity of six people, play room for the kids, storage area, or protection from the elements when the weather sets in. The gazebo hub uses no-see-um mesh for increased ventilation and insect protection and is the perfect accessory to your new gazebo.
Tips for selecting the right gazebo
A gazebo is made up of two major structural elements, the frame which comprises of four legs and the roof struts (this gives the gazebo its shape) and the canopy top normally made from polyester (this provides shelter and comes with Velcro straps that allows simple attachment to the frame). Below, we will discuss the differences and benefits between the materials used to help you make the correct decision when it comes time to purchasing your new gazebo.
Frame
Frames differ in thickness depending on the model you choose
A thicker frame will provide added durability
Thicker struts and legs will also aid in sturdiness and the overall life expectancy of the gazebo
Lighter framed models are more manageable and their smaller dimensions when packed up ensures easy storage
Frames are generally a powder coated steel finish. The powder coated finish adds an extra layer of water protection and an aesthetically pleasing finish
Joints are most commonly constructed from plastic or nylon, they are strong as they flex better than metal
The height adjustment mechanism differs between brands, so look for a gazebo that has a simple design that is easy to use and wont pinch your fingers
Most gazebos come with three adjustable heights which you can choose between at any time. This is extremely useful when weather sets in or the angle of the sun changes, it also comes in handy for extra weather protection when you're sleeping in a swag
Canopy Top
The fabric used in canopy tops is rated in denier. This rating is determined by the thickness and weight of the fabric and lets you know how durable it will be. The rating comes in a range from 150D to 420D. A 150D canopy will still provide shade, waterproofing and UPF50+ however, is more suitable for infrequent use. The higher the denier, the more durable it will be.
The higher D rating ensures the fabric can handle stronger winds and will remain water-resistant in more conditions
Gazebos make for an ideal sun shelter, they come with a UV rating of up to UPF50+ for ultimate protection against the harsh Australian sun. Look for gazebos with a silver coated backing, for further sun protection.
It's important that your gazebo has quality stitching which will reduce the risk of rips and tears through the canopy top. The use of double stitching is a benefit for ensuring the fabric will last for many camping adventures.