Whether you choose 'the Big 4' or opt for one of Australia's spectacular National Parks, having the right camping equipment can make or break your trip. In addition to a sturdy tent that accommodates the number of campers in your party, you will need some quality sleeping bags and a rucksack for your essentials during hiking.
Meal preparation whilst camping can be tricky. Some people prefer to stoke a fire and cook over an open flame. Campfire cooking comes with some challenges, including the potential for wildfires. Wood fires can also release harmful pollutants into the air. Let us not forget that it can be difficult to even get a fire going, let alone to the correct temperature needed for thoroughly cooking food. When you are hungry after a day enjoying the outdoors, the last thing you want to do is wait a long time to get a fire going. For these and other reasons, camper stoves are a great alternative.
There are many factors that go into choosing the best camping stove that is right for your needs. The first involves narrowing down the style: freestanding or portable. Freestanding stoves are much heavier and more cumbersome to haul around than their portable counterparts. There are pros and cons to both models, so be sure to fully investigate before deciding which to purchase.
Other considerations when choosing a camping stove:
Cooking space and the total number of burners
British Thermal Units (BTUs) – meaning the total output of the burner
Fuel type and capacity
Ignition type
Weight
Size
Once you have those details worked out, consider one of these 8 versatile camping stoves for your next outdoor adventure in Australia.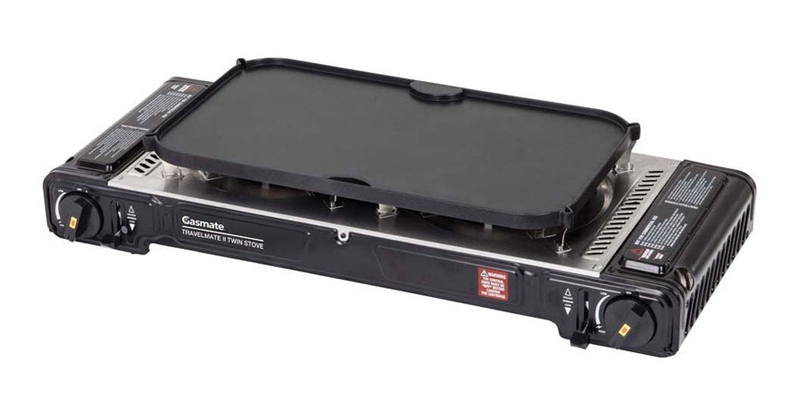 1. Gasmate Travelmate II SS
Tiny but mighty, the Gasmate Travelmate II SS two-burner stove plus hotplate delivers delicious meals whilst you are out in the bush. This butane 2-burner camping stove comes with a reversible aluminium hot plate and hard carrying case for easy storage and transport. It is gas certified and equipped to meet Australian and New Zealand safety standards. The stainless steel spill tray and flame protection ring make for easy clean-up. When both burners are in use, the combined heat output is 17,000 BTU. This is one of the best camping stove models on the market for individuals or groups of two to three campers.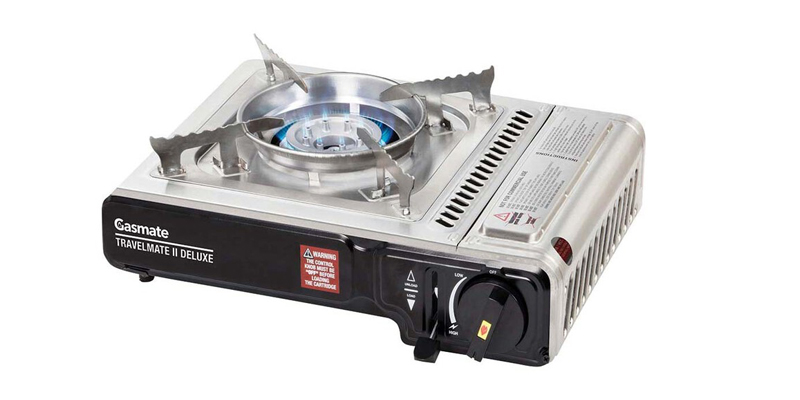 2. Gasmate Travelmate Deluxe II Butane Stove
One of the best butane stoves for solo campers, the Gasmate Travelmate Deluxe II Butane Stove model is inexpensive, compact, and lightweight, allowing easy transport. It has both a high heat output for efficient cooking and a 2-stage overpressure safety shut off device to prevent accidents. If overpressure occurs, this smart camp stove ejects the cartridge or shuts off the gas supply to the burner. The solid steel construction reinforces this unit's durability.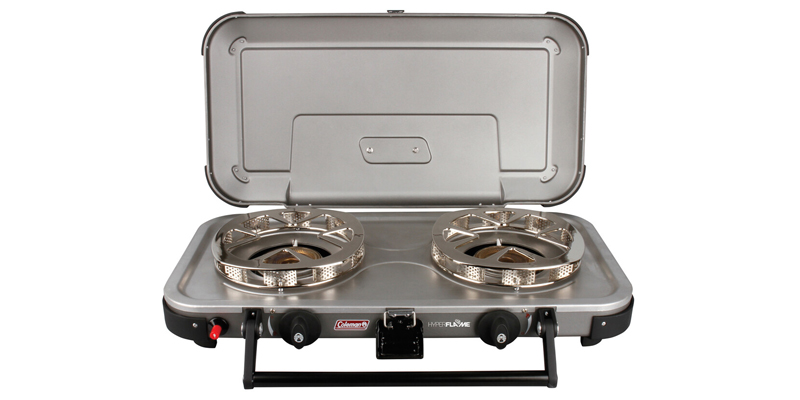 3. Coleman Fyreknight Hyperflame Camping Stove
This powerful gas stove with 2 burners puts out 24,000 BTUs, making it the ideal camping stove for those who need versatility in their campsite cooking. Whether you need to simmer or boil your meals, the Coleman Fyreknight Hyperflame Camping Stove gets it done. No need to worry about a windy campsite with this camping cooktop thanks to the removable windbreak pan that protects the flames from even the strongest gusts. Clean-up is super easy with the aluminised cooktop that fits two 30cm pots side-by-side. Transport is convenient with the heavy-duty 3-piece pivoting handle and locking latches. Give it a try on your next outing.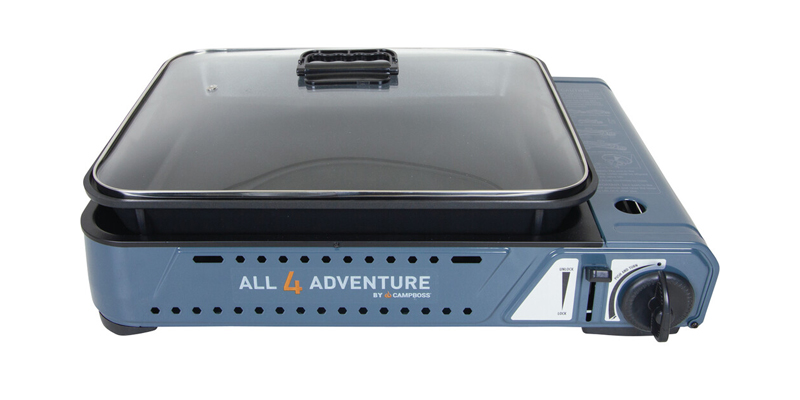 4. All4Adventure Inset Cooking Pan Butane Stove
The All4Adventure Inset Cooking Pan Butane Stove is one of the best butane stoves available to campers. From breakfast egg mess to jaffle to snags, this small portable stove can handle any food you toss on it. Its alloy non-stick coated deep pan sports a large cooking area, allowing you to prepare more than one serving of food at a time. The tempered glass lid keeps moisture in whilst guarding against bugs. Never struggle to get this camping stove working with the easily operated push turn piezo ignition. Safety is a top priority with this model, which includes a two-stage overpressure safety cut off. Its compact design and convenient carry case make it convenient to take along on your trip.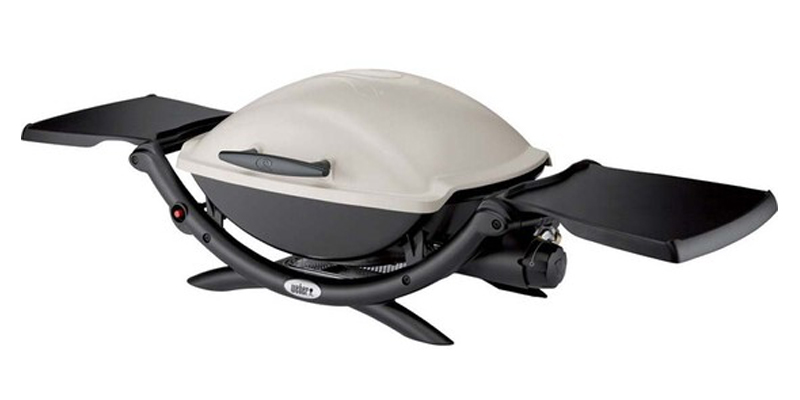 5. Weber Baby Q LP BBQ
Just because you are camping out does not mean you should eat canned food. Enjoy your snags and steaks and even some veggies with this portable BBQ camp stove. Weber is known for its reliability and durability, and the Weber Baby Q LP BBQ is no exception. You will be cooking in no time with the easy-to-light single spark igniter. The stainless steel burner and cast alloy lid keep food fresh and free from pesky bugs. The split grill feature allows you to replace one of the grills with an optional hot plate that is sold separately.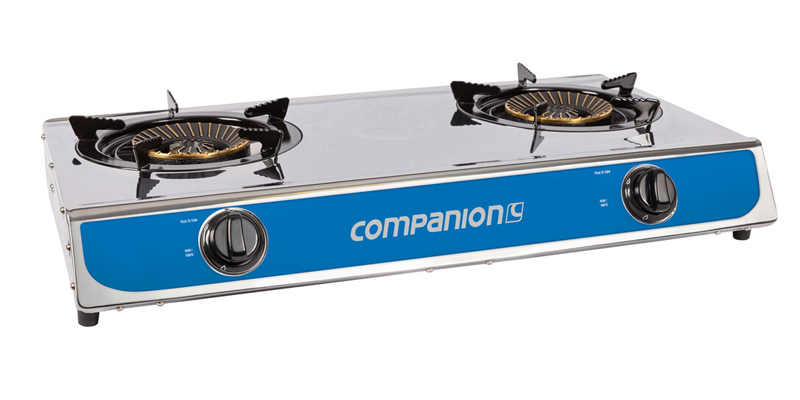 6. Companion LPG Portable Stove 2 Burner
One of the best small portable 2-burner gas stoves, the Companion LPG Portable Stove 2 Burner is chock-full of features that make it ideal for any outdoor adventure. Two of the handiest qualities of this portable camping stove are its low pressure and ability to be connected directly to a POL BBQ bottle. The connection hose is included with this stove, but the BBQ bottle is sold separately. Inner and outer brass rings on each burner allow them to quickly go from simmer to boil. When simmering, only the inner burner lights. For foods that require more heat to thoroughly cook, the outer burner also ignites. Never worry about lighting during windy conditions, thanks to the built-in piezo flame thrower ignition.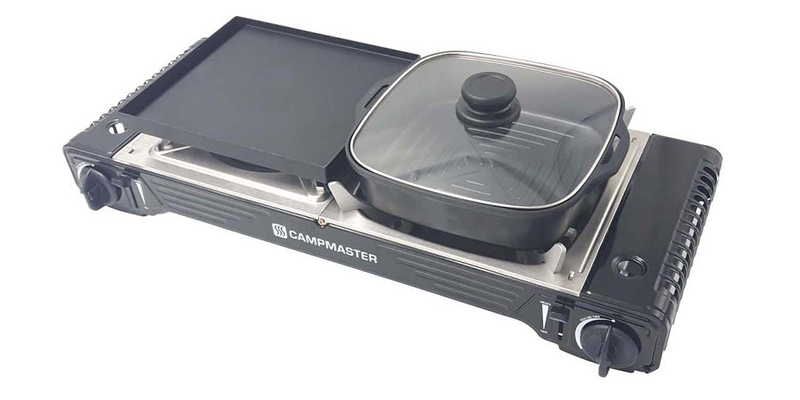 7. Campmaster Butane Combo Stove
Safety is the name of the game with the Campmaster Butane Combo Stove. It's one of the best butane stoves available due to its patented two-stage safety shut-off device. An over-pressure gas shut off and over-pressure canister ejection shut off work together to prevent any mishaps. Camp cooking for small groups just got better with this camping stove. Its cast alloy burner and stainless steel flat ribbon burner can cook a variety of foods and are easy to clean afterwards. This compact gem comes with accessories to make camp cooking more convenient, including a cast alloy non-stick cooking plate and deep dish with glass lid. The specially designed carry case makes it easy to pack and transport during your trip.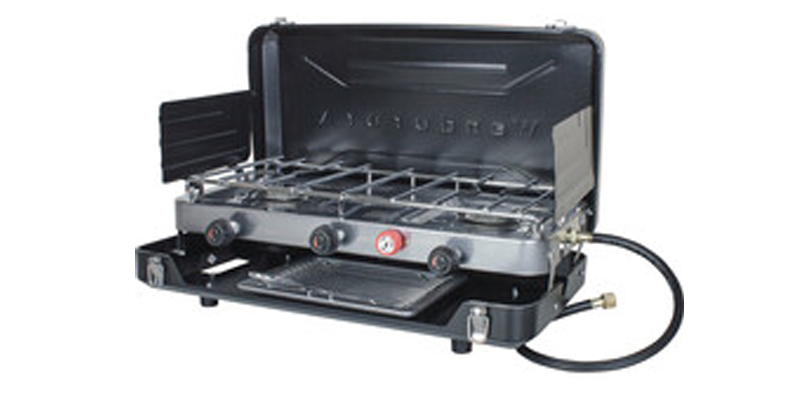 8. Wanderer LPG Portable Stove with Grill 2 Burner
One of our best-selling camping stoves, the Wanderer LPG Portable Stove with Grill 2 Burner features fast-boiling burners and drip pans that make clean-up quick and easy. Side shields protect the flame from the wind so you can get down to the business of cooking up some snags. Compact and portable, it is easy to take along on any outdoor adventure.
Accessories for your new camp stove
Even the best camp stove can benefit from stove stands designed to make using them easier. From stove stands to BBQ accessories, we have all the cooking tools needed to make your next outdoor adventure one that is filled with tasty food. Find your nearest BCF store or order your equipment online for free delivery over $99*.