Cruise North out of Adelaide for an easy hundred kilometres and you'll find yourself in the picturesque town of Riverton. Nestled next to the Gilbert River from which the town got its name, and located in the Gilbert Valley, Riverton is almost smack bang in the middle of two of South Australia's hottest attractions for weekend warriors and long-distance-drivers alike: the Clare and Barossa Valleys, home to some of Australia's most acclaimed wines. Vino not your thing? Riverton's got so much more to offer than just its proximity to wine country - so whether you're a hiking enthusiast or a history buff, Riverton's got you covered!
Enjoy a classic campfire under the stars at Edgehill Farms, Riverton (Cover photo)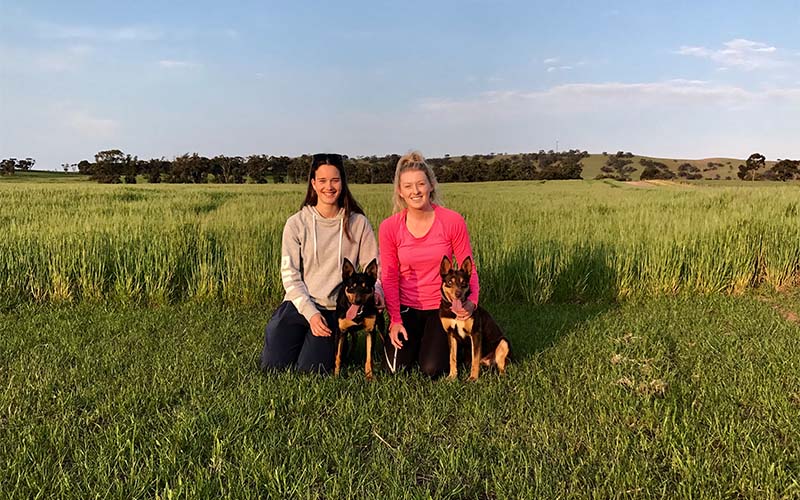 Kaydee and Hannah (and a couple of furry friends) are the Hosts at Edgehill Farms, Riverton
Where to stay
Seven kilometres off the main drag in Riverton are the idyllic surrounds of Edgehill Farms. If you're looking for a camping experience that offers space, privacy, gorgeous views and more space, you can't go past any one of Edgehill Farms' exclusive Riverton camping sites to set up your base camp from which to explore the region.
Hosts Kadee & Hannah offer campsites across three of their family properties, all under the Edgehill Farms name; their Riverton offerings are the most plentiful and accessible, with all sites offering 2WD access and suitability for tents, campervans, caravans and camper trailers. Sprawling across their sheep and cropping property, Edgehill Farms' seven Riverton sites offer the kind of space and solitude that is hard to come by elsewhere. They're big - really, really big. Each location on their property can hold a group of twenty or more campers, which is perfect for those multi-family trips or large groups of friends looking for a weekend away without living in each others' pockets!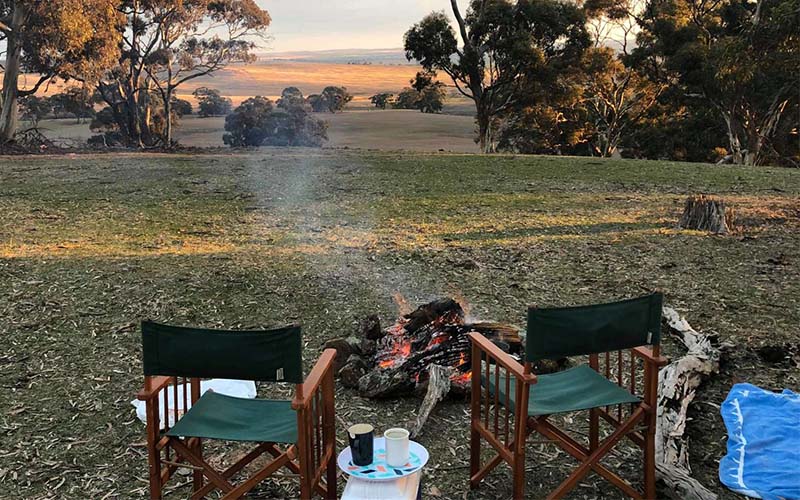 Each location offered at Edgehill Farms Riverton accepts only one booking at a time - so you'll never, ever feel cramped! Pictured is the Hill Side Paddock site.
There are pit toilets on site, which are shared between some of the sites so depending on which site you select, they might be a short walk away. Of course, you can always BYO dunny and ensuite tent to create your own private ensuite - it's the way of the future, we reckon! Drinking water is available, but there are no power hookups and no showers so make sure you plan (or purchase!) accordingly.
It's not a camping trip without the kids and pets in tow, and luckily both are welcome at Edgehill Farms Riverton. Kids under 3 stay free, while kids aged 3-16 are only five bucks a night. Pets won't cost you, but please ensure they are well-behaved and under control at all times - and if you're travelling with horses, rest assured you're welcome at Edgehill Farms. Campers with horses are encouraged to book the Gum Tree Paddock site, which is close to the holding yards so you can camp in peace knowing your four legged friends are safe!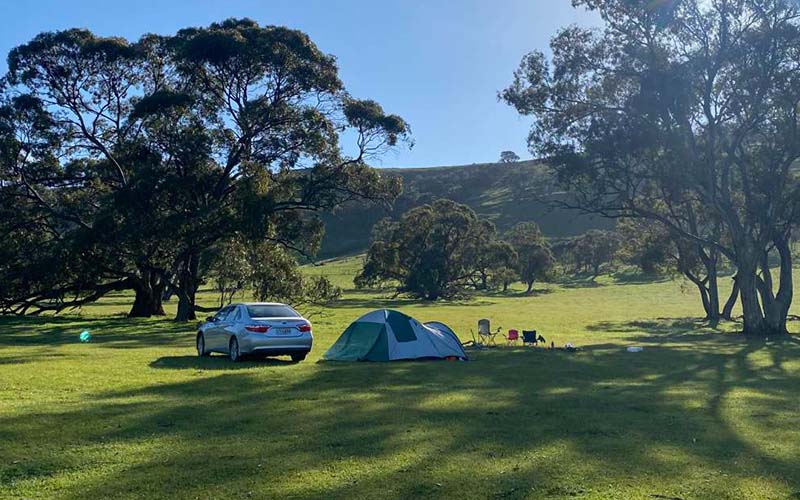 How's the serenity? At Edgehill Farms Riverton - Hills View Paddock
What to do
Get moving. Edgehill Farms Riverton is located just below the Heysen Trail; campers can access the Heysen Trail from the property so it's perfect for the avid hikers among us! If your thirst for outdoor adventure leans less towards hardcore hiking and more towards a leisurely stroll or bike ride with the family, duck into Riverton proper where you can access the Rattler Trail. This 19 kilometre walking and cycling trail heads up to Auburn; and if you're feeling particularly ambitious, from Auburn you can hop onto the Riesling Trail and leg it a further 35 kilometres through the Clare Valley!
Get fed. Riverton's proximity to the Clare Valley means you'll never be too far away from a delicious bite (or drop!). Not only is it home to around fifty wineries, the Clare Valley also has an outstanding reputation for the local produce on offer - much of which is served with great pride in the region's restaurants. Our pick? Pikes Wines, at Sevenhill, boasts not only a cellar door, art gallery, and brewery; it also features a beer garden menu and restaurant, both of which are kid friendly. Great beer, great wine, great food, great surrounds: what more could you ask for?
Get cultured. Riverton has much to offer history buffs and art aficionados. There are two free Heritage Walks, starting from the History & Information Centre, that can be taken through the town. These leisurely walks feature historically significant sites, as well as some outstanding examples of early Australian architecture - the magnificent Riverton railway station is not to be missed! The Scholz Park Museum offers fascinating insights into the history of the town, with the historic Scholz family cottage on display as well as a blacksmith shop and wheelwright shop; while the Riverton Light Gallery exhibits artworks by world renowned artist Richard Hannaford.
Gear List Essentials