There's plenty to love about camping in winter – empty campsites, jaw-dropping scenery, and sitting in front of that toasty campfire. But it's not always easy, practical, or legal to light up the old bush telly, which is why we've pulled together our top camping heaters to keep the chill away. We've got a whole bunch of heating solutions that'll keep you nice and toasty even when frosty the snowman comes to town. So, before you head out on your next winter camping trip, check out the range of portable heaters we've got down below. We reckon there'll be at least one that tickles your fancy!
Portable gas heaters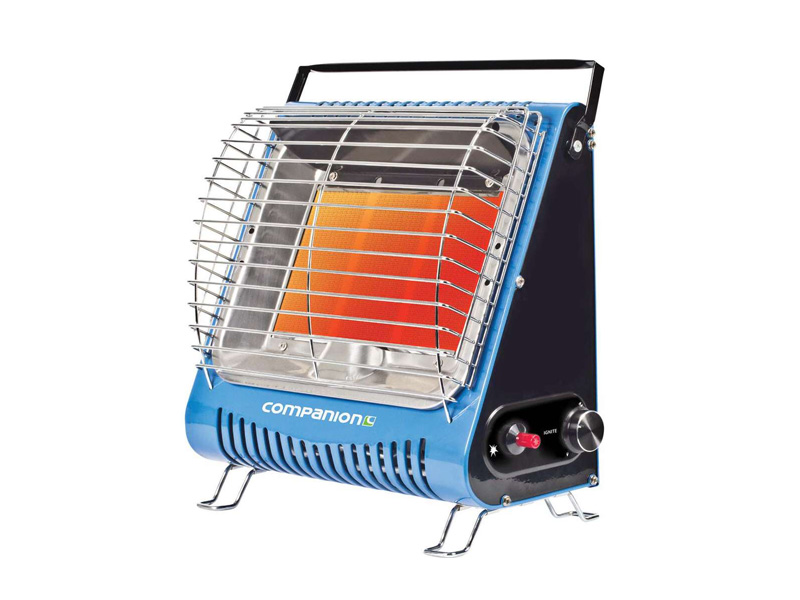 Companion Portable LPG heater
The companion portable LPG heater is just that… the perfect little companion to bring along on your next winter camping trip. This unit is clearly built with the outdoors in mind, with an all-steel construction that makes it tough as nails. For a small unit it sure packs a punch blowing out a max of 10,800 BTU. It also comes with three heat settings that will keep you warm and fuzzy whether it's freezing cold or just a little chilly. And it gets better! Even at the highest setting the unit doesn't use too much gas, so you can keep her running without a worry that you'll run out of LP gas before tomorrow night's barbie.
As the unit produces carbon monoxide, please keep it for outdoor use only! We've got a ripper range of sleeping bags and thermals for when you get a bit chilly inside the tent so there's no need to bring it to bed with you.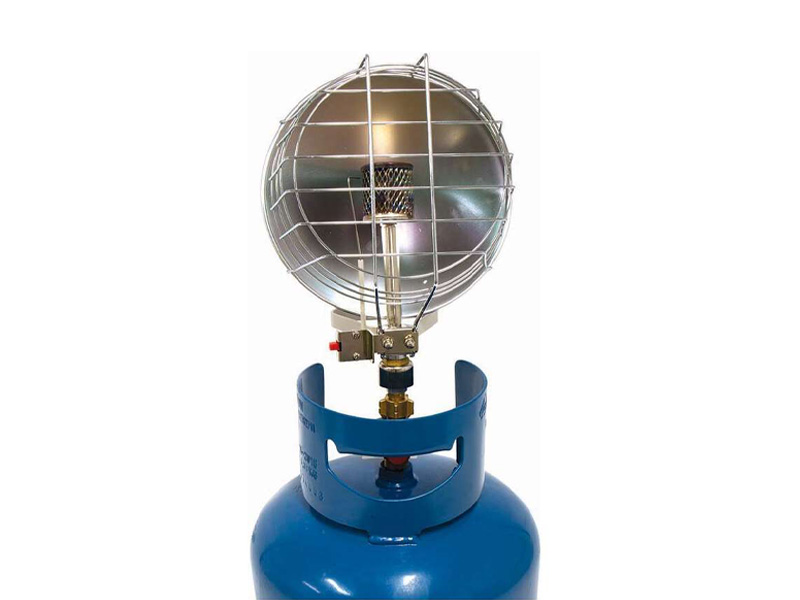 Companion Radiant Piezo LPG
If you thought the last heater was handy, think again! This little guy from companion screws right onto the top of a gas bottle with a 3/8th fitting and directs the heat to where it counts with a wide reflector on the back. They say good things come in small packages, and that's certainly the case with this unit. For only a small heater it puts out a lot of warmth – 5,500 BTU to be exact. Small but rugged, this portable heater is perfectly suited to the outdoors which is cracker as it's not safe to use in confined spaces. So, keep this one out of the tent also. If you're after a convenient unit that won't take up much space but will keep you as warm as your childhood blankie, this is the unit for you.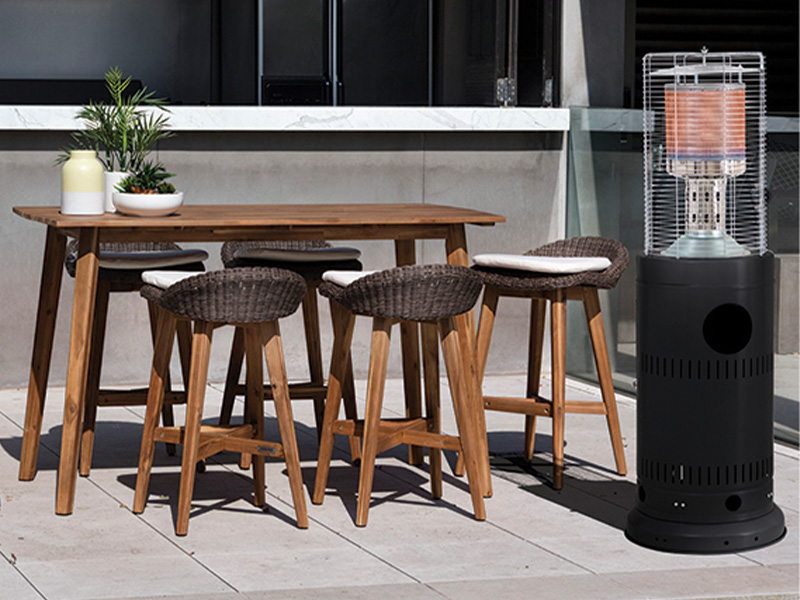 Gasmate Area Heater
Open air dinners don't have to end in summer with this ripper outdoor gas heater from Gasmate. Chuck it on the deck or patio and you'll be able to keep the good times rolling all year long. It's also a bit of a looker and is sure to blend in with that outdoor setting that's seen its fair share of gathos in its time. There's a lot to love about this unit – it can run all night (over 9 hours from a 9-kilo gas bottle), heats a massive area (2.5m radius), and is full to the brim with safety features that'll keep you and your family as safe as houses. The mother of all outdoor heaters, the Gasmate Area Heater is a must-have for anyone looking to host a party, have a dinner outside, or keep warm while kicking back and enjoying a book in the great outdoors. Like our other portable gas heaters, keep it parked firmly outside.
Kerosene Heaters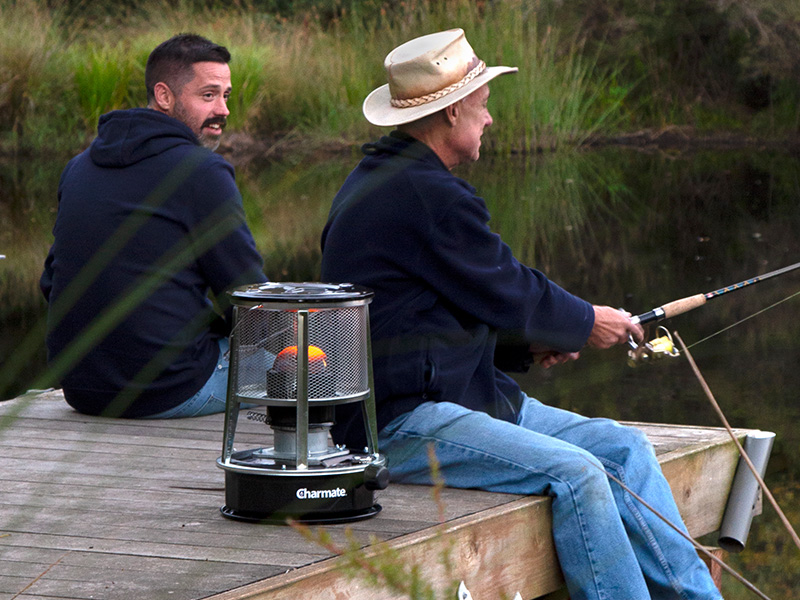 Charmate Portable Kerosene Heater
How's this for a throwback? A kero heater… but make it fun-sized. This little heater is an absolute weapon and saves you from having to bring a big gas bottle along with you. Fill up a small bottle with some kerosene and you'll be good to go. This little beauty is literally more than just a heater, with a removable top and trivet combo that makes camp cooking a breeze. Chuck a billy on top and bring it to a boil in no time or fry up a couple snags for dinner. This unit is super economic, hardy and is absolutely perfect for a variety of outdoor adventures. If you're looking to wind back the clock and bring the heat on your next trip, this kerosene heater is one to add to the wishlist.
Propane Heaters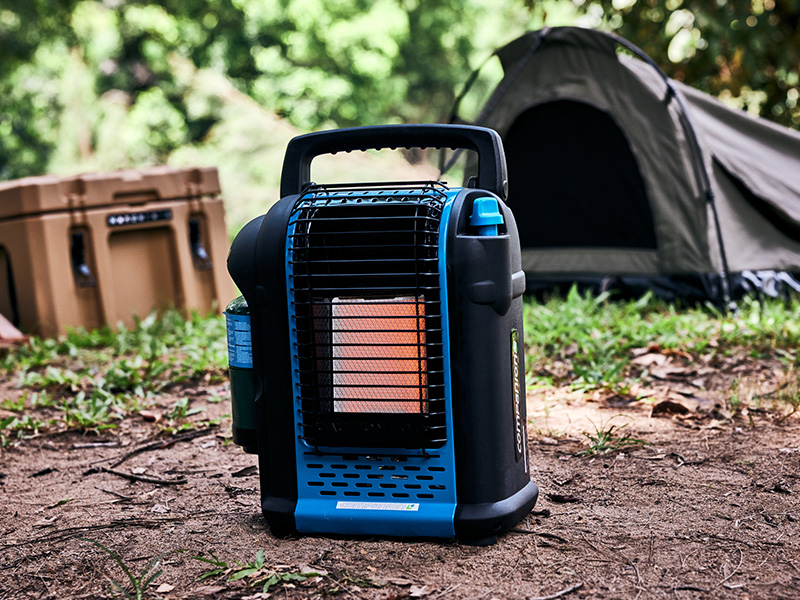 Companion Portable Propane Heater
Now here's one that's sure to be a crowd pleaser! The Companion Portable Propane Heater gives you the power to heat up the campsite with only a compact propane bottle. This means that you don't need to lug around that big 9kg model that you've picked up from the servo. At the max setting you'll have 7,000 BTU blowing out of the unit to keep you warm. With a sturdy carry handle and a tough construction, it's crystal clear this unit has been built with the outdoors in mind. The unit comes with two heat settings and a front guard that'll keep the little tackers and the big fellas alike nice and safe. A great all-rounder and one that isn't just a great camping heater, but is ripper for the patio or backyard too.
Keep it natural – fire pits and more!
There's not much that beats sitting around an open fire roasting marshies and whiling the hours away looking up at the stars. It's what camping is all about. A portable fire pit is a cracker way to bring the campsite to your backyard while helping you get through some chilly nights. There's not much that beats the warmth of a good old-fashioned fire and here at BCF we have a number of solutions to kick the cold weather in the be-hind. You can shop our full range of firepits and heaters online and if you want to learn more about the different options you can check out this fire pit buyers guide from the BCFing experts. If you need a hand with learning how to light a fire pit, our very own Sammy Hitzke has a great little tip that we're sure you'll love.
Comparison Table
| | Companion Portable LPG heater | Companion Radiant Piezo LPG | Gasmate Area Heater | Charmate Portable Kerosene Heater | Companion Portable Propane Heater |
| --- | --- | --- | --- | --- | --- |
| Maximum Heat Output | 10,800 BTU | 5,500 BTU | 38MJ p/h | 9,000 BTU | 7,000 BTU |
| Weight | 3.6kg (excluding gas cylinder) | 0.76kg | 15kg | 4.2kg | 4.2kg |
| Piezo Ignition | | | | | |
| Gas type | Propane (LPG) | Propane (LPG) | Propane (LPG) | Kerosene | Propane cartridge |