When you think of camping, one of the first things that's sure to spring to mind is a crackling fire and the smell of burning wood. It's a quintessential part of the camping experience that shouldn't be missed. Lazing by the fire with your loved ones as you bask in the warmth and watch the flames dance to their own tune. If you don't think it could get any better, break out the roasted marshmallows for an Aussie campfire delicacy. Now, although camping and campfires go hand in hand it doesn't mean that's the only time they can be enjoyed. By getting your hands on a fire pit any outdoor adventure can be made all the more sweeter.
Our BCFing experts thought they would put together a buyer's guide to help make the selection process a piece of cake. Our range of epic fire pits has something for every occasion and no matter if you plan on taking it to the beach, campsite, or even the backyard you'll have no dramas with these beauties.
If weight is an issue, the ultimate lightweight fire pit
If you're on the lookout for the perfect portable fire pit, you can't go past the Fireside Portable Popup Fire Pit. Weighing a mere 3.6kg and setting up in less than a minute, you'll be warming your bones from your head to your toes in no time. It's the innovative design that really sets this one apart with reductions to both bulk and weight making it a winner. The heavy-duty stainless steel mesh allows your fire to get the ultimate airflow and makes for a hotter and brighter fire that produces 80% less smoke. Coming with its own convenient carry case that measures just 68 x 12 x 12cm you can take it anywhere, and once assembled this awesome 60 x 60cm fire pit is large enough to keep you and your whole crew toasty. It doesn't matter where you're venturing - whether it's the local campground with the kiddies or off the beaten track for some backwoods action, this pearler makes the perfect companion for any outdoor adventure.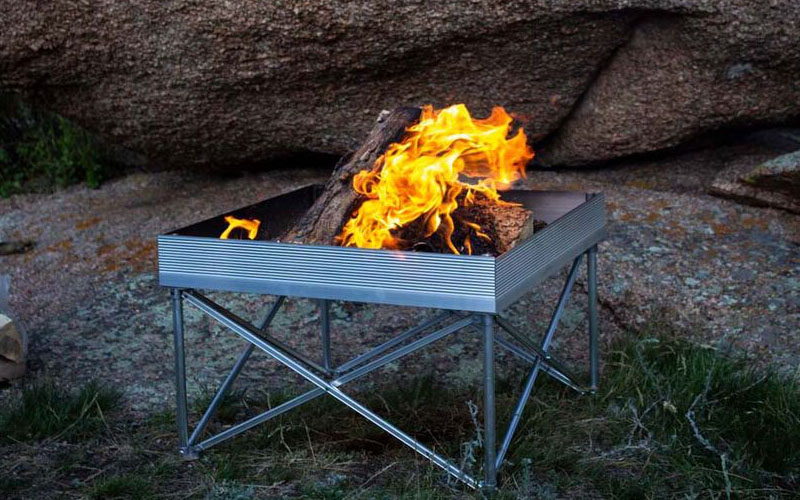 When you're chasing fire and a feast, the perfect fire pit/grill combo
While a fire pit may be the outdoor lovers perfect heating solution and a tops way for ensuring you stay snug as a bug, this groovy bit of camping kit is capable of so much more. BCF's Fire Pit with Grill will not only keep you warm on the coldest of winter nights, but doubles as a cracker of a cooking grill. Throw on a couple of steaks or the ever popular snag and you'll be digging into a good feed and warming your socks off at the same time. Thanks to its clever construction and simple collapsible design setting up and packing down doesn't get much easier. Don't worry about where to put it, with a convenient carry bag included in the gig, transport and storage are made to be light work. Whether your mates are coming around for dinner or the party is moving to the beach, with this puppy in tow the good times are sure to follow.
The supreme space saver, a fire pit that packs down small
Sitting around a blazing fire while shooting the breeze and sinking a few coldies is a pastime that many Aussies are fond of. Although the idea of setting up a fire pit in the backyard may sound like a winner, the truth is not all of us have the space to do so. This is where the Portable Steel Fire Pit from Wanderer has become the perfect addition to the family, helping make the most of all your outdoor adventures. This fire pit is the perfect plus one and will turn all your backyard get-togethers up a notch. Using a clever flat folding design and convenient pack-up size, you'll be able to cart this beauty almost anywhere and storage? Well, that's a piece of cake! Made from laser cut powder coated steel she's tough as nails, with a handy carry bag that comes standard just when you thought it couldn't get any better.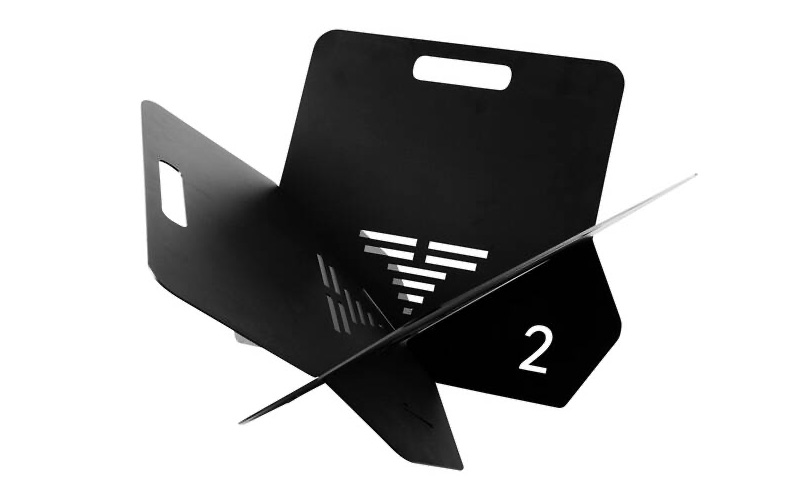 Whether it's a backyard gatho or a trip out bush, bring the heat with one of these cracker firepits from BCF. Our range of fire pits are all capable of making sure that the only cold thing on your next camp trip is the bevvies. No matter what model suits your needs, rest assured knowing our team at BCF will be able to sort you out. Have a chat with our friendly team of experts in-store or jump online for an easy shopping experience from the comfort of home. Don't wait until the winter chill sets in, grab a fire pit from BCF today!