Fishing is a hobby that has been embraced by people and families all around the world. More than a simple pastime, it has turned into an addiction for many, but in order to make the most of your time on the water and give you the best chance of catching that trophy fish it is essential that you have the correct fishing gear.
Also known as the eggbeater, the spinning reel is one of the most important items in your tackle kit as it is simple to use, extremely versatile, reasonably priced and can be used by beginners and experienced anglers alike. If you have ever walked the aisles of your local BCF store, you'll surely have seen the huge range of shiny spinning reels on offer, all of which are quite capable fish catchers - but what is the difference between them all?
The BCF'ing experts have put together a buyer's guide to help you find the spinning reel that best meets your needs. Covering the most important things to consider when purchasing a spinning reel, this guide will also answer some commonly asked questions and give you some handy tips for ensuring you get the most out of your new reel.
What to consider when buying a spinning reel
How often will it be used?
Do you fish every week, rain, hail or shine or do you only wet a line once in a blue moon? Although using a spinning reel chock a block with additional features may be a pleasure to hold and fish with, the price tag will normally leave a hole in your wallet, luckily expensive reels use high grade components that are designed to last for many years. If you are only fishing occasionally there are plenty of quality reels on the market, capable of meeting your needs at a much more affordable price point.
Where will it be used?
Although most fishing tackle is quite capable of being used in both freshwater and saltwater environments, it is best to put some thought into where you most commonly fish. While freshwater can be quite forgiving to exposed reels, unfortunately, the same cannot be said about their saltwater counterparts – unless you have a spinning reel that has been specifically designed to handle the salt. Most saltwater reels are constructed from corrosion resistant alloys, with sealed components such as drags, bearings and gear boxes that all help to extend the life of your spinning reel.
Reel size
Choosing the correct reel size plays a huge role in ensuring you are equipped to land those monster fish. Each spinning reel comes with a model and number that indicate the overall size of each reel. The size you choose is greatly determined by the target species you wish to chase, as larger reels have more powerful drag systems and are capable of holding thicker line classes or more line on the spool. If you are holding and casting for extended periods of time, your individual comfort level should also be considered as a lighter frame weight can make a huge difference.
Expert tip:
When looking at reel sizes most brands will use a two or four-digit number but in most situations if the reels start with the same number, they will be the same size (for example 20-2000).
How much would you like to spend?
This comes down to personal preference, from the smallest of kids reels through to offshore workhorses. Each reel has been designed with a specific purpose in mind. Putting a bit more into the initial outlay can reward you over time, as more expensive reels use higher grade components that makes them a pleasure to fish with and extends the life expectancy of your reel.
What are the parts of a spinning reel?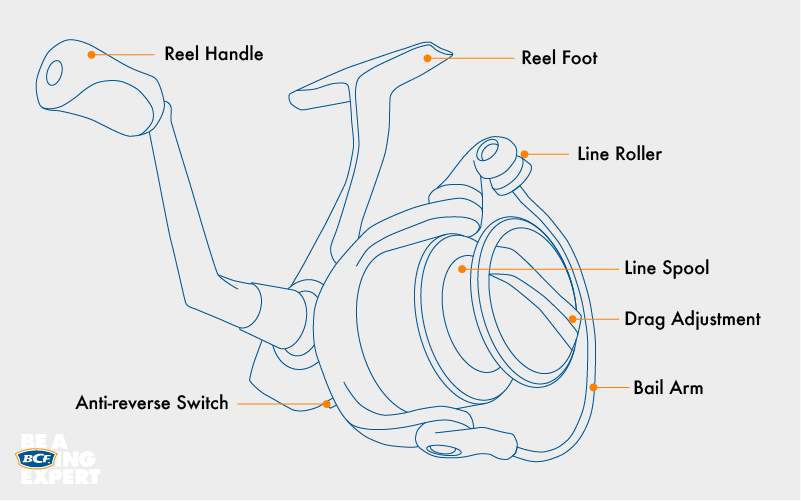 Reel Body
Reel Handle
Reel Foot
Bail Arm
Spool
Anti-Reverse
Line Roller
Drag Knob
Reel Body: The reel body, also commonly known as the frame, is made up of two key pieces: the gear box housing and support arm. These are used as a central component that keeps all other parts in place.
Reel Handle: The reel handle plays an instrumental role in the overall performance of the reel, having a handle that is smooth and easy to wind is essential. In most cases it is possible to operate the handle from either the right or left side depending on your preference as changing sides is simple and requires no tools.
Reel Foot: Allows the reel to be attached to your spinning rod and should fit snug in the reel seat. It also helps give comfort and control when working lures and soft baits.
Bail Arm: The bail arm is used to control the line on the spool and prevents it unwinding when the bail is engaged. To cast a spinning reel, you must first release the bail arm to allow the line to freely leave the spool.
Spool: The spool is used as a housing for your fishing line and works with the bail arm to keep the line secure. When spooling your reel, care should be taken to ensure you fill it correctly, too much or not enough line can affect the performance of your reel.
Expert tip:
Try to leave roughly a 2mm gap from the lip of the spool, this will help to prevent overruns and maximise casting distance.
Anti-Reverse: Found on most high-end reels, the anti-reverse is a switch that can be turned on and off to prevent the handle from spinning backwards. When engaged, this allows more power to be used for setting hooks. Some people will disengage the anti-reverse when a fish is landed to allow the line to come off the reel easily and prevent a snapped rod tip.
Line Roller: The line roller is another important piece of a spinning reel. As you retrieve line it travels over the roller bearing before coming to rest on the spool, helping to prevent line twists. A line roller needs to be smooth and rotate freely. It should be inspected regularly to ensure there are no chips or build-up of salt or dirt particles as these can damage your fishing line and limit casting range.
Drag Knob: The drag knob is used to make simple and slight adjustments to the amount of pressure put on the spool. This is useful when fighting fish as it gives you the opportunity to apply more pressure and give you the upper hand. Alternatively, it also allows larger fish to pull line off the reel when they take powerful runs and reduce bust-offs.
What are bearings used for?
Spinning reels have bearings that are located within the body. Used to improve smoothness and stability, each reel has a different number of bearings and the rule of thumb is the more bearings the better. Now, this may not always be the case and a budget reel with upwards of 12 bearings will not compete with a high-end reel with six or seven, which is why we strongly believe the quality of the bearings far outweighs the number of bearings. Quality bearings will provide you with better performance, smoother operation and superior corrosion resistance.
What does gear ratio mean?
Each spinning reel comes with a different gear ratio, which determines the rate at which a reel picks up line (example: 5.0:1 will see the bail arm complete 5.0 full rotations of the spool with 1 turn of the handle). For fishing rivers and estuaries, a gear ratio between 5.1:1 and 6.4:1 (depending on the size of the reel) will be suitable for most applications including surface lures, soft plastics and bait fishing. It is when you start trying your hand at specific fishing styles such as surface fishing the reefs, that require you to pick up slack line quickly where a 6.2:1 ratio would be beneficial, or deep sea jigging where you need more power to pull those monsters from the depths, a 4.4:1 ratio would be best.
What is the best fishing line for spinning reels?
There are two main types of fishing line that you can use on your spinning reel. Both are very capable of helping you to put some fish on the deck, but each has its own characteristics and benefits that make them suitable for different styles of fishing:
Braid
Best casting distance
Very thin diameter (significantly increasing line capacity)
No memory (will not develop curls in line)
No stretch (provides better contact with baits and lures)
Good strength to size ratio
Monofilament
Provides better knot strength
Stretch (mono comes standard with a level of stretch that helps prevent pulling hooks and is forgiving during the fight)
Best abrasion resistance
Naturally buoyant (as mono floats it is a great option when working surface lures)
Available in an array of natural and high-vis colours
What spinning reel brands do the BCF'ing experts recommend?
When it comes to spinning reels, the list of manufacturers pumping out quality gear is quite extensive. Shimano and Daiwa are the market leaders that have been providing fisherman and anglers of all skill levels with top notch gear for many years, from their flagship reels through to their budget friendly offerings. Other brands that are really starting to make some waves for their rugged designs and long list of features such as Penn, Savage Gear, Abu Garcia and Fin-Nor all have quality spinning reels at an affordable price that are sure to please even the fussiest of fisherman.