I've been camping nearly all my life, spending many a summer camping on the grassy banks of the Shoalhaven River at Bendeela, in Kangaroo Valley, in one of those then-popular family-sized three room canvas tents (read: it was massive!). These days, I mostly tent camp with my three kids, and over the years, our bush accommodation has gone from the one large tent to now, with four small tents. However, when embarking on solo work trips for Hipcamp, I needed a new option for myself that was quick, easy and comfortable, so I decided to check out the BCF Wanderer Contour Single Swag.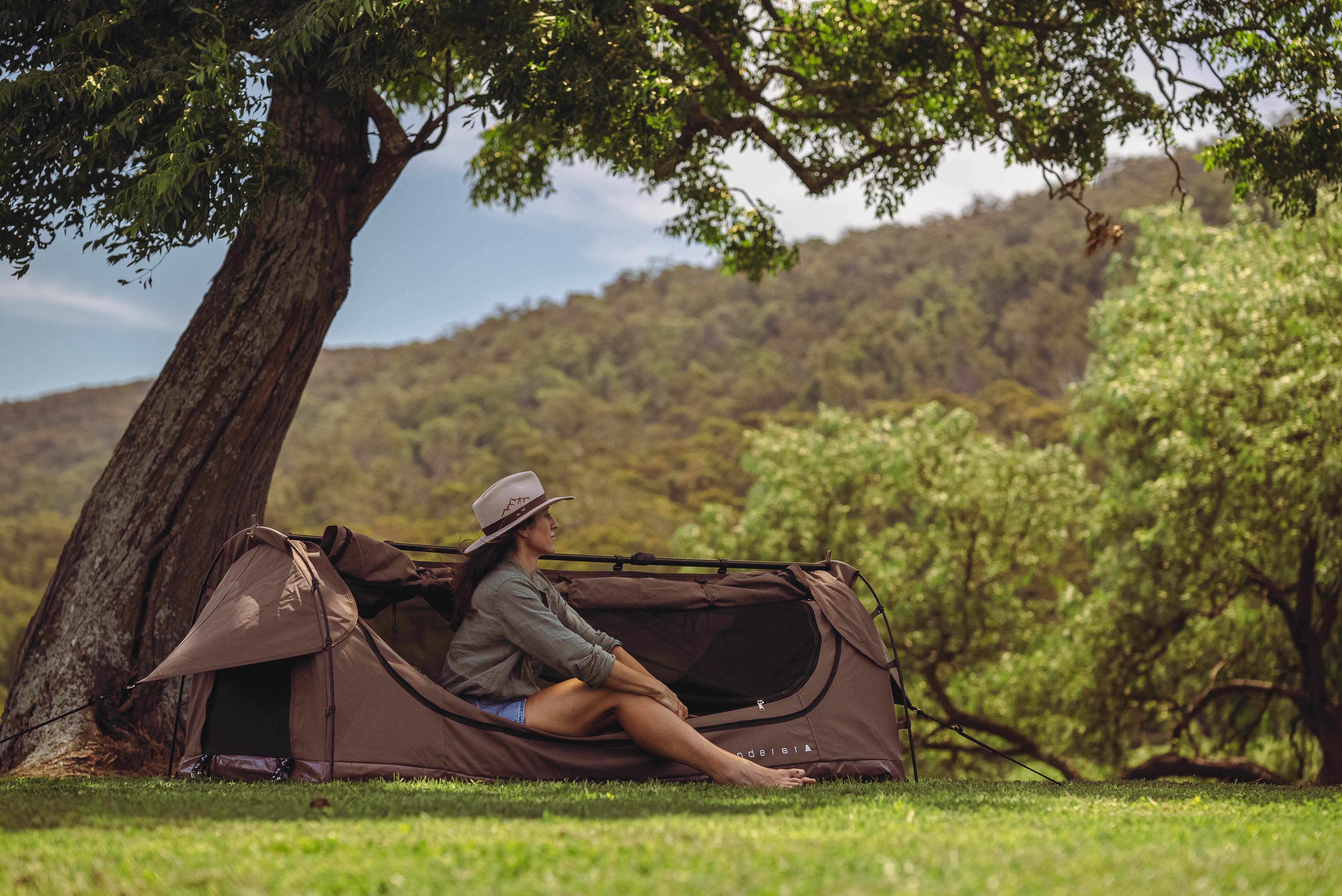 Design
I had deliberated early on in the selection process whether to get a double or single swag, to the point of asking via an Instagram poll which one. Everyone said a double, but I was still skeptical; those double swags are huge, and it was just me who'd be crashing late at night and up early in the morning, hence going with my gut feeling. It was not just the 'single' aspect of this swag that sealed the deal, either. The packed size and weight of a swag can be significant – always a consideration when I am lugging my swag a considerable distance from the vehicle to set up. However, the Wanderer Contour is relatively light thanks to clever design features, such as the 70mm high-density mattress, which offers ample comfort while weighing notably less than the more common 100mm mattresses used in swags. The bucket floor/base is 500gsm reinforced PVC which provides protection from damp ground and the 450gsm ripstop poly/cotton canvas exterior is light and sturdy. There is no-see-um mesh for ventilation, and stability is ensured thanks to the lightweight alloy poles and a top spreader bar. The swag measures 2100mm long, 850mm wide and 680mm tall, so there's ample space.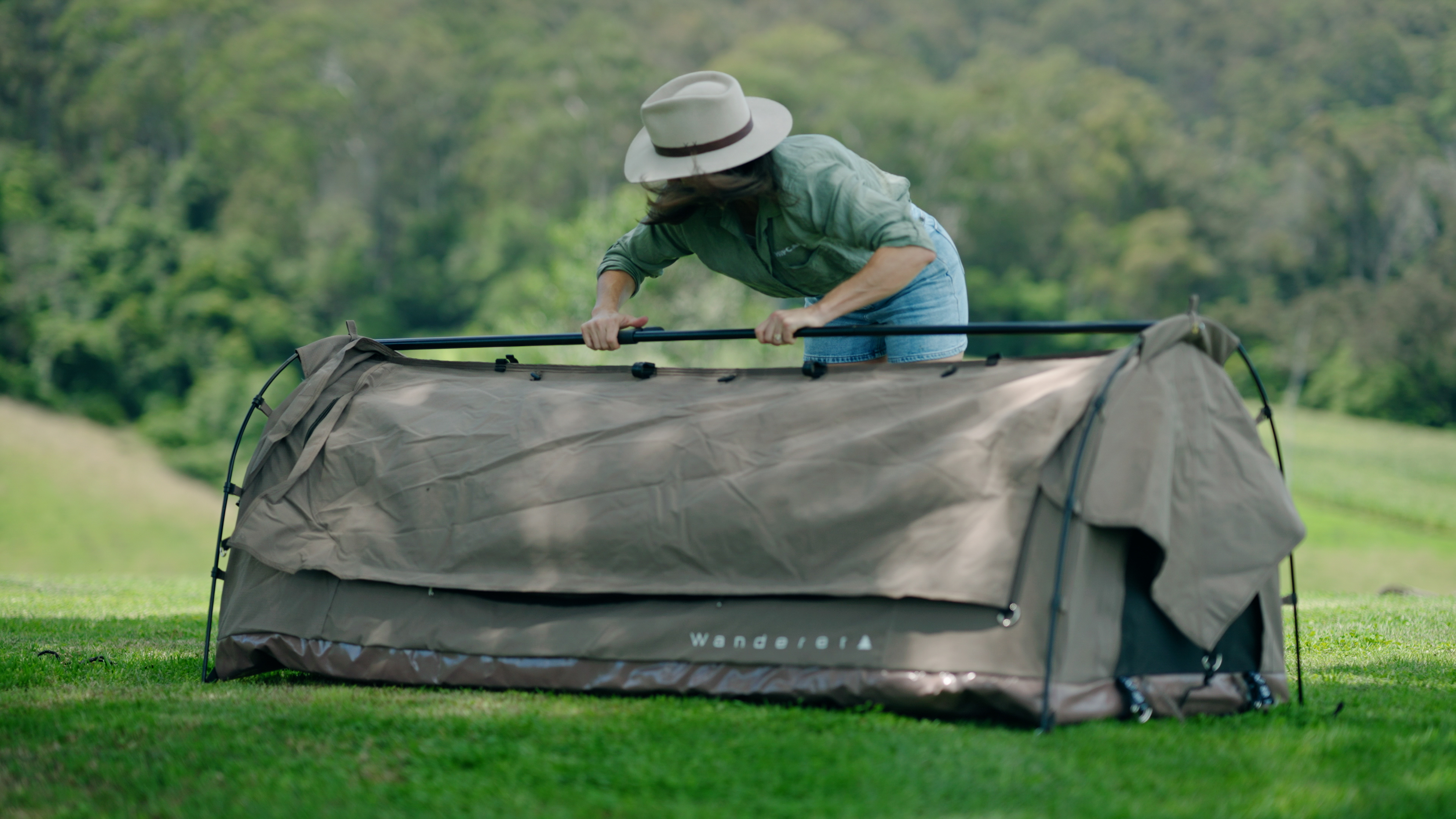 In the field
The swag was tested on a recent field trip to a Hipcamp called Sapphire Coast Dairy, in Greendale, near Bega, NSW. Set-up time was less than 10 minutes. The PVC floor worked well to offer plenty of protection from the damp nights. The canvas outer provided ample protection from the elements (plus I love the colour; of course, it's gotta look good for those Insta pics!), and the centre pole kept the swag from not sagging down. The dual side access is brilliant – as is all the ventilation; you can open the swag up completely like you are sleeping under the stars (minus the mozzies), or close up both sides and just have the vent at the end open. That above-average interior height was great, while that 70mm mattress was comfy – I really did sleep like a baby.
The final word
The Wanderer Contour Single Swag is a combo of comfort and smart design, in a relatively lightweight package (for a swag) that is competitively priced. With the fast set-up time and compact packed size, it has become my go-to for all my camping trips. The only negative is the supplied 'swag bag'. It is not really big enough for storing the swag in (it's easier to leave it rolled up with the swag ties), but besides that minor point, there's nothing else I'd change – except perhaps figuring a way to hide it from my kids, who will now all want one.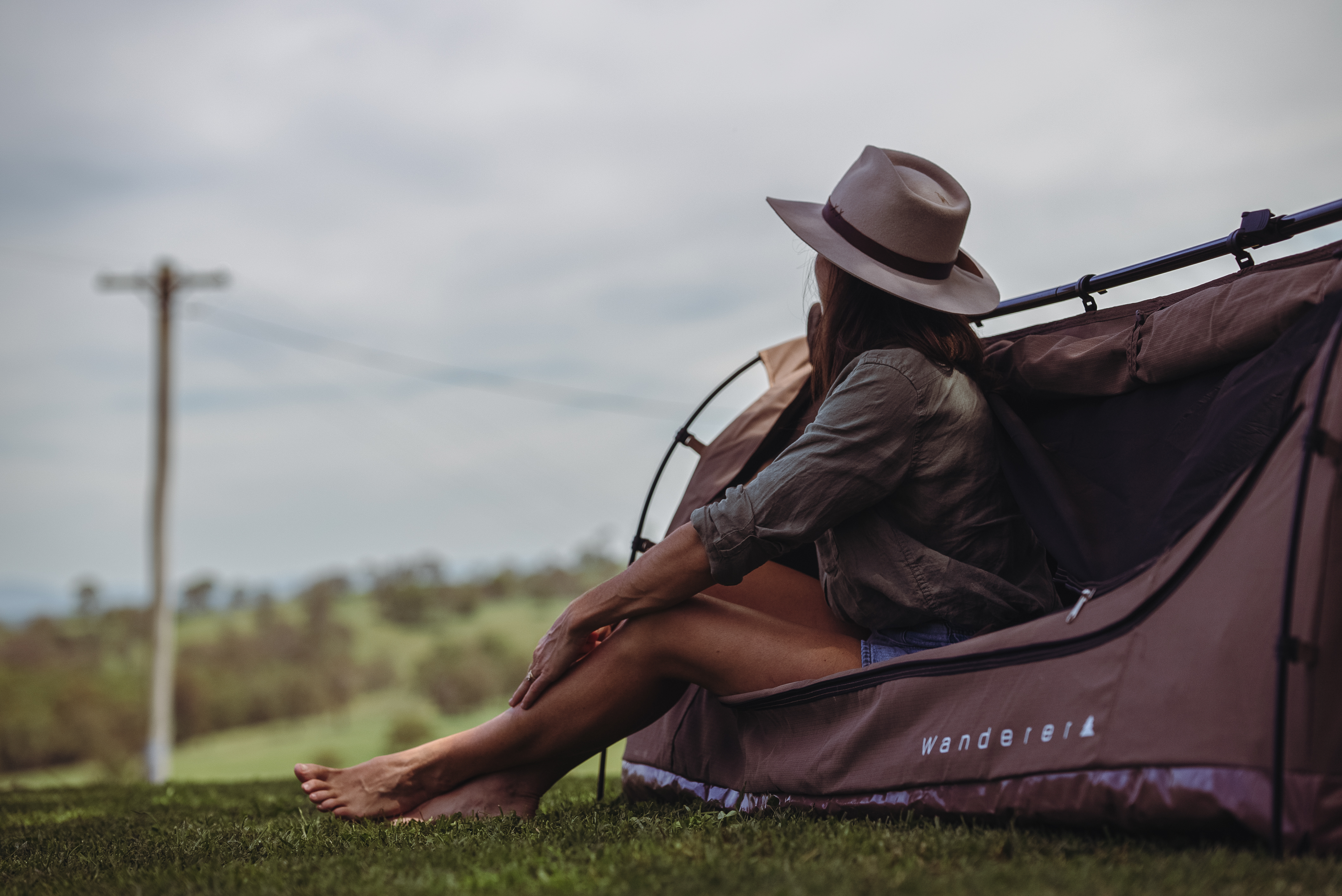 To book your next camping adventure head to Hipcamp, or download the free app.