Camping is a pastime that many Australians hold dear. For years it has been the quintessential family holiday, with many no doubt having fond childhood memories spent connecting with family and friends by going fishing, playing board games, riding bikes, getting into mischief and simply having a good time. For those new to the game, others trying to reminisce about the good old days or maybe some trying to show their loved ones what good times really are, our BCFing experts have put together a buyer's guide to help you in selecting a tent that best fits your needs. We will also answer some commonly asked questions which will hopefully come in handy when purchasing your ideal tent.
What to think about when buying a tent
There is no one size fits all when it comes to selecting a tent. Each individual or family will have their own select set of requirements in a tent, whether it be size, shape, material or ease of assembly. These characteristics may have different values to each camper, so in order to identify what tent will best fit your needs, you should ask yourself a few simple questions.
How often will the tent be used?
Some choose to spend all their free time planning trips away and thinking of the best places to go to connect with nature, while others may only need a temporary fix for a weekend away or music festival accommodation. Being aware of how often the tent will be used is also important for identifying how much care and maintenance your tent will require. How often the tent will be used is also dependent on ease of putting it up and dismantling it which may influence the type of tent you buy such as an instant-up tent or a traditional pitch tent.
How many people will be camping with you?
Taking into consideration the number of people that will be staying with you is vitally important. It ensures you allow for enough space to accommodate everyone's needs for the duration of the camping trip. Sleeping comfortably without feeling cramped and overcrowded is a must. As the industry standard is 60cm shoulder to shoulder = 1 person, the common rule of thumb is to halve the tents recommended sleeping capacity e.g. a six person tent will sleep three, a 12 person tent will comfortably sleep six and so on.
It's also important to consider how many rooms you will want in your tent. Do you want to separate kids from adults or have a spare room for getting changed in private? How much gear are you carrying with you and what type of bedding do you need to fit inside?
Will you need to carry it a long distance?
Some family tents and touring tents can be on the heavy side and therefore not ideal for those going hiking or having to carry it long distances. The weight is often due to the materials used such as the steel poles in family tents that give it more rigidity. In touring tents, the weight can be attributed to the fabric. Usually made up of canvas (a rather heavy fabric), these tents are more suitable for touring due to the ruggedness of the fabric.
You will also need to consider the weight of the tent if you're putting it on the roof of your vehicle. Always check your vehicles manual for the roof load capacity!
Where will you be camping?
This is mainly to do with weather conditions and having a tent that is up to the task. Wind and rain can put a dampener on any camping trip. High quality canvas and polyester tents are built to handle the elements. Many tents come equipped with a secondary material layer called a fly, the purpose of which is to assist with durability and improve the waterproof rating of the tent by keeping condensation out. The higher the waterproof rating, the longer the tent can withstand the rain. There are many other tent accessories that can be purchased to aid in keeping your tent waterproof. Tarps are great for providing extra shaded space to your tent area, they can also be used for the same purpose as a fly to help with keeping your tent waterproof.
If you camp regularly on the beach, you may want to opt for a touring style tent made from canvas. The heavier fabric has less noise when windy when compared to a tent made from polyester fabrics.
How easy do you need the tent to assemble?
With today's clever range of pop-up and instant-up tent designs, it has never been easier to set up your home away from home. Whether you are camping solo or have friends to lend a hand, it makes the process of pitching a tent quick and easy. The more common traditional and family style tents are a cost effective yet quality option, but may take a little longer to set up and pack away. Family tents generally also have steel poles as opposed to fibreglass/lightweight poles that other tents have. This is due to the size of the tent and ensuring it is rigid when the weather turns. Traditional pitch or family size tents offer a more budget friendly option. The Oztent range of quality canvas tents is seen as a market leader with its 30 second assembly making it one of the simplest designs available. They are constructed with a premium quality aluminium frame and rip-stop poly-cotton canvas material.
A traditional pitch tent means that the poles are separate, and threading the poles through the fabric, whereas instant tents have the frame all integrated as one.
How much do you want to spend?
This comes down to the individual and should be the last question to ask yourself. The factors above should determine what price bracket will fit your needs. If you are somebody who camps every weekend with two family members, rain, hail or shine, a three person dome tent or traditional pitch tent would not be practical. Similarly, somebody who goes camping solo once a year may not feel the benefits from an extravagant six person canvas tent. The extensive range of tents at your local BCF store can cater for any needs and any budget. Starting with the BCF traditional pitch tents, they range anywhere from the Jak & Jill range of tents to our more popular Magnitude range that feature fibreglass poles, a massive 2000mm water rating to our family tents like the Manor that has 3 rooms or can be converted to one large room. The front awning doubles as additional shade. On the other end of the scale, the XTM rooftop tent is the ultimate for any outdoor enthusiasts. Made for easy single person setup with rip-stop poly-cotton canvas, they will require the installation of a roof rack and fitting kit.
What are some different types of tents for camping?
There are several styles and shapes of tent most commonly used in Australia. Each style comes with its own characteristics, with a list of advantages and disadvantages, as they have been designed to suit different situations. Some may require a heavy duty tent, with a sturdy, spacious and sometimes heavier frame, capable of sleeping up to eight people while others might only need a single sleeping capacity, a tent which assembles quickly and can pack down small for convenient storage.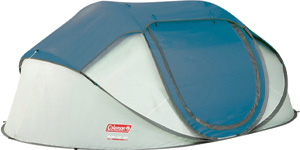 Pop-Up Tents
Pop-up tents are the perfect option for single night stays and festival goers. They are very quick to set up, with built-in pre-assembled poles that automatically take shape when the coiled frame is released. The innovative design helps to make your camping trip more enjoyable, by simplifying the process of erecting your tent. This means you will have more free time to relax and enjoy your surroundings. Note the process of dismantling pop up tents is an art-form, but with a little practice becomes an easy task. Ask one of our BCF'ing experts for some tips and know how.
Traditional Pitch Tents
Traditional pitch tents are a versatile option for the whole family as they are lightweight, compact and extremely cost effective. Available in a range of sleeping capacities from cosy two-person shelters to the more extravagant 12-person tent for accommodating the whole family or larger social groups. Cleverly constructed with a simple cross pole design with polyester walls, which provide stability and protection against the elements, traditional pitch tents are also quick to erect and most come standard with a durable polyester fly that adds extra waterproofing and protects any condensation forming in the tent itself.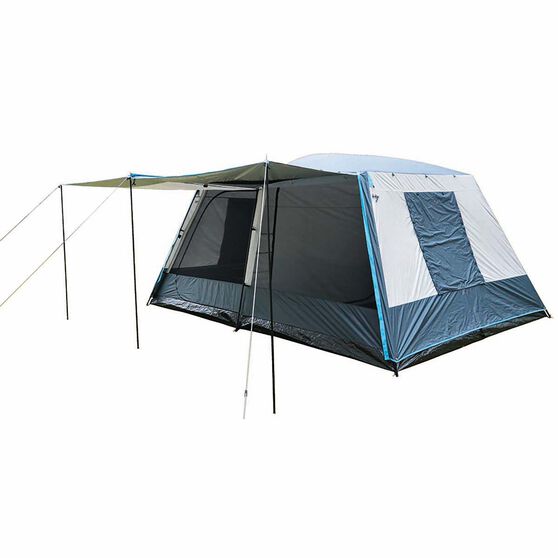 Family Tents
If you're planning on taking the gang on a camping trip, the addition of a family tent to your setup is a must as having the whole family confined to a small area is sure to end in disaster. Built with durable materials including canvas or polyester walls and strong aluminium or fibreglass poles, these materials ensure your tent will last you for many years and many cracking adventures. Mostly designed with multiple spacious rooms, the clever cabin style accommodates this factor and ensures everyone is still talking on the trip home. Some models have the capability of removing the internal dividers for one large room, or kept up for smaller bedrooms. Family tents have been known to be a bit trickier to set up, only due to their larger size and separate rooms. Always have your crew ready to lend a hand.
Instant & Fast-Pitching Tents
The convenience and clever, quick assemble design of a fast pitching tent has seen them quickly become one of the most popular forms of tent on the Australian market. Whether taking a relaxing weekend away with your loved ones, or a spur of the moment overnight adventure, an instant and fast pitching tent has the capability to meet your needs and much more. Available in single and multi-room configurations, instant and fast pitching tents provide enough space for the whole family to get a good night sleep. Built to last, with a variety of quality materials including polyester and canvas walls, PVC and PE (polyethylene) flooring, plus poles made from either aluminium, steel or fibreglass, these tents are the perfect choice for seasoned or time poor campers. Oztent, Wanderer and Coleman all have something available if this is the style of tent for you.
BCF have a great range of Coleman "Fast Pitch" tents. These tents offer an integrated steel/fibreglass hub frame and are a smaller pack down size than your traditional instant up tents.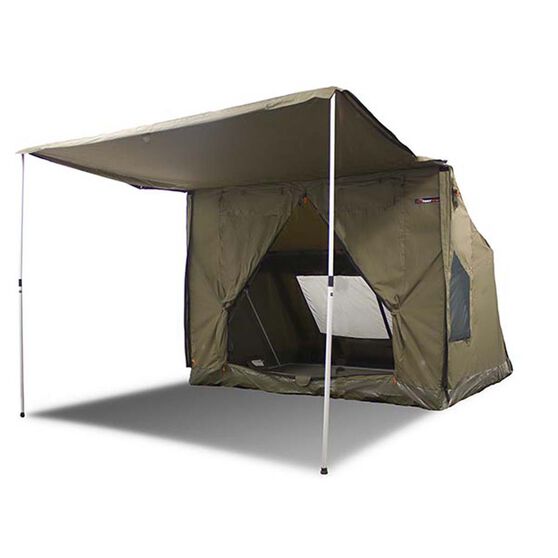 Canvas Tents
Canvas tents are the ultimate choice when it comes to strength and durability. Constructed with rip-stop poly-cotton canvas and heavy-duty aluminium, these tents are extremely robust. Enjoy the superior insulation, temperature control and breathability provided by the use of semi-natural materials, which ensures you will be comfortable. These can get hot in summer so ensure all windows and doors are open for maximum ventilation. Canvas tents are the ideal tent for touring due to their durability and instant set up that leaves you more time to enjoy the outdoors. They also have a more durable floor than traditional tents.
Whether you are an experienced weekend warrior, on the lookout for a tent upgrade or taking your mates on the annual fishing trip and would prefer to spend more time wetting a line and sinking coldies and less time setting up tents, the innovative design of our canvas tents makes them ideal for any situation.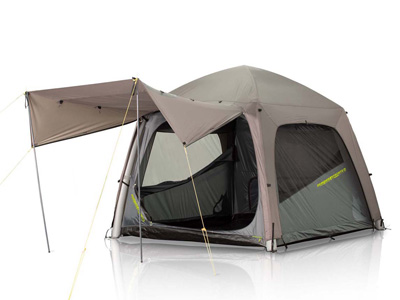 Inflatable Air Tents
Inflatable Tents or Air Tents are as simple as it gets for setting up your campsite. They come in a variety of sizes from 4 person to 10 person, and no matter the size setting it up will still be a breeze. No more messing around putting together rigid tent poles, simply peg out your inflatable tent, inflate the poles and you're ready to begin your getaway in no time at all!
Another advantage of air tents is strong wind resistance, strong wind can cause standard tent poles to bend and snap but with an air tent the poles just return to their original shape like there was no wind at all. If by chance you happen to get a puncture in one of your poles simply patch it with a repair kit, no need to worry about buying replacement poles like you would with a standard tent. Perfect for a couple to a family, a quick summer getaway or adventures on the move, there is an air tent that's just right for your next camping getaway.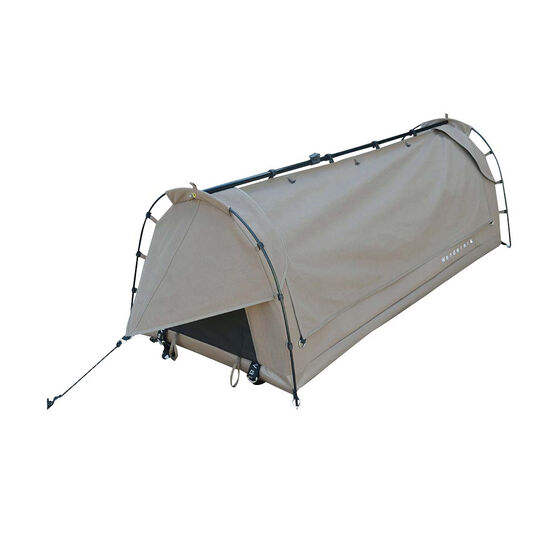 Swags
When you are in need of a bedding solution that is compact, durable and 100% waterproof a swag should be up there as your first pick. Keeping campers dry and insect free for decades, the swag has revolutionised the art of camping forever, providing all the necessities for a good night sleep rolled into an extremely portable and compact design. Swags are available in single and double configurations perfect for those sneaky solo fishing missions and for when your partner would like to tag along or you just want some extra space to stretch your legs. Swags also come in different shapes, with the traditional option a favourite among campers who require a quicker setup time and a more compact design, which takes up little room when packed away. Dome swags have quickly taken over as the most popular shape as they provide superior head and foot space which allows for added circulation. Many dome models are now including a cross-bar for easy free standing use so you don't have to solely rely on guy ropes and pegs to erect your swag (though it is still recommended to help stabilise the tent).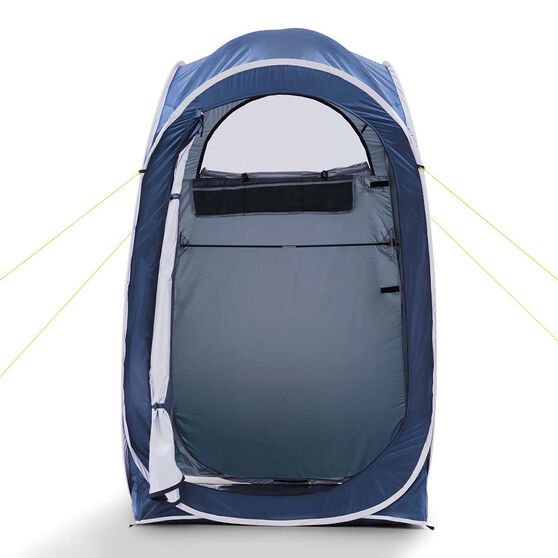 Ensuite & Shower Tents
Ensuite and shower tents are quickly becoming an item that many campers won't leave home without. From the experienced camper to a first-time adventurer, everyone needs a location that is both private and comfortable for when nature calls and you are far from home. Some campers prefer to be fully self-sufficient, even at the local campground, while others enjoy camping in more remote locations where shower blocks and communal toilets do not exist. All products can be used for a variety of applications, constructed from quality materials with an extremely portable design. With the added purchase of a portable toilet or camp shower you have the freedom to go anywhere.
What else do you need to kit out your tent?
Having the correct tent is just the tip of the iceberg when it comes to preparing for a camping adventure. Although the tent may be a vital piece of equipment the addition of other useful items can make or break your experience. BCF have an extensive range of camp furniture, including chairs, tables, and camp lounges that are equally important in providing a comfortable location to rest your feet and a central area to gather and eat meals. Other products that may come in handy on a trip in the great outdoors include a camping stretchers to provide an elevated sleeping location away from creepy crawlies and a sleeping bag for extra comfort and warmth to ensure the best night sleep. Gazebos are another form of shelter that can make for a simple shade solution. The easy to erect layout is perfect for single night stays, with a durable canopy top that provides additional shade/storage. Ground sheets are another essential camp item! Put one under the awning of the tent to help eliminate dirt and mud in your tent.
Our BCF'ing experts are full of product knowledge, so we'll share some with you here, but don't forget to chat with the team at your local store for more information!
Avoid your clothes or bedding touching the sides of the tent. In humid conditions, condensation can form on the tent that seeps through the tent walls, and your belongings would soak up the condensation. Try and leave a couple centimetres gap to avoid this.
Never use bug sprays near your tent. The chemicals in the sprays over time can eat away at the fabric and water proofing.
Ask the BCF'ing expert at your local store if you can try your hand at setting the tent up in store before your purchase – this way you know how simple it is or you'll get an idea of how many people it will take to erect it.
In the Aussie climate, ventilation is key! The more windows the better, the larger the doors the better.