Compact and easy to transport, swags are also simple to erect, making your camp set up quick enough that you can get exploring as soon as possible. Featuring a built-in mattress for comfort, swags are comfortable and made from sturdy material designed to withstand rain and wind. Popular for motorbike tours and 4wd adventures or solo camping expeditions, swags remain cool in summer yet warm in winter making them a great choice all year round.
This buying guide will dig a bit deeper into each part of a swag and the purpose it plays, the different types of swags available and how to take care of it once you've bought it.
What is better for camping: a tent or a swag?
Choosing between a tent or swag for camping really comes down to personal choice so there are a few things to consider before your purchase. Swags are made from heavy fabrics such as cotton or polycotton, making them ideal for motorbike or car trips and not so much for hiking. As they are only made to be slept in, they are low to the ground and usually only accommodate one or two people which would not be ideal for families or groups. However, swags generally come with their own built-in mattress and are quick and easy to set up.
So, like so many other parts of your camping checklist, whether a tent or a swag is better for you will come down to a few things, such as:
How many people you're travelling/sharing with (determines size needed)
Where you'll be travelling (to consider the suitability compared to weather conditions)
Ease of use and set up (something more simple is recommended for solo travellers)
How often you'll camp and how long you want the product to last (higher quality products will be more costly)
The following information will help you decide whether a tent or swag is more suitable for your next camping trip.
#1. Swag Size
Your swag is not only your sleeping digs but also your storage area so it will need to be longer than your height and wide enough to fit you and your gear. Swags generally come in three separate sizes including single, king single and double - check the table below for approximate dimensions.
| Swag Size | Length | Width |
| --- | --- | --- |
| Single | 180-230cm | 60-90cm |
| King Single | 190-230cm | 90-115cm |
| Double | 190-230cm | 110-140cm |
#2. Types of Swags
Besides your single and double swags, you'll need to consider what type of swag you want to purchase: the traditional swag or the dome swag.
The traditional swag is simply two pieces of canvas with a mattress in between. Although not very spacious, traditional swags are popular among bikers due to their light weight and ability to roll up into a compact size for easy transportability and carrying. They are designed for minimalist camping as there is little room for gear storage.
The more popular dome swag is our specialty here at BCF, stocking a wide range of single and double options great for a 4wd camping enthusiast. Dome swags require a little more set up than the traditional swag, however, the poles bend the shape of the swag to direct rain off the fabric. These swags are also more spacious than the traditional swag while also featuring mesh ventilation to keep the air circulating around you. They are generally constructed with lightweight aluminium poles and No-see-Um mesh.
#3. Quality
The quality of each part of a swag plays an important role in its structure and durability so it's vital that you ensure everything is made, built and designed to a high standard.
The Fabric
The fabric used to create the walls, roof and floor of your swag should ideally be designed using a ripstop material as well as create a sturdier product. This ripstop material is strong and durable, helping to prevent rips and tears though if you do end up with one, the structure of the fabric can, as the name suggests, help to stop rips from becoming larger. In addition, you will want your new swag to be waterproof with high gauge cotton threads sewn into the seams, but we'll cover more on waterproofing in a later section of this guide. The fabric of a swag is usually canvas or polycotton.
Canvas swags need to be seasoned (waterproofed) before first use and continually maintained over the years depending upon usage. They are breathable, making the swag cool in summer yet warm in winter. Canvas swags can be quite heavy (especially when wet) and more prone to tear, shrink and wrinkle when compared to polycotton (unless created with ripstop fabric).
Polycotton is a blend of polyester and cotton, combining the benefits of both fabrics. More breathable than straight polyester and more tear/wrinkle resistant than cotton, polycotton swags are lighter while still maintaining their strength and durability. These too still need to be waterproofed.
It's important to note that the thickness of the fabric is given in gsm (grams per square metre) where a higher gsm swag is more waterproof and durable.
Durability
Durability is not just about the strength of the fabric, but how long it will last under UV pressure. Inclusive of the ripstop fabric to resist tearing and waterproofing to prevent mould and mildew, you'll also want to check the swags sun protection ability. The UV treatment and rating will indicate the swags ability to block out sunlight and endure the sun's rays before the colour starts fading from the material. If your swag is exposed to the elements regularly, it may be worth re-waterproofing the seams from time to time. Australia's harsh environment has a tendency to cut these life spans a little shorter.
#4. Parts
In addition the fabric, below is a guide to help you understand the role each part of a swag plays in its ability to function as a comfortable cover from the elements during your camping trip.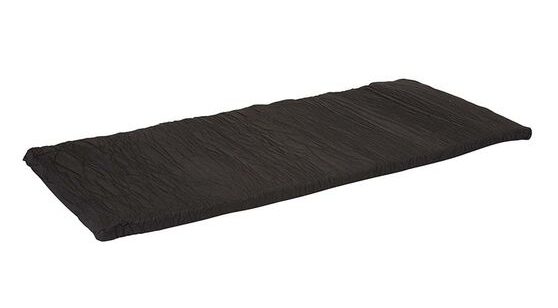 Mattress
Swags come with their own mattress that usually falls between 50 - 70mm thick. These mattresses are interchangeable so if you need a higher density one or want something more supportive for back pains and the like, you can check out our range of Wanderer mattresses, including self-inflating ones and upgrade. Don't forget to consider the total weight of the swag when purchasing a new mattress.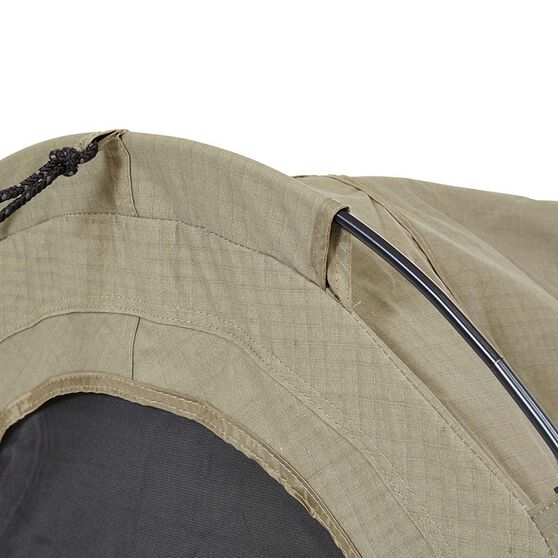 Poles
Something to look out for, particularly when purchasing a dome swag, is the quality of the poles. Generally made from either steel or alloy, you may also find some dome swags feature fibreglass poles that can deteriorate and break down over time. Alloy poles are the most highly recommended as they have the ability to flex while withstanding high pressure.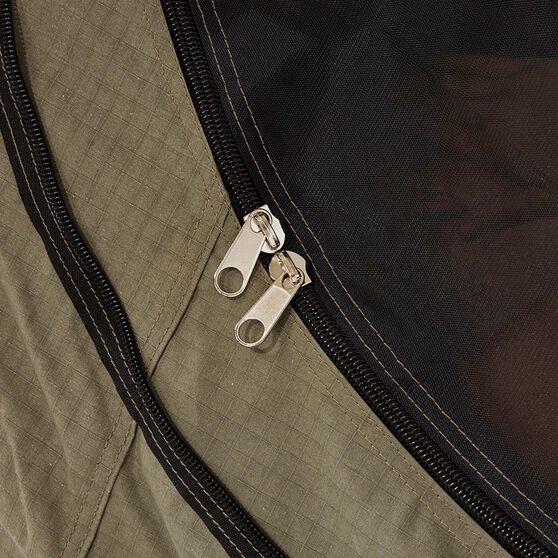 Zipper
A fundamental part of your swag, you'll want to ensure your zipper does not get snagged on any material when sliding it along from end to end. Ensure the zippers are sewn well into the fabric of your swag and move smoothly along the ruts. When you have the swag zipped close, ensure that you cannot open it by hand or any other force besides the zip itself.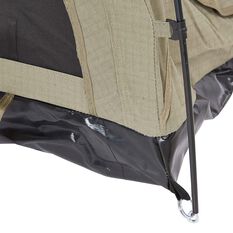 Base
The base is underneath your mattress and is the part that touches the ground, therefore, will need to be made of something rather waterproof. You will find that most swags will come with a PVC base that will stop your mattress from getting wet, however, is not very breathable making it less suitable for hot and humid camping conditions. In such cases, you may want to lay a tarp underneath your swag which can also make for a floor mat to kick off mud and sand before entering your swag.
Alternatively, you can explore the BCF range of stretchers that your swag can comfortably sit on top of, raising you off the ground. The benefit is the airflow in summer, but also the ability to be able to sleep a little warmer by being off the ground in winter. Additionally, higher PVC bases help protect against water ingress.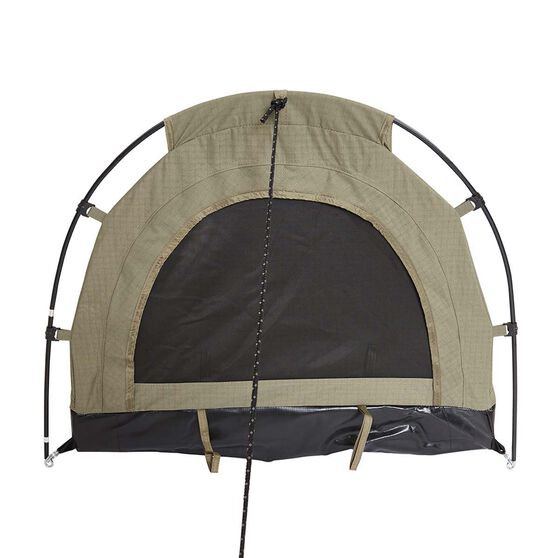 Mesh Vents
To keep air circulating through your swag, the attached mesh vents serve as a window. These mesh vents will keep you cool during summer while adding a layer of protection from insects and other small critters. When selecting your new swag, ensure that each mesh vent has a cover so that you can close this during cold nights to keep the chill breeze out.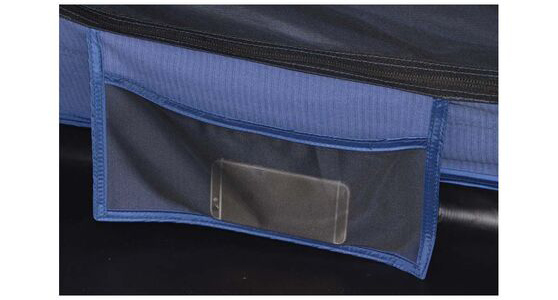 Additional Features
Swags will come in their own carry bag which in itself should also be made of a high-quality, durable fabric to withstand the weight and constant packing and unpacking of your swag. Some swags may also have pockets sewn into them which are great for storing items such as books, wallets, phones and torches. You can purchase waterproof swag bags that are ideal for adding in your bedding, clothing and other gear.
#5. How to Waterproof a Swag
To ensure your swag stays void of mould and mildew, you will have to waterproof (or 'season') before first use. Seasoning your swag swells the fabric and thread which then seals the needle holes to add extra protection against water leaks when camping in wet weather.
Waterproofing your swag can be done in a few simple steps:
Set up your swag outside and ensure the door are zipped up and the mesh vents covered.
Hose the swag, focussing on the seams and ensuring all the material is saturated.
When hosing down the swag, you will notice the fabric becoming darker. This is normal. Disregard water leaking through the seams as this is also normal when first soaking the fabric.
Leave the swag outside in the sun to completely dry. You will notice the original colour of the fabric will return as it dries.
Repeat for a second and third time until you observe no water leaking through the seams. If you do not observe water leaking the first time, you will still need to try a second or third time to ensure the swag is fully waterproofed.
Be sure to maintain your swags waterproof abilities by cleaning dirt and debris off with warm water after each use and let it dry completely before storing away.
For more information, read our How-To Guide on Seasoning Your Tent Or Swag
Our BCF'ing experts are here to share their knowledge. Read a few tips below or head in store to find out more.
When choosing your own mattress, always test with your hand spread out. This will give you a true feel of the density on your body. Avoid pushing down with one or two fingers like a point as you will guarantee to feel the floor and this is not a good gauge.
Emergency blankets or car sunshade are a good alternative to putting on the base of the swag or under the mattress as an added shield against the cool earth.
Don't use bug sprays near the swag as this can eat into the fabric and waterproofing.
If overtime your swag needs re-waterproofing, you can buy waterproofing sprays or also consider surf wax around the seams of the doors and windows.