Australia has always been renowned for its drop-dead gorgeous beaches. The white sands, crystal-clear waters and epic surf have made a trip to an Aussie beach the perfect day out for both locals and travellers alike. With the scorching temperatures we come to expect in this country it's no surprise that our beaches are choc-a-bloc with people on a beautiful summer's day. Enjoying the sun, surf and sand is a great way to spend your time and there really is no better place to be.
A summer's day at the beach and BCF are a match made in heaven! With an extensive range of cracking products sure to make your next trip a pearler, head into your local BCF store today to pick up all you need for a fun day at the beach!
If you're not sure where to start, don't fret! The BCFing experts have pulled together a list of the best beachy products for your day out. Surf's up!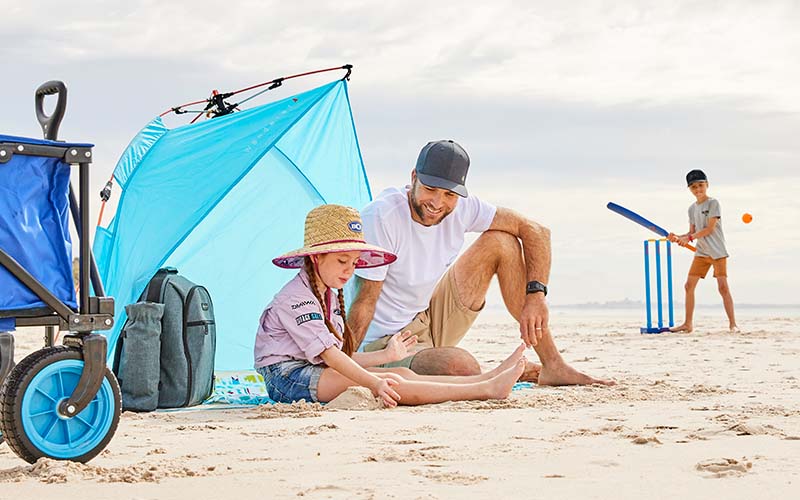 Beach Tent or shelter
Our Aussie sun can certainly pack a punch! Although there's nothing better than fun in the sun, a bit too much sun exposure can really ruin your day. Luckily there's no need to roast this summer with the epic range of beach tents and shelters that are on offer at BCF. The ideal accessory for any trip to the beach, you can laze away the hours while staying cool and comfortable. Constructed from lightweight yet durable materials that provide UPF50 + sun protection and will help keep those harmful UV rays in check. You also won't have to worry about storage space at home as these beauties pack up extremely small which also helps with portability. Not only a one-trick pony, a beach tent can be used for many outdoor adventures from BBQs to parties. If shelter is what you need then look no further!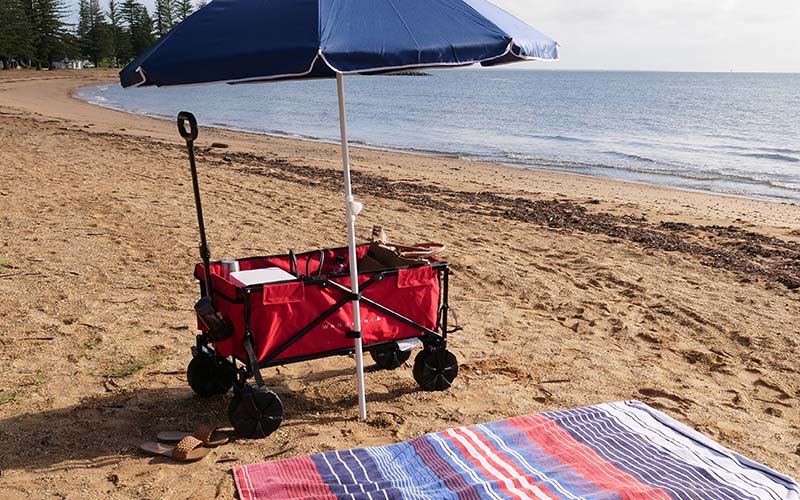 Beach Cart or Wagon
Make your next trip to the beach that much easier with the use of a beach cart. The perfect addition to any beach setup, these beauties can carry up to 110kg and make getting your gear to and from the car a breeze. No more juggling acts or running out of hands, you can take it all with a beach cart from BCF! Just throw in your chairs, shelters, iceboxes, and food for the day and you're on your way. The clever design folds up small making it easy to store and fit in any boot space, with detachable wheels and a telescopic handle you're good to go. The large wheels make it easier to pull the cart through rough terrain and sand while some models come with dual cup holders and an umbrella holder to top it off.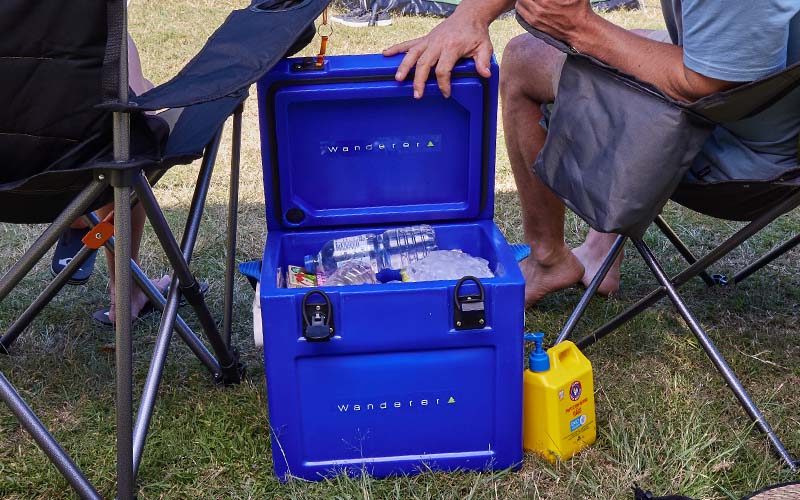 Icebox or Soft Cooler
Having somewhere to keep the bevvies cold and the food fresh is a mighty fine idea. No matter if you're flying solo, hanging with the fam, or with your mates everyone will be stoked when you start pulling out the icy cold drinks. Don't worry about lugging it all the way, with plenty of wheeled options that help make navigating the sand a piece of cake. Made from tough and durable materials that will easily keep your goods cold for a full day at the beach. You simply can't leave for a day on the sand without packing an icebox or soft cooler.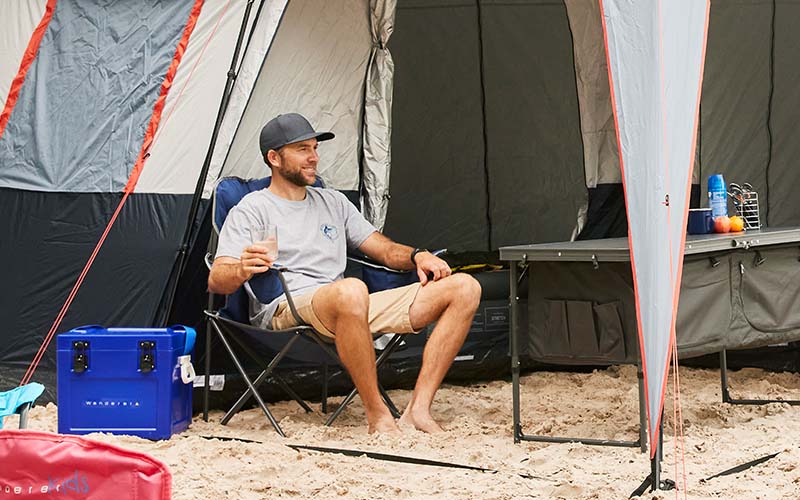 Beach Chair
Sick of sandy cheeks? Well, we have the perfect product for you – a beach chair! BCF stocks a wide range of ripper chairs that are suitable for the beach and will keep you high up off the hot sand. A beach chair is the perfect accessory to bring along to the coast and will allow you to kick back in style. Light-weight and portable, there's no need to break your back lugging a chair down to the beach with these ripper thrones. Pack 'em up and throw 'em into the back of your car before heading away on your next beach adventure!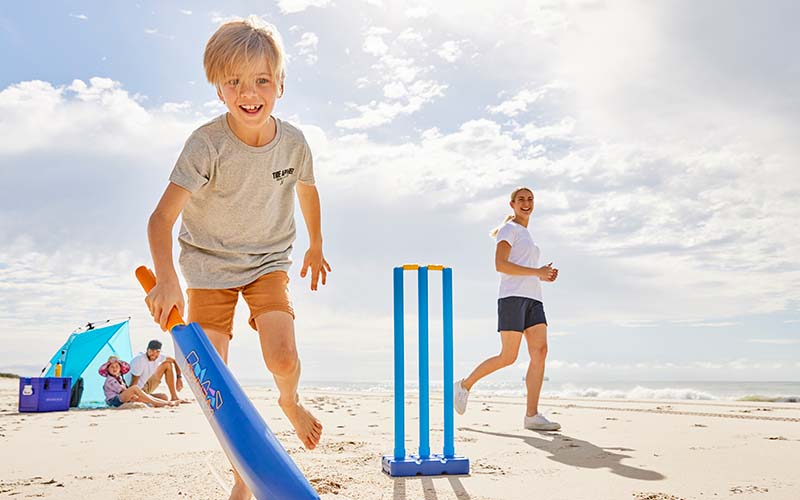 Beach Inflatables & Toys
So, you've rocked up, pulled your cart down the beach, set up your beach shelter, opened up your icebox and cracked open a cold one, now what? Well, here is where the fun begins! A day at the beach simply wouldn't be complete without a game of beach cricket or some fun floating out on the water. Whether you're a big or small kid, nothing beats the feeling of splashing around in the shallows or floating around on an inflatable beach toy from BCF. Coming in a huge range of shapes and sizes, we're sure you'll find something that tickles your fancy right here at BCF! Don't forget to grab an air pump before you go though - you don't want to be left feeling flat when you reach the beach!
Before your next trip to the beach, don't forget to stop in at your local BCF or shop with us online for some ripper beach gear. The sun, surf and sand are calling your name, so get into BCF to make the most of what the beach has to offer. Just make sure you don't forget the sunscreen before you go!