Fishfinder/GPS combos have been around for many decades, over that time they have become an instrumental piece of equipment that has helped to put fish on the decks of many happy fishermen. As advancements in technology continue to grow, the current range of combo's have revolutionised the sport of angling forever. These days no boatie feels complete without one.
In this buyer's guide, our BCF'ing experts will be walking you through some of the most important things to consider when purchasing a fishfinder/GPS combo. We will also talk about some of their key features, plus compare some of the different models available at BCF, so you know you're making the right choice.
What are the benefits of using a fishfinder/GPS combo?
Helping fisherman, anglers and boaties of all ages to not only locate fish and underwater structure, fishfinder combos also tell you the water depth, navigate new waterways and allow you to place waypoints in fish abundant areas. Time is our most valuable asset and unfortunately, we don't always have enough free time; this is where a combo comes in handy to reduce the amount of time you spend searching for fish and have you pulling in the big one or filling your icebox sooner.
How does a fishfinder/GPS combo work?
Make your next fishing adventure one to remember by purchasing a fishfinder/GPS combo. Using sonar pulses, a fishfinder creates a graphic image of what is below the surface of the water and then identifies any objects between your boat and the seafloor. Using a transducer which is mounted to the stern of the boat, and sits just below the waterline, it emits a 3D cone of sound also known as a ping which will bounce off any solid objects and return the information to the transducer. This information is then transferred into a 2D image and displayed on the fishfinder's screen.
What to consider when buying a fishfinder/GPS combo
The use of a fishfinder/GPS combo is great for helping you to better understand the world below the water's surface and hopefully have you hooked up to more fish. The questions below will help you to choose the correct combo to fit your individual needs.
How often will it be used?
Do you fish every other day no matter rain, hail or shine or do you only fish once in a blue moon? The need for a good sounder is essential to ensure you spend less time searching for fish but it also gives you the confidence to keep casting when fishing is tough and helps you to make the most of your time on the water.
Where will it be located?
Where your sounder will be located and your style of boat should be taken into consideration when installing. Making sure your combo is visible from multiple angles in your boat and most importantly the location where you stand to fish. All units come standard with a bracket for easy mounting and can also be flush mounted into your console if you are short on space or would preferer it in a more protected location.
Screen size
One of the most important things to consider before making a purchase is screen size, with a diverse range of sizes coming from all major brands you will be able to find the perfect unit to fit your needs. We highly recommend going with the largest screen possible, bigger screens are much easier to view and show sonar returns with much better size and clarity. It also makes the use of split screens more helpful for showing GPS navigation and sonar imagery simultaneously.
Ease of use
In order to get the most out of your unit it is essential that you choose a fishfinder/GPS combo that you can read and understand. All units come with a range of customisable features such as sensitivity, contrast, boat speed and water depth that you can adjust to suit your individual fishing style. Higher-end models come with more features.
Touchscreen or push-button operation
Both options have their benefits and it really comes down to the individual on which works for you. Touchscreens are much quicker to navigate and make punching in coordinates a breeze. They also take up less space and take full advantage of the unit's size, not requiring buttons. Push-button models are simple to use and make sounder adjustments while travelling underway much easier. Each will work fine when wet/dirty, but touchscreens can suffer from finger smudges, therefore we advise keeping screen wipes and a microfibre towel on hand.
Price
Fishfinder/GPS combo's vary in price to suit the budgets of any fisho and all do a tops job of finding fish. Higher quality sounders have an advantage, due to the added features and picture-like images that come standard on these units. It can be the difference between catching your bag and going home empty-handed.
Expert Tip
Keeping your unit protected in a hard case when not in use is a great way to prevent scratches and extend the life of your sounder, screen wipes are another item we highly recommend for keeping dust and foreign particles from damaging your unit.
What is the difference between fishfinders and combos?
Fishfinders are a simple sonar unit that is great for understanding what is below your boat. Perfect for smaller tinnies with compact displays and affordable prices, they will normally tell you the depth, water temperature and boat speed in a simple design that is easy to navigate. Combo units come as a combination fishfinder and chartplotter. They allow you to log waypoints and navigate waterways to find the best fishing spots. It is also possible to view both screens simultaneously with the split-screen function, handy for revisiting waypoints.
What frequency do you need?
The most commonly used frequencies on your fishfinder range from 50khz (low frequency) to 200khz (high frequency), with each being utilised for a specific purpose. If you are wanting to fish shallow water, the lower frequency is the best option and will allow you to cover more water with a wider search area. High frequency is best for deep water fishing and gives much better target separation to all sonar returns, including structure and fish schools. Chirp sonar is a relatively new feature that has found its way into many of the mid to high-end fishfinders and combos on the market today, providing picture-like quality images through the use of multiple frequencies. Unlike traditional sonar which sends one individual ping at a time, chirp takes advantage of the full spectrum in order to select the best frequency for your individual situation.
What is sidescan & downscan?
Side and down imaging are two of the most game-changing features ever to be involved in the sport of fishing and angling. They allow the user to search and cover extensive amounts of water without even wetting a line. Identify fishy looking structure and schooling fish not only beneath your boat but also up to roughly 70 metres out either side of your vessel. Most high-end units come standard with sidescan and downscan as a feature, with simple adjustments made to the settings that allow you to change the depth and sensitivity to suit your style of fishing for different situations.
Expert Tip
In order to take full advantage of this innovative technology it is recommended to reduce the water depth to 25-30 metres, this will still provide adequate coverage of the bottom but will also make sonar returns much larger and easier to view.

Sidescan view displaying waterbed structures.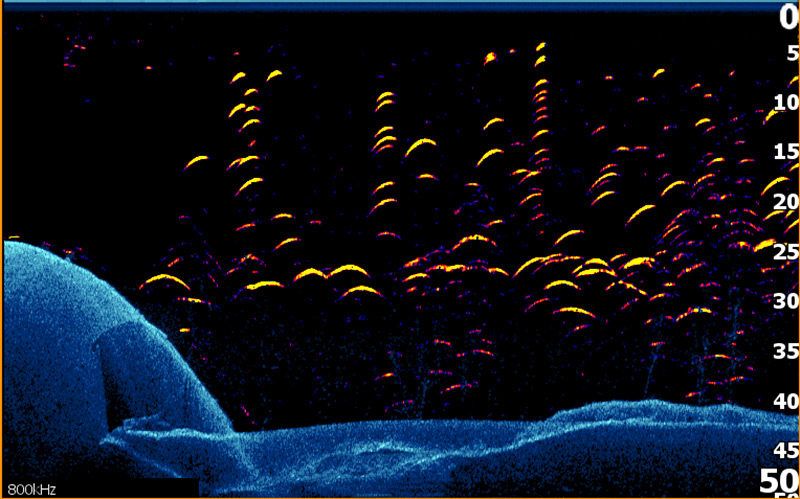 Downscan view displaying fish movements.
What are the combo brands the BCF'ing experts recommend?
If you are in the market for a fishfinder/GPS combo that is easy to use, chockablock full of features, provides the best image quality and reasonably priced, both Lowrance and Garmin have a range of exceptional units capable of meeting all your needs. Available in a range of screen sizes including 5, 7, 9 and 12 inch to suit any budget and a compact 4.3 inch the perfect addition to your fishing kayak. Garmin has been renowned for their exceptional mapping systems and the combos they have produced are equally as amazing. Ultra-high-definition scanning, preloaded mapping and built-in WIFI connectivity are just some of the features, with their top of the line Echomap and striker series becoming a firm favourite among many fisherman and boaties alike. Lowrance is another big name in boat electronics that has continued to produce high-end quality fishfinders/GPS combos for many years and continues to lead the race in the way of new technology. Lowrance has 3 models in their current line up consisting of the Hook reveal, Elite TI2 and their flagship HDS live each capable of showing you crystal clear images of what lies below and much more.
Product comparisons
Lowrance & Garmin have been two of the market leaders in fishfinders/GPS combos for decades, they have a reputation for creating units that are extremely easy to use and simple to navigate while on the water. Take a squiz at their current line up to see what model is going to suit you.
GARMIN
| | STRIKER | ECHOMAP |
| --- | --- | --- |
| Clearvu technology | Yes | Yes |
| Sidevu technology | Yes | Yes |
| Dual channel chirp sonar | Yes | Yes |
| Preloaded Australia/New Zealand basemap | No | Yes |
| High-resolution touchscreen | No | Yes |
| Wireless and Bluetooth connectivity | No | Yes |
| Quickdraw contours chart overlay | No | Yes |
| NMEA 2000 network compatible | No | Yes |
| Display size | 4', 5', 7', 9' | 4', 6', 7', 9' |
LOWRANCE
| TECH | HOOK REVEAL | ELITE TI2 | HDS LIVE |
| --- | --- | --- | --- |
| Sidescan technology (excluding Hook 5 & 7) | Yes | Yes | Yes |
| Downscan technologu | Yes | Yes | Yes |
| Fishreveal | Yes | Yes | Yes |
| Preloaded Australia/New Zealand basemap | Yes | Yes | Yes |
| Multi-frequency chirp sonar | Yes | Yes | Yes |
| SolarMax daylight viewable | Yes | Yes | Yes |
| Touchscreen display | No | Yes | Yes |
| Wireless & Bluetooth connectivity | No | Yes | Yes |
| NMEA 2000 engine support | No | Yes | Yes |
| Full networking compatible | No | No | Yes |
| Dual channel chirp sonar | No | No | Yes |