Written by Lyndsay Sadler, adventurer for Hipcamp.
When choosing a Hipcamp to visit, one of the first things I look for is a campsite with water access. While I'm certainly no fishing expert, I love to have a crack at different fishing styles and have spent many a day chasing that winning catch while camping.
On a recent Hipcamp Field Trip to Rhapsody, near Gingkin in NSW, I was lucky enough to give trout fishing a go, with the help of experienced Host Danny. The campsites at Rhapsody have direct frontage to the pristine Hollanders River, which is a perfect spot for beginners.
Trying out a new fishing style doesn't need to be overwhelming! I've put together some simple beginner tips so that anyone can have a go at trout fishing.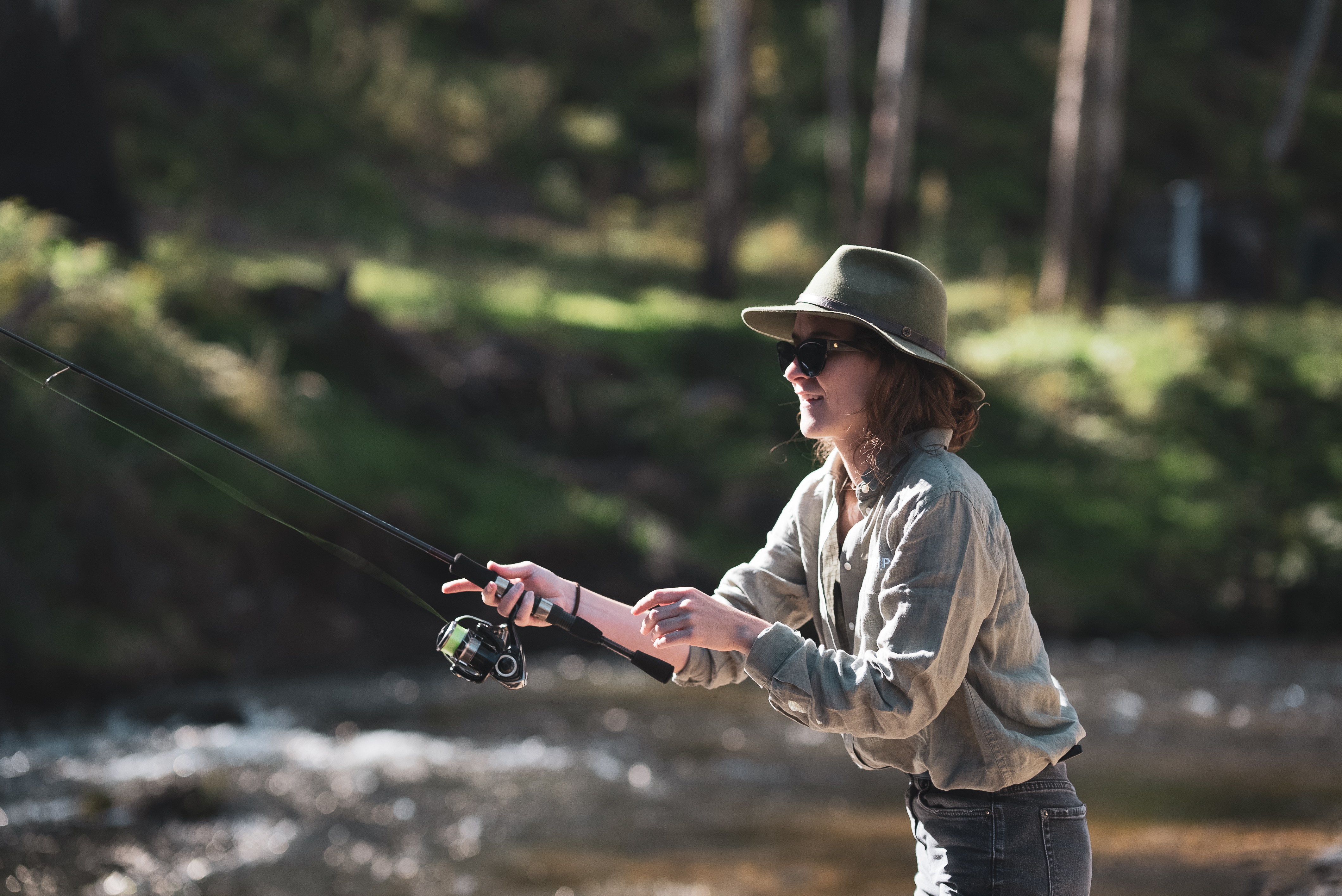 The gear
The lighter the gear, the better! The lightweight Daiwa Crest LT Spinning Combo made casting in narrow streams easy. Small hard-bodied lures and minnows work well when fishing for trout in streams. It's great to take a selection of different lures and colours - like the Daiwa Minnow Hard Body Lure, so you can experiment with what works. If you're looking to keep the kids entertained but don't want to risk your lucky lure, try using Powerbait Trout Nuggets. Finally, any camper knows that it's important to have your gear organised when camping, so I came prepared with my Plano Tackle Tray.
Top tips
Timing is key: No surprises here, the best time to fish for trout is when they are feeding; early morning or late afternoon. A riverfront campsite is perfect so you can roll out of the swag and wander down…
Read the river: Look for pools or still water at the bottom of rapids. These spots are prime for trout as they wait at the bottom of running water for bugs and insects to come down in the stream. Cast upstream or towards logs, trees, rocks and snags which trout seek shelter in.
Keep it down: Trout can be easy to spook so stay as quiet as you can and out of the water.
Mix it up: When using lures, try different retrieval speeds and techniques to find the magic combination. If you don't get a bite after a few tries, move on!
Enjoy: If, sorry, when you land your perfect sized trout, leave the skin on and cook with butter and lemon on the campfire *chef's kiss*.
Watch the full episode of adventure where Lynday and Brooke fish for trout, hike to amazing waterfalls and enjoy some good times around the campfire.
To book your next camping adventure head to Hipcamp, or download the free app.