Whether you're a seasoned angler or a first-time fisho, chasing redfin is sure to leave a smile on your dial.
Considered as a pest by some and as the best eating fish in the water by others, 'reddies' are truly a polarising species for anglers in the southern half of Australia. One thing remains true though, these little foreigners are a super popular target for fisho's of all shapes and sizes and can make for a day full of rod-bending action. Introduced into Aussie waters in the 1860s, redfin perch are a schooling species that are super aggressive and will take a range of baits and lures. Reddies can be a breeze to catch and are as pretty as a picture, so why not get out there and try to catch one today?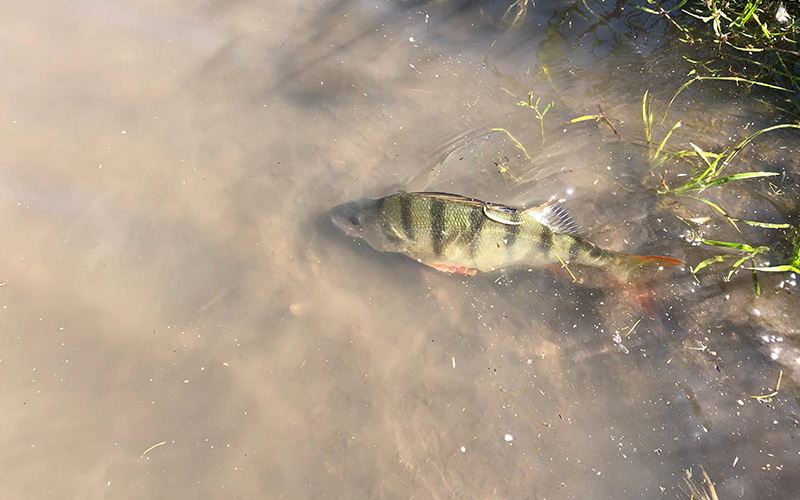 Where to catch?
Redfin are a super hardy species and will inhabit almost any freshwater river, dam, creek, lake, or puddle. Whether it's a crystal-clear mountain stream or water that looks like chocolate milk, reddies will be happy to call these waters home so long as there is some structure or vegetation and a bite to eat. Redfin love to hang around in packs with their mates and often kick back around rocky areas, submerged trees, and weed beds. Sometimes you'll hook onto a school of these little beauties in the middle of nowhere, but for the best success try areas where the fish can hide and ambush their prey. Native to the colder waters of Europe, redfin perch can only be found in the southern half of Australia spreading from New South Wales all the way 'round the bottom half to southern Western Australia.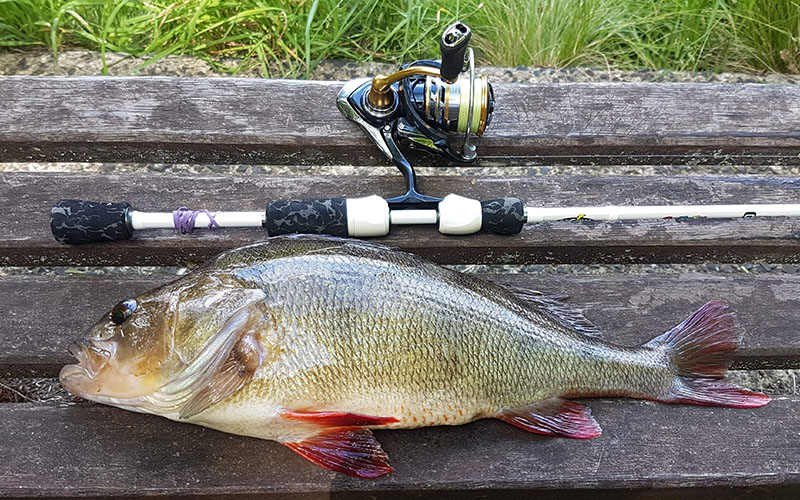 What gear to use?
Redfin perch are a small species growing up to around sixty centimetres in length. Even a fifty-centimetre perch is a trophy fish and if you're catching those kinds of models regularly… you can probably stop reading this guide. As most reddies are a bit smaller, light-gear is the way to go. Either a 1 – 3 kg or 2 – 4 kg spin rod paired up with a 1000 or 2500 sized reel will do the trick. If you're fishing with lures run a graphite rod and spool your reel with some 6 – 10 pound braid, this will allow you to feel every little bite. If you're a bit more old-school and fish exclusively with bait, a fibreglass rod in the same weight range will do the trick. Whack some 6 – 10 pound monofilament line on your reel and Bob's your uncle. One of the best parts about fishing for reddies is that you don't need to break the bank. As long as you've got some light gear, you'll be able to reel them in with ease.
What bait to use?
As for bait, there are a couple of options that you can slide on the end of your hook to have the reddies licking their lips. The first and most popular option is the humble worm. Night crawlers, scrubbies, or even garden worms will all do the trick and catch you reddies for days. Make sure that if you're using worms, you choose a hook pattern such as a long shank to give the worm a more natural presentation. Next up we have yabbies and minnows, which can both be caught with a bait trap dunked in near a weedy area. If it's big reddies you're after your best bet is to throw a yabby on the end of your hook. There's a good chance the smaller fish will avoid the sharp claws leaving your bait untouched until a big reddie swings past for a snack! Presenting any of these baits on a running sinker rig with a sinker that's as light as possible will see your bucket filling up with fish pretty quickly.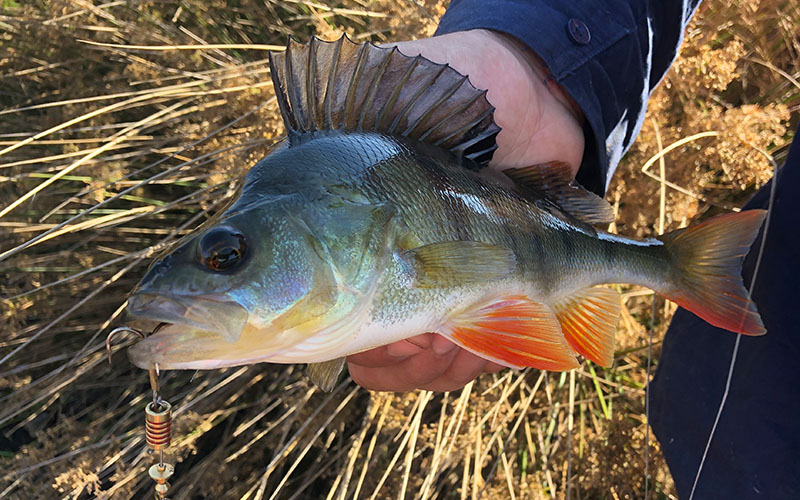 What about lures?
Although using bait will do the trick, fishing with lures is head and shoulders more popular for targeting redfin and these fish will take a massive variety of artificial presentations. Soft plastics, vibes, blades, spinners, even ice jigs, if it moves in the water there's a good chance a redfin will smash it. That doesn't mean they don't have their favourites though, and we'll take some time to run you through the best lures to use for these aggressive little guys.
Soft plastics
Soft plastics just might be the very best way to target redfin. They come in a massive range of colours and styles and have a lifelike feel that the fish simply love. Small grub style soft plastics are like lollies for redfin and will be gobbled up in a heartbeat. These emulate small minnows and are best fished in and around weed beds. Simply roll them in slowly or hop them back to the bank or boat with short flicks of your rod. Small paddle-tail lures such as Z-man Slim Swims are also ripper for redfin and it's worth having both styles in your toolkit when hunting reddies. In terms of colour, it's in the name… red coloured plastics always seem to get the fish going! Some days the reddies will take any colour plastic, but when the bite is slow a red coloured lure with a little bit of scent is hard to resist.
Vibes/Blades
If you really want to rile up the fish, vibrating lures including blades and vibes will have the fish going nuts. Ripping these lures through the water with a sharp lift of the rod and then letting the lure sink is a great way to catch a reddie or ten. Make sure you watch the line on the drop though, as this is a great time to hook up. Soft vibes are an epic option and combine the lifelike feeling of a soft plastic with the vibrating action of a vibe. If you really want to drive the fish crazy, find a soft vibe that has the same pattern as a reddie, such as this Spin Tail Lure from Savage Gear… did we mention that reddies are cannibals?
Inline spinners/small spinnerbaits
If soft placcies are the best way to catch a redfin, spinners are the easiest and are perfect for beginner lure fishos or little tackers. Throw 'em out and reel 'em in at a steady pace and you'll be sure to have a hungry reddie chasing your lure down in absolutely no time at all. Same thing goes for small spinnerbaits, although lifting these through the snags and letting them fall is a better way to work them. One of our favourite ways to fish for reddies is with a 'jig spinner', which is simply a jig head with a built on blade for added vibration and attraction. Slide on your favourite soft plastic and you've got yourself a deadly weapon for catching redfin.
Hardbodies
Another great way to snag a reddie is by using hardbody lures. The days of a well-carved piece of wood with a few trebles hanging off the back are well past us and these days, hardbody lures are a lot more realistic and appealing. Rapala have a huge range of bite-sized lures that are perfect for redfin. Mimic a baby brown trout or a darting rainbow and you'll have no problem tempting a hungry reddie. Lures between 3 and 7 centimetres are the perfect size and with a built-in action that makes the fish go wild, you'll be sure to catch a couple with these little beauties.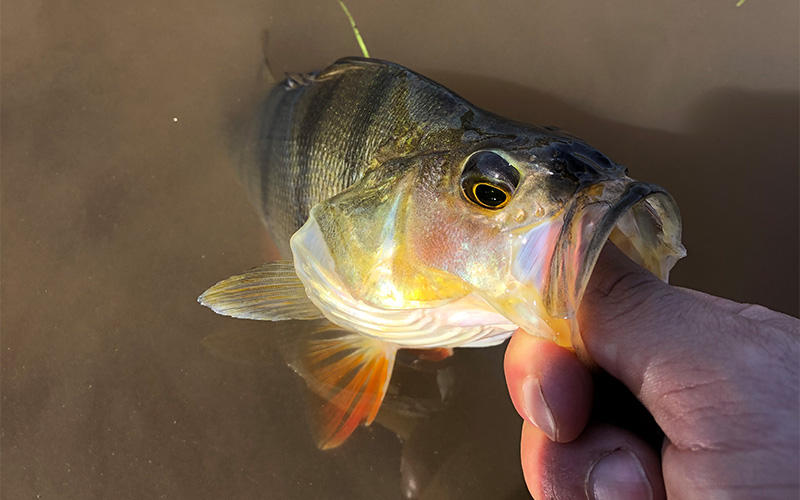 When to catch?
Reddies can be caught all year round, but it's in the cooler months when the big models really come out to play. As these fish originate in the cooler waters of Europe, it's only natural that they like the cold and so winter can really see an uplift in the redfin fishing. This works out perfectly for Southern fisho's as when the native's shutdown, the redfin and trout become the new targets. The next time you slip on a beanie and some gloves, think redfin!
Final pointers
Reddies are classed as a noxious species in pretty much all Aussie waters, and it is recommended not to put these fish back. There are some places where it is illegal to return these fish back to the water, so check your local regulations before you head out with your rod and reel. Considering how good they taste you'd be absolutely bonkers to throw them back in anyway. If you do decide to catch and release, handle these fish with care. They have sharp gill rakers on each cheek that will leave you with a pretty sore finger if you do get pricked.
They might not be the hardest pullers in the water, but there's something oh so special about redfin that only those who have had a hot session on them can truly understand. The non-stop action that can be had will leave you feeling like an excited kid again. In one word, fishing for redfin is fun… BCFing fun to be exact! Whether you're a seasoned angler going through a dry spell or just trying to catch your first fish, we can almost guarantee that a session spent chasing reddies will leave a smile on your dial.