Author: Nige Webster
Weedless lure fishing came onto the scene in a big way a number of years ago and have unlocked many structure dwelling fish that would have otherwise evaded anglers. It's for this reason more and more anglers are adopting the weedless approach, but at the same time, many others are yet to jump on the bandwagon.
Whether it's the fear of the unknown or simply not knowing when is best to strap on a weedless soft plastic, it should be said that weedless presentations can turn a bad day on the water into a seriously good one.
So what's all the fuss about?
I reach for weedless presentations when a standard jighead or treble hook has no chance of swimming through without snagging up on trees, reef or thick weed. And with that being said it's deadly in both fresh and salt water on a range of species such as bream, barramundi, Murray cod, yellowbelly, Saratoga and mangrove jack.
What is a weedless presentation?
A weedless presentation is basically a lure rigged in a way that makes it 'snag-proof'.
The term 'Texas' landed on the fishing scene in the US among bass anglers and really kicked off this style. The set up involves a bullet shaped sinker that is allowed to run down to a worm style hook and soft plastic. The bullet shaped sinker/head and specially designed hook pattern enables anglers to slide presentations through heavy cover and rolled over obstacles.
The original Texas rig (with bullet style head) has led to angler experimentation and rigging variations have clearly emerged. While the majority are still centred on the same concept, there are nuances that can see a plastic swimming well or rolling awkwardly, looking unnatural.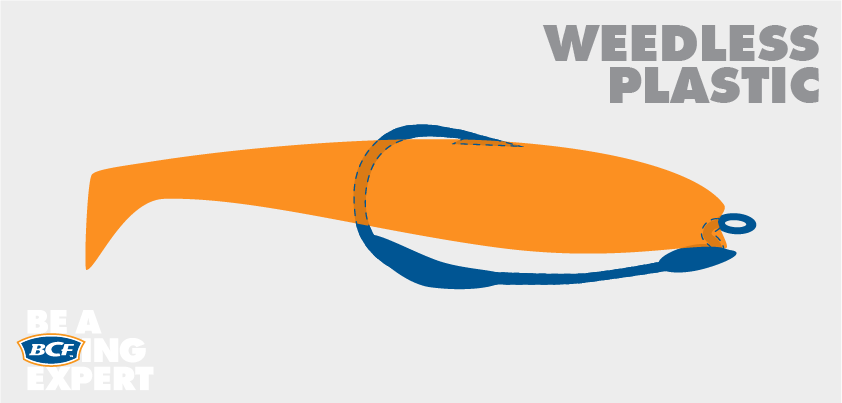 Weedless presentation buyer's guide
Specially designed wide gape 'worm style' hooks are the starting point and a variety of choices can be found. Some hooks are completely 'weightless' with the absence of lead, while others feature lead heads or keel weights in a fixed position.
A few of the more well-known names producing quality worm style hooks include Owner, Gamakatsu, Decoy, TT and Mustad. Hooks in these ranges will vary in sizes, gauge and overall shape.
Pairing the hook to the right soft plastic is the next step and as you've likely seen, there are myriad brands, shapes, colours and sizes on the market. Sensible consideration is required and will be dictated by your target species.
Soft plastic patterns that work effectively when rigged weedless include paddletails, shads, jerkbaits, grubs and frog patterns. Brands such as Savage Gear and Zerek offer ready-made weedless shrimp varieties that simply need to be tied on to your leader.
Your choice should also be based on 'how' you plan to fish your soft plastic. You might be slow rolling along a rock bar, fluttering and hopping through snags or walking over thick vegetation. These scenarios and surrounding terrain will largely determine the best plastic selection.
Weedless rigging methods & suggestions
With such an abundance of soft plastic lures and weedless hooks available, anglers will commonly gain confidence in combinations that have worked for them in the past. This generally results in personal 'favourites' and 'the only ones' to use.
The reality though, is that the majority will work when presented correctly. Let's take a look at some of the rigging methods that have worked for me and some of my angling mates over a number of years.
Head weighted variations
A popular range of hooks that make rigging easy is the Owner Beast hook range. These hooks are available from sizes 4/0-10/0 and come keel weighted or as an unweighted hook. While other wide gape worm style hooks exist within the Owner range, what sets the Beast hooks apart from the rest is an 'in line' eye and a twist lock bait keeper which makes rigging simple.
Using a paddletail style soft plastic (as an example), the head of the plastic is simply screwed into the twist lock keeper and hook placement through the belly becomes rather obvious. What I like to do with these hooks is crimp on a split shot or small ball sinker. A ball sinker can be crimped on (with standard pliers) very easily after making/cutting a small groove into the lead.
The benefit of this is it enables you to position the weight exactly where you want it. Much like a swimming troll bait in game fishing, you can position your lead on the hook so it will sit very nicely under the chin of the soft plastic. This elicits an impressive 'swim' through the water, eliminating any sideward roll. A slow wind will generate the desired action or swim (in the case of a paddletail) and really get that tail beating. This set up is my clear favourite when slow rolling plastics aimed at barramundi and mangrove jack.
A second variation and rather commonly used method is to simply use a weightless weedless hook with a ball sinker. Popular hook patterns exist within the Owner, Tackle Tactics (TT) and Gamakatsu ranges, all offering super strong needle sharp hooks. In nearly all cases these wide gape worm hook patterns feature a downward facing eye (unlike the Owner Beast hooks) allowing for a small ball sinker to sit inside the loop knot attached to your hook.
This is quite easily achieved by making your initial 'loop' in your loop knot and threading on a sinker before feeding through the eye of your hook and final completion of your knot. The ball sinker inside the loop knot set up does get the majority of plastics swimming well but it must be done correctly. If the sinker favours one side, it will ultimately kill the desired swimming action. The obvious benefit with this method is weights can be changed and depths set very easily via a quick re-tie.
Still concentrating on the idea of a 'lead head', a third variation comes about with worm hooks that come rigged with an attached lead head weight already inserted in the eye of the hook. Huge variety in this area exists with hook patterns and differing size shape and lead weights.
Quality can be found with the Owner Jig-rig, TT's Snakeheads and Decoy Nail Bomb range. The advantage with these set ups is the fact they come pre-rigged, ready to go which makes the job rather convenient. You should however carry a range of hooks and weights as you cannot change the pre-made set ups.
If attached weights are not your thing, you can go right back to basics and simply run a sinker on your leader down to a worm style hook. Just make sure your plastic always swims as it should.
Keel weights & totally weightless
A fixed belly or keel weight can also be found on many worm style hook patterns. Again many of these hook patterns are made from heavy duty wire and are ideal for powerful species of fish. Keel weighted hooks offer an alternative to typical Texas style rigging or the other head weighted variations mentioned.
With the weight positioned under your soft plastic, it provides the angler with the option to alter the 'fall' and retain a more seductive glide to the bottom. These are an excellent choice for the many grub and craw style soft plastics where you may want a slower fall/glide through the water column. This tactic most certainly has its place at certain times and the slow glide to the bottom provides that little more stealth required.
Taking the stealth factor further still, many worm style hooks come totally weightless and can be fished that way. The obvious advantage here, with any plastic rigged weightless, is it allows for an incredibly slow and natural sink rate. This gives an ultra-realistic appearance, imitating a wounded baitfish or grub struggling for life.
On those calm, wind free days where you are casting in close quarters the unweighted approach can work very successfully. A slight twitch or hop with the rod tip can produce some beautiful life-like actions from your chosen plastic.
There is however obvious disadvantages with the unweighted approach and these include the inability to cast them any considerable distance and they can become near impossible to fish in windy conditions.
The belly created in your line, working with the minimal amount of weight being used, can continually frustrate you as your lure does nothing but track the line belly away from your initial target zone. The conditions of the day will largely determine your ability to fish weightless plastics.
Techniques & retrieves
Surface luring luring
There's something alluring about watching a lure being eaten off the surface. It's one of the most addictive forms of fishing we as anglers can experience, and it doesn't discriminate between fresh or saltwater environments. Whether it's trevally, kingfish or salmon in the salt or barra and Murray cod in the fresh, there's nothing quite like the anticipation of a surface explosion to get the heart racing.
Using a weightless hook combined with a buoyant soft plastic, like a ZMan ElaZtech, will allow you to cast hard up or above snags before engaging the reel and bopping the lure across the surface.
Your target species will determine how fast or slow you should move the lure across the water (slow and steady for Murray cod, fast and aggressive for kingfish), but you effectively want to move your rod tip from horizontal to the top of the water downward toward the water. Think of it as starting at three o'clock on a watch face down to six or seven o'clock, before a brief pause and winding in the slack line between each 'bop'.
Sub-surface
In situations where the structure sits below the surface in shallow areas (up to 2m) you need to choose a hook that will allow the plastic to fall in a slow, horizontal fashion, such as a keel weighted hook, as described above.
This is a solid approach to fishing around mangroves and above weeds that rise to the surface but not quite reaching it. Predatory species will use these types of structure as cover before launching at any unsuspecting prey.
Cast the lure toward or past the structure and feel your way through the structure to determine how long it should be left to sink. This may take a number of casts to work out exactly how long you should let the lure sink as any number of twigs, rocks or weed could exist below the surface.
Once you have worked it out, you can either slow roll the plastic through, burn and kill it through or introduce stops and pauses with gentle hops imparted by lifting and dropping the rod tip.
When fishing water that drops above 2m, you will need to increase the weight of your ball sinker or weighted jighead. While you want the lure to sink slowly, you don't want it to take minutes to get to the strikezone, which is why it pays to carry a range of tackle.
A weedless game plan
As with any form of angling, the more preparation and thought you put into your game plan, the more likelihood of success. Important aspects of throwing weedless presentations will be type of terrain, amount of current/tidal movement, your target species, plastic choice, how you will retrieve your lure and the prevailing weather conditions.
Experimentation will often lead you to success as you discover what the fish are responding to on a particular day. Weedless presentations have opened the door to anglers and provided us all with endless possibilities.