Author: Nige Webster
Choosing the right spinning reel is a critical aspect to balance your rod and reel combo. Not only do you want something comfortable to hold for the duration of your session, but you want to make sure it will be capable of handling your target species when it jumps on the line.
When choosing the right reel, it's a little bit of a 'chicken and egg' situation, because of course, you need to pair it to the right rod. But which one do you choose first? If you're going to be buying both, it should be done at the same time, where you'll have the opportunity to try the reel on the rod and see how it feels in the hand.
With so many considerations around brand, price, line rating, line capacity, drag system, gear ratio, construction material, warranty and more, it can be difficult to know where to begin, so let's take a look at what you need to know when choosing your next spinning reel.
What are spinning reels
Depending on where you live or what era you were born in, spinning reels can also be referred to as threadline, open-face or egg beaters. While the latter is a strange term, it makes sense when you consider the motion of an egg beater when its handle is turned and the similarity to a spinning reel.
Regardless of what you call them, spinning reels are extremely versatile and popular among anglers in Australia and across the globe, for species both big and small.
Great for beginners, spinning reels are easier to cast and use than baitcaster reels, and less likely to cause tangles.
Spinning reels use a bail arm that wraps line onto the spool when closed and allows it to free spool once the bail arm is open, ready for the line to be cast. For that to happen, you simply pinch the line close to the bail arm, flick it open and release your finger off the line once your rod reaches the highest point of the casting motion.
Once your bait or lure hits the water and you've allowed it to sink (unless using a floating presentation), line will continue to free fall off the spool until you flick the bail arm back over. Once closed, you can then begin to retrieve line by turning the reel's handle.
Spinning reels are also adorned by adjustable drag knobs which allow you to tighten or loosen the amount of pressure required to pull line off the spool. But more on that later.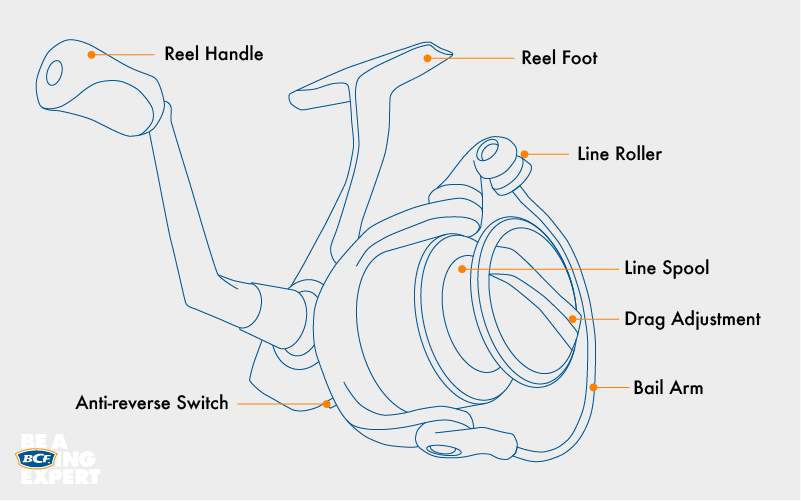 Spinning reel sizes
Spinning reel sizes are typically expressed as numbers in the thousands (1000, 25000. 4000 etc.); however, each manufacturer rates their reels differently, so there are no hard and fast rules regarding size and line capacity. There is however consistency around reel sizes and typical applications that you should be aware of.
Numbers & applications
1000 to 3500: this is your smallest spinning reel range and are typically matched with lightweight rods in the 5 to 7ft rods. These reels are best suited to finesse applications, where light lines (2 to 10lb) are required. This range is especially popular among light lure anglers fishing in the shallows of the salt and rivers and streams for abundant freshwater species.

Popular species chased with this spinning reel range include the likes of trout, redfin, perch, squid, flathead, whiting etc.

4000 to 5500: medium spinning reels are extremely versatile and can be used by both bait and lure anglers chasing reef species, pelagics, barramundi, etc. These reels are best matched with 6 to 7ft rods and lines from 8 to 30 lb.
6000 to 9500: medium to big spinning reels can be used across various applications including surf fishing, reef fishing for scrappy fighters and rock fishing. Line weights can be anywhere from 10 to 50lb and these reels need to be paired with medium to heavy rods.
10,000-plus: extra large spinning reels are typically used in situations where long casts and a lot of line is required. Surf fishing and offshore requires both and this is where 10,000-plus size reels come into their own. Fishing for big reef brawlers such as GTs will often see big spin reels employed.
Choosing the right reel size
The right spinning reel size can typically be determined by the type of fishing and species you intend to target. Keep in mind too that reels can be used for multiple applications, so long as the line rating is applicable. As an example, a 2500 reel that is best suited to 6lb line will work just as well on trout as it will on squid.
Manufacturers will display line capacity information and suggested line weight on the reel so be sure to check that out before making your decision. Also, be sure to research your target species and find out what line rating is suggested for them and base your decisions around that.
The other thing you want to do is stick the reel on the rod you intend to pair it with to make sure it balances, rather than being too top or bottom heavy. Keep in mind that not all reels at the same size will weigh the same. This comes down to materials used in construction.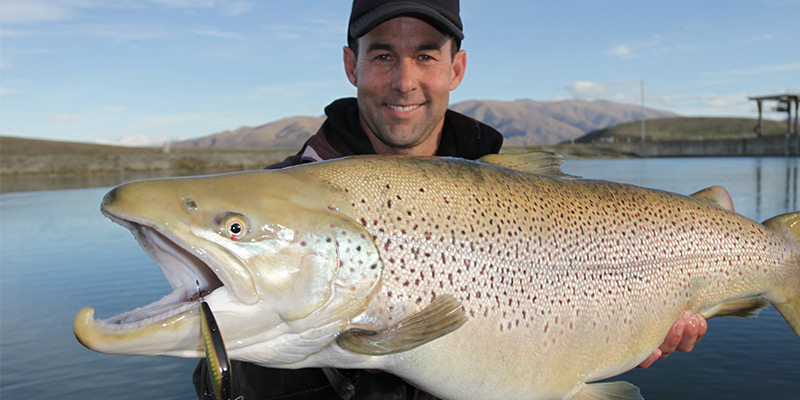 Big trout require a 3000 sized spinning reel with a quality drag and a line capacity of at least 150 metres of braid or monofilament.
Spinning reel Body & Weight
As with most things in life, not all spinning reels are created equal. And if you've ever wondered why there's such a big variation in prices, it's because of all the components that make a spinning reel tick. They are certainly an example of something only being as good as the sum of their parts.
When it comes down to weight and feel, you need to consider what material is used to make up the reel body.
Reel bodies are typically made up of either aluminium, graphite or carbon fibre. Sometimes they will even be made up of a combination. These materials are chosen due to their lightweight nature and stiffness.
Aluminium is stronger, whereas graphite and carbon fibre are lighter in weight, so that's something to consider if you plan to fish for long periods of time, or if you will constantly be holding the rod, such as while lure fishing.
If saltwater fishing is high on your agenda, be aware that graphite and carbon fibre are more corrosion resistant than aluminium.
If buying a spinning reel online, be sure to check out the weight of the reel and compare it to others in the same size and price range.
Reel Gear Ratio
An often overlooked, but important aspect of choosing the right spinning reel comes down to the gear ratio. For me personally, making sure I have the right gear ratio is crucial to the success of my fishing, especially when it comes to a range of lure fishing situations.
Gear ratios can be low, medium and high and are expressed as 4:1, 5:1, 6:1, 5:2:1 etc. Generally speaking, anything below 5:1 can be considered low, whereas anything above 6:1 can be considered high.
Basically, what these numbers represent is how much line is put back onto the reel with each turn of the handle.
This is important in situations such as spinning for pelagics or Australian salmon in the surf where you really need to crank a lure back at speed. In situations such as this, you want a reel with a high gear ratio to ensure each turn of the handle puts as much line back on the reel as possible.
Conversely, where you need more torque, such as reef fishing for big demersals, you can get away with a lower gear ratio.
If looking for a general-purpose reel, go for something in the mid-range, such as a 5:1 as it will suffice in most situations. On the flip side, if buying multiple reels, for different purposes, get a mix to suit your needs.
Spinning reel drag systems
One of the most important parts of a spinning reel, or any reel for that matter, is the drag system.
As mentioned above, the drag system dictates how much pressure is required for line to be pulled from the spool. It provides the all-important function of allowing the fish to pull line from the spool during the fight when enough tension is placed on the reel. It also allows us, as anglers, to determine whether we need to add or reduce pressure on a hooked fish.
If fishing for bottom species where obstacles such as reef exist, you'll want to apply more pressure than on a fish is swimming in open water and you have time to play and tire them out.
When looking at drag systems, you want something smooth and high quality to avoid the risk of reel jams and failures while connected to fish.
Two types of drag systems exist, with those being front and rear. Most modern spinning reels tend to boast front drag systems that sit above the spool and feature multiple washers that outperform rear drag systems.
The key to maintaining a smooth drag system is avoiding salt water, dirt and sand ingress, which is what makes sealed drag systems highly sought after. The waterproof or water-resistant benefit of a sealed system is also desirable, especially in situations where it is likely that water will come into contact with the reel, such as rock or surf fishing.
Drag washers also come in different materials, with carbon fibre, metal and composite being common. After regular use, it is good practice to give them a clean, to ensure no foreign objects such as sand or dirt has come in contact with the washers.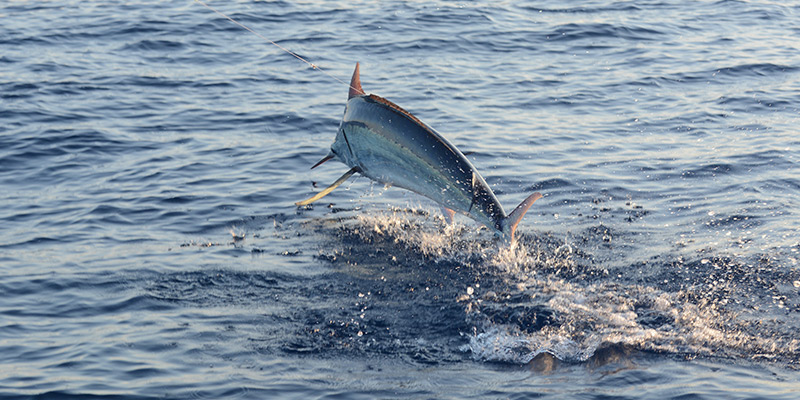 The preferred option now for small and medium marlin is to use a top-line spinning reel with drag capable of at least 10 kilos of drag pressure.
Spinning reels & ball bearings
One of the other key ingredients to making a spinning reel tick is ball bearings. These are found within the body and promote strength, stability and smoothness. There is also a roller bearing within the line roller.
While not always the case (cheap inferior products), the more ball bearings within a reel, the smoother it will be. But buyer beware, you do get what you pay for, and if it sounds too good to be true, it typically is.
Look for a reel with a minimum of 4 to 6 bearings and buy a reel with the most that you can afford, as the last thing you want in a new spinning reel is one that isn't smooth on the retrieve.
Spool design
Spinning reel spools (the main barrel that the line sits on) come in various designs and are usually built from either aluminium or graphite. As above, aluminium will be stronger, yet heavier, while graphite will be lighter.
There are also differences in design from reel to reel and manufacturer to manufacturer, with depths and shapes differing. Some are shallower than others, while long cast spools are shallower and often tapered from narrower at the top to wider at the base.
Small shallow reels are great for chasing species such as squid that don't require excessive amounts of line. They can be spooled with lines such as braid more efficiently as they will require less line to fill them up. That saves dollars. On the flip side, some spools will be deep and can hold vastly more amounts of lines than similar size reels with 'standard' size spools.
Speaking of braid, some spools will come 'braid-ready' with a rubber like band in the centre of the spool which negates the need for several wraps of monofilament to be placed on the reel prior to it being loaded with braid. Braid is 'slippery' and requires something to bite into to avoid slipping, whereas monofilament doesn't.
Consider what type of fishing you will be doing and choose the most appropriate spool shape and style for your needs.
Handle it
A spinning reel's handle may not seem all that important at first glance, but once you consider that it's what you will be holding the majority of time, it makes sense to choose one that feels comfortable in the hand.
Different reel's come with different shaped and sized knobs and depending on your preference, will dictate which you prefer. Some are narrow and straight while others are bulky and round. Then there's a bunch of variation in-between. Find one that suits you best and if the reel you want doesn't have the handle you prefer, there's a good chance you can buy an after-market handle to suit.
Choosing a spinning reel can be as simple or complicated as you make it. At the end of the day, I suggest doing some research, talking to your local tackle store employee and buying the best you can afford. Choose reputable brands such as Shimano, Daiwa, Okuma, Savage Gear and Penn and you can't go too wrong.
Lastly, look after it and it will look after you when that prized fish jumps on the line!