Winter cook-ups are a much-loved part of the camping experience and one that campers of all ages and skill levels can really sink their teeth into. Although chilling by the campfire is a year-round essential, things really start to heat up when the temperatures start to cool down. Those delicious meals that'll have your mouth-watering at the mere thought are made even better when you throw a campfire in the mix. Now that it's getting a little chilly and the winter wardrobe is making an appearance, it's the perfect time to get the crew together for a feast. We thought it'd be a good idea to throw together a buyer's guide and run you through all the gear you'll need for the best winter cook-up.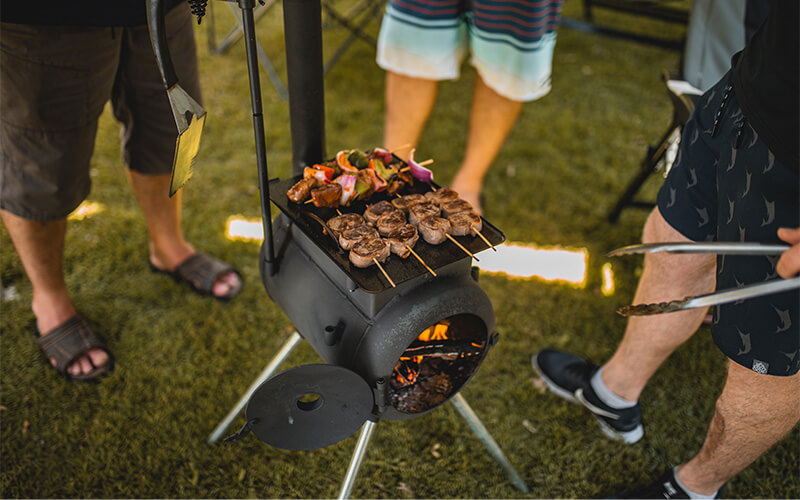 Have your cake and heat it too – Ozpig Traveller Wood Fired Stove
Exclusive to BCF, the Ozpig Traveller is a wood fired stove like no other! Tough as nails and built to last, this little beauty will make light work of all your winter favourites while keeping the frame toasty in the process. Whether a camping adventure is on the cards or you're sticking to the backyard, the Ozpig Traveller is the perfect companion for both cooking and keeping the crew warm all at once. With its lightweight and ultra-portable design this little piggy not only went to market, it stopped off at every campsite on the way home. Manufactured using pressed steel and machine welded, it's no surprise the Ozpig name has been around for over a decade. With legs and chimney that pack away with ease and a convenient carry bag to store the lot, what more could you ask for?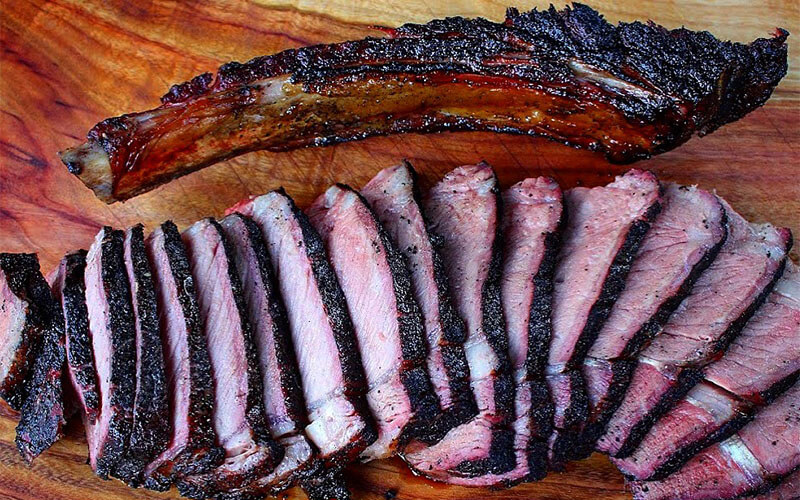 For Aussie made rubs and sauces, Smokey Q is the go-to…
Do you think of yourself as a whiz on the barbie? What about the next Jamie Oliver? Well even the best chefs will only use top quality ingredients for their cook-ups. When it comes to rubs and sauces the name Smokey Q should be your only choice. Proudly Australian made and owned, their products help add a slice of down under to any BBQ cooked meal. Available in a delicious range of flavours that your taste buds will be helpless to resist. Whether it's beef, chicken or rib rubs that float your boat, maybe sweet hog honey and bacon sounds more your style, even those wanting to spice up their life will find an answer with Smokey Q. Using all natural ingredients that are preservative, gluten and msg free, ironically also mostly vegan friendly too, what's not to love?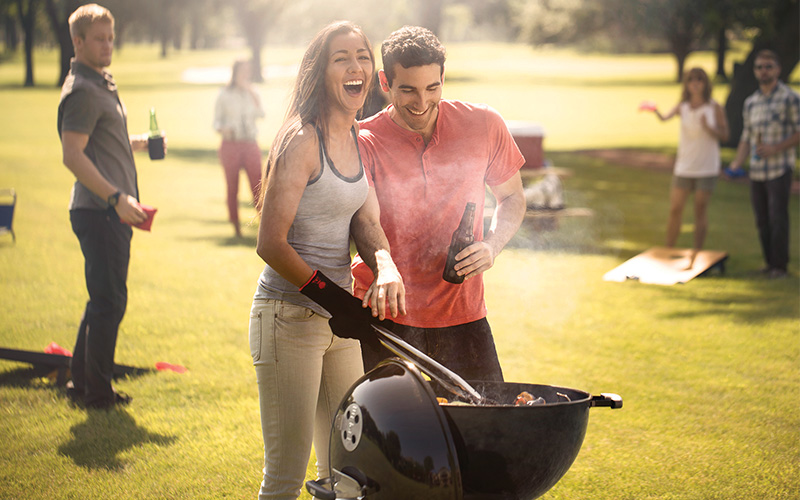 Low and slow is the way to go! – Weber Original Kettle
Weber is an iconic BBQ brand that many Aussies have fallen head over heels for. Synonymous with quality, their entire line-up is choc-a-bloc with good gear and a perfect addition to any family. For decades the Weber Original BBQ Kettle has been making exceptional meals, while keeping bellies full in the process. Made using some of the toughest materials around, you can rely on this beauty going the distance. The ease of use and patented one-touch cleaning system make this kettle such a winner, but it's the delicious flavours that'll have you coming back time and time again. If you've got a weekend get together on the cards or maybe a party or two, the Weber Original Kettle should definitely get an invite. Don't forget the Weber Briquettes and smoking chips to really kick things up a notch.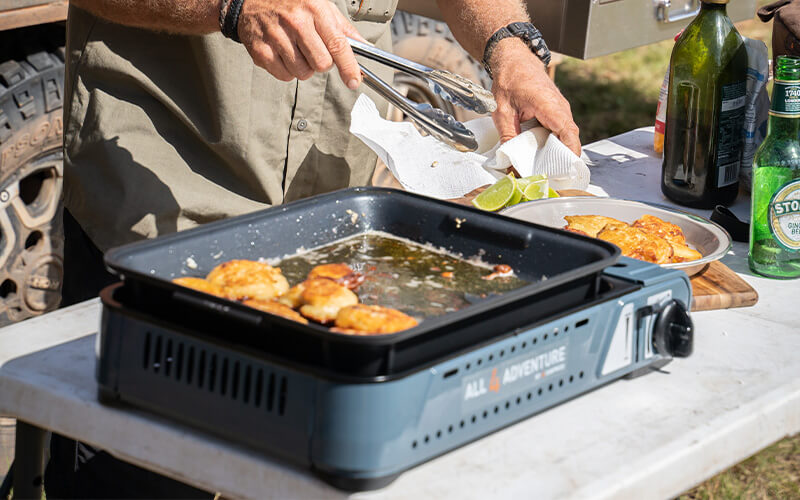 Putting the beaut in butane – All 4 Adventure Stove
Although luxury meals may not be the first thing that springs to mind when you start talking about a camping adventure, the ability to make those mouth-watering dishes is much easier than you think with an All 4 Adventure Butane Stove. No matter if you're roughing it in the outback or living the glamping lifestyle, this little ripper is the perfect addition to any camping kit. From curries and stews to bacon and eggs, there's almost nothing this bad boy can't do. A non-stick coated deep cooking pan makes clean up a breeze, while the tempered glass lid will ensure the local insect population doesn't give you a surprising hit of protein. Things don't get much easier than this with its push turn piezo ignition making lighting matches a thing of the past. Safety should always be your number one consideration and a two-stage over pressure safety cut off will keep you safe as houses. Just when you thought it couldn't get any better, this stove comes with a handy carry case so it can tag along wherever you go. Whatever you do, don't forget to stock up on your butane cartridges before you leave civilisation!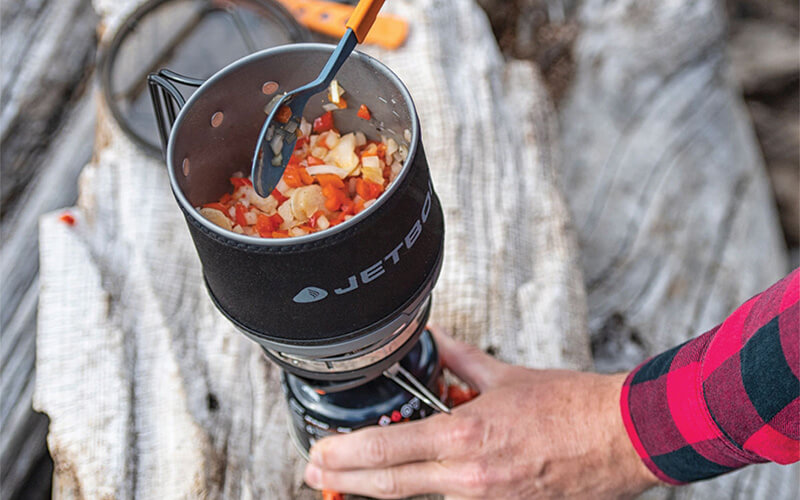 The perfect hiking companion – Jetboil Zip Hiking Stove
For those who don't mind lacing up the hiking books when winter comes to town, you can't beat the Jetboil for hot food and drinks on the go. Any hiker will tell you the importance of keeping the belly full and the energy levels high when you hit the trails. Although carting the barbie with you may sound like a ripper idea, I don't think your back will agree. The Zip Hiking Stove fits easily in your backpack and will provide you a lightweight and compact piece of kit, this beauty is ideal for day trips and will make those overnight hiking adventures a piece of cake. When you're craving that morning brew the Jetboil will have you sorted in no time! Boiling 500ml in just two and a half minutes leaving you to get on with the more important stuff.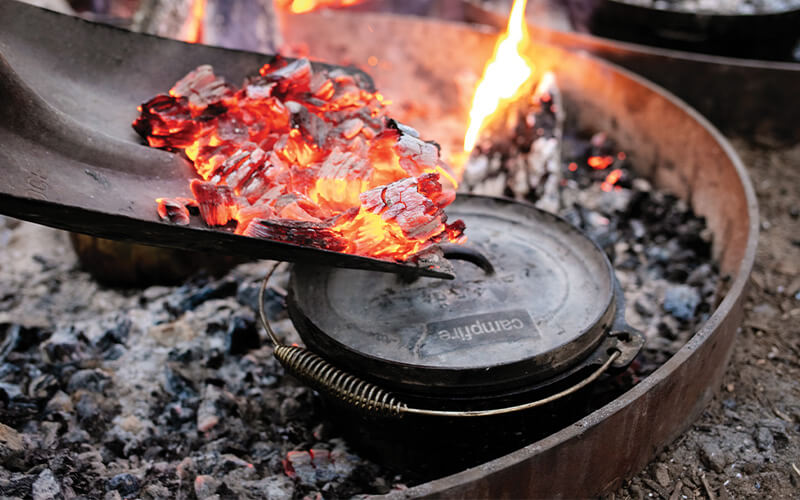 Camp ovens and winter, a match made in heaven
The trusty camp oven, a firm favourite among campers of all ages and skill levels. For years the camp oven has been making delicious meals, using it's cast-iron construction to disperse heat evenly and allowing the contents to be baked to perfection. They come in a range of sizes to cater for any family, group or party and have always been a crowd pleaser on a cold winter's night. Whether a hearty stew is on the menu or a baked chook, even casseroles will come out looking schmick if they're cooked in one of these beauties. For your convenience, all our camp ovens have been pre-seasoned with a vegetable oil mix so your good to go straight out of the box. There are a number of accessories you can get for your camp oven to tripods and trivets that are sure to make your life easier when out bush.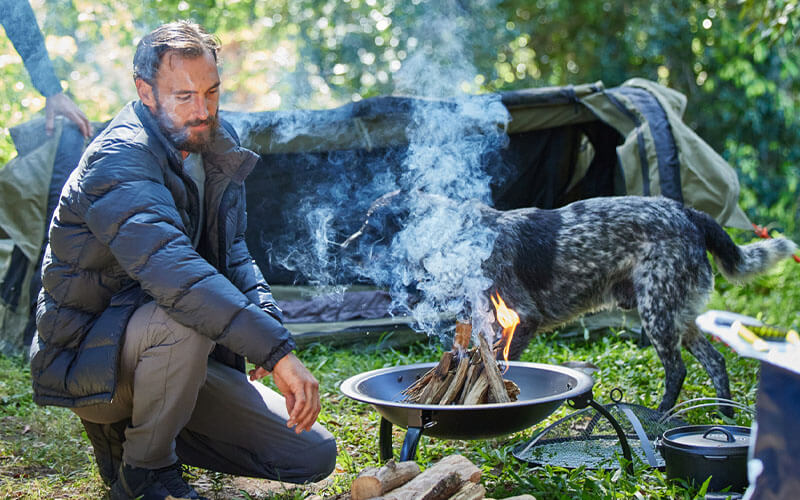 Fire and a feast packed into 1 – BCF Firepit and Grill
Camping enthusiasts and outdoor adventurers alike have fallen in love with the ease and efficiency of the firepit. Making it possible to bring heat, light and a ripper feast for the eyes almost anywhere you go. While firepits are most commonly used as a groovy heating solution these little rippers are a bit of alright when it comes to cooking a feed as well. BCF's Fire Pit with Grill will not only keep you warm as toast on the coldest of winter night's, but its cracker cooking grill will make light work of almost any meal. From the breakfast of champions (bacon and eggs) to steak and chips for tea, there's almost nothing this bad boy can't handle. It's clever design makes set-up a breeze, while the handy carry bag puts an end to transporting and storage worries.