Ice boxes, hard coolers and soft coolers are an essential addition to any outdoor adventure — whether you're going away for a quiet weekend camping, have a fishing trip planned for the day, are planning to hit up a friend's backyard party or you're just ducking down for a dip at the beach. In fact, there are very few occasions that aren't improved by the addition of one of these portable cooling solutions.
But which are the best iceboxes, hard coolers and soft coolers to suit the needs of you and your family? It's a simple question but choosing the best icebox isn't as straightforward as it may appear at first glance. Our range of portable cooling solutions is manufactured with a broad range of materials, styles and sizes in order to suit a range of different needs. A quick skim of icebox reviews will rapidly reveal that opinions vary wildly on issues such as the best cooler for camping in Australia.
Cool boxes in Australia
If you're looking for the best iceboxes in Australia, read on — there's plenty of models to choose from, whether it's the best icebox for camping, or simply the best ice cooler you can get your hands on ASAP when you need one in a hurry, BCF has put together a list of 8 of our favourite models. At BCF, we like to think that we can provide you with the best icebox in Australia — whatever that might be for your own specific needs.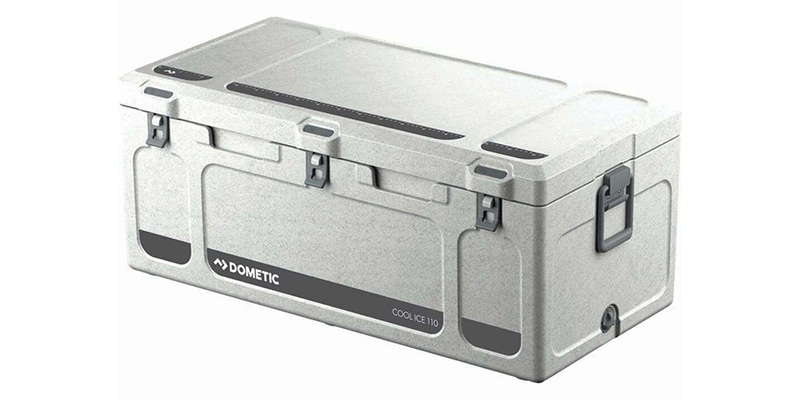 1. Dometic Cool Ice CI110 Icebox 111L
Made using thick, refrigeration-grade foam insulation and featuring a unique labyrinth seal design, the Dometic 111L Cool-Ice Icebox is one of the best camping cooler models on the market. Able to keep ice frozen up for up to ten days, it also includes dropdown handles, as well as easy lock and seal latches. It even features tie-down points to keep it secure on the back of a truck, so there's no need to worry about it rolling about if you're using your ute. If you need a camping icebox in a place where you know you're going to be without power for a number of days, The Dometic Cool Ice is also available in a number of other sizes, starting from 13L. A large range of icebox accessories is available for the Dometic range including dividers, baskets, cup and fishing rod holders, bottle openers.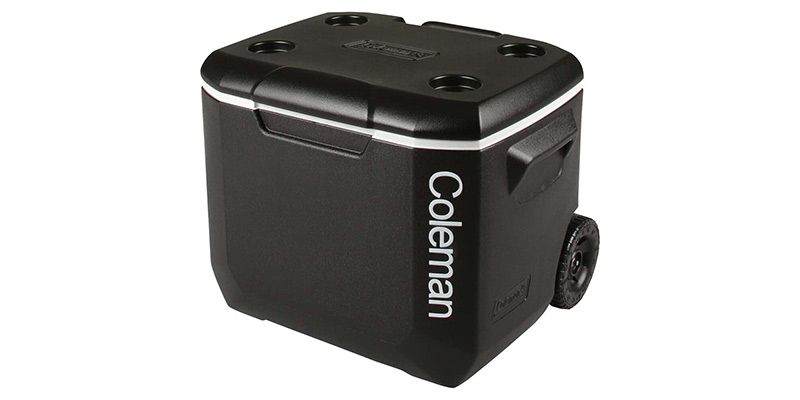 2. Coleman 57L Vertical Cooler
The ideal size for the beach, picnics, sporting events or backyard BBQs, the Coleman 57L Vertical Cooler features heavy-duty wheels and a long telescopic handle. It's ideal for almost any terrain, while the strong, moulded handles ensure the cooler is easy to move around — from the car to the party, and back again. The Have-A-Seat lid also means you'll never be without a place to sit, and also includes cup holders. The Coleman Wheeled Vertical Cooler is also easily cleaned, thanks to its EZ-Clean technology and leak-resistant drain, which allows any remaining water from the melted ice to easily be removed.
3. Wanderer Soft Cooler
An ideal cooler for keeping your drinks frosty and your food fresh at your next family picnic, overnight camping trip or family BBQ, the Wanderer Soft Cooler is available in a range of sizes to suit your specific needs. Fit 9, 16 or 30 cans depending on your choice of size, while being assured that the alfoil interior and PE foam lining will seal in its chill. The durable ripstop fabric exterior will also be able to stand up to tough camping conditions without compromising the interior contents.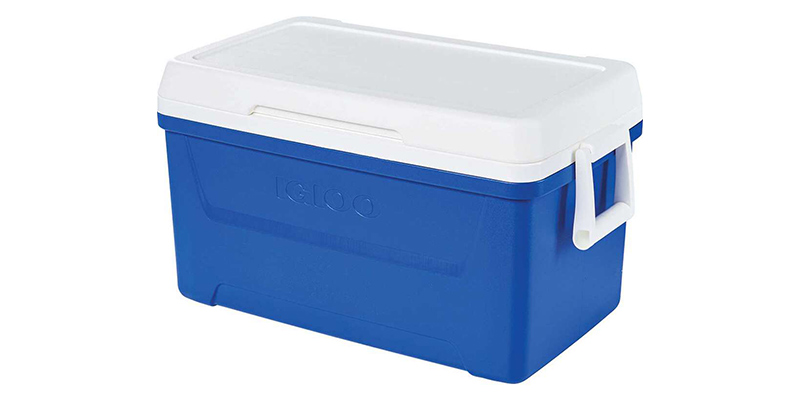 4. Igloo Laguna 45L Chest Cooler
If you're after an Australian cool box that's designed to stand up to the tough heat around the country, an Igloo icebox cooler may be right for you. The Igloo 45L Chest Cooler has proven to be a particularly popular model, marking itself out as one of the best coolers in Australia. Ideal for a stint at the beach, an afternoon BBQ or even to use as a camping icebox, this model features Cool Riser Technology, which prevents heat from the ground, back of the ute or the boat deck from being transferred to the cooler while allowing air to flow underneath. Additionally, the interior Ultratherm® insulation allows for extended ice retention, helping keep your supplies cool for longer.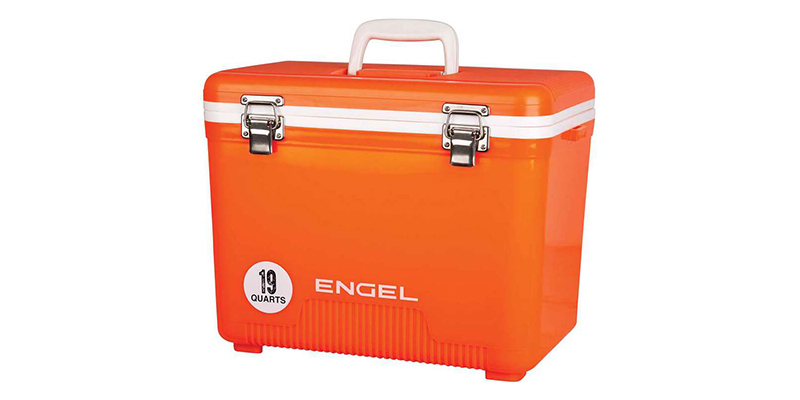 5. Engel 18L Cooler Drybox
When it comes to great portable cooling solutions at BCF, the Engel 18L Cooler Drybox currently sits at the top of the heap — so an investment in the lightweight and airtight cooler box means that you'll be ready for anything, equipped with one of the most versatile models on the market. Equipped with an airtight gasket for better cooling and watertight storage, you'll be able to keep your fresh food fresh or important equipment dry while also looking stylish, as the Engel 18L Cooler Drybox is available in three colours — green, orange and pink.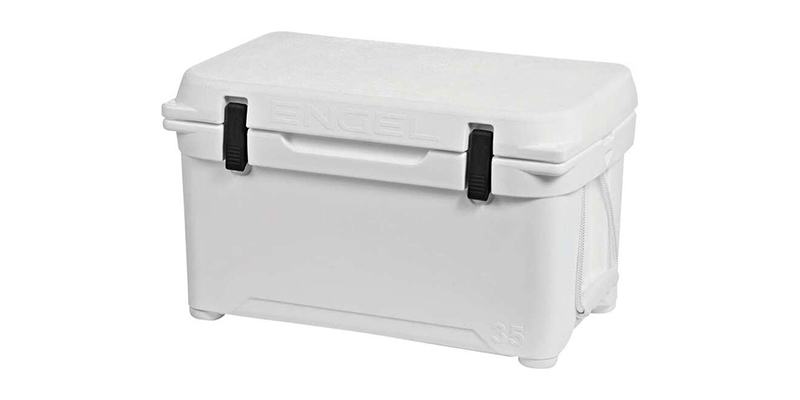 6. Engel Rotomoulded Icebox 35L
An intensely durable ice cooler box, the Engel Rotomoulded Icebox 35L features an airtight silicone seal and 50mm of insulation in its lid, walls, sides and base in order to secure ice retention for up to ten days. Though practical for day-to-day use at a family gathering or BBQ, the Engel really comes into its own when being tested against the rigours of the wilderness. Camping and fishing are two ideal settings where the Engel Rotomoulded Icebox thrives; available in a variety of colours and also features dividers that can double as cutting boards and baskets, it's easy to see why it's become a firm favourite among outdoor enthusiasts.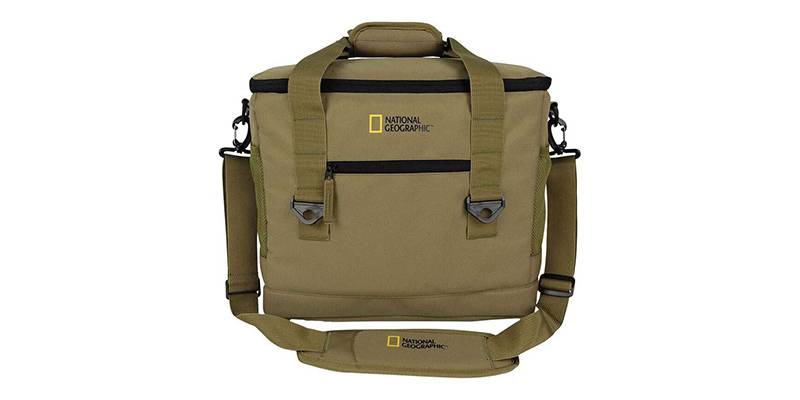 7. National Geographic 30 Can Recycled PET Soft Cooler
Manufactured from recycled PET bottles, the National Geographic 30 Can Soft Cooler is the best cool box for anyone looking to make short-term outdoors trips. Ideal for a day out camping, visiting friends or going for a hike, the inner fabric also features PEVA lining with foam to provide better insulation, helping keep your food and drinks cooler for longer. It can also fit up to 30 375ml cans, so you'll never need to worry about running out of drinks either.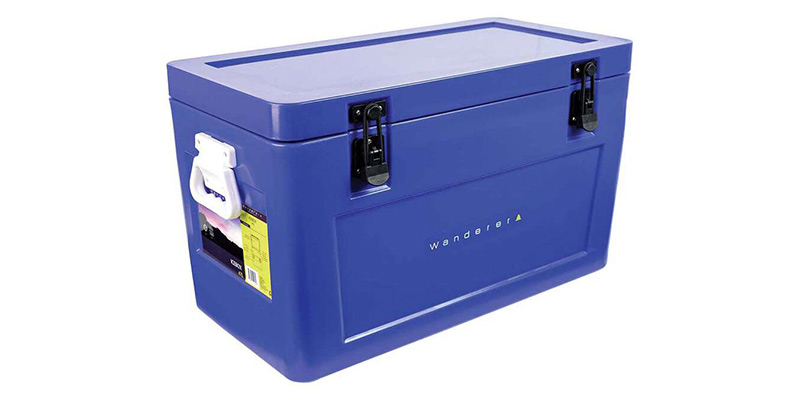 8. Wanderer Poly Icebox 47L
High-density, durable foam insulation will keep your food and drinks cool inside the Wanderer Poly 47 Litre Icebox. Side handles make it easy to move around as necessary, and it's useful as a camping icebox for shorter trips. The drainage bung provides an easy way to drain the icebox at the end of your trip. If you're after an icebox in Australia that's straightforward, no-fuss and will keep your drinks nice and frosty, it's hard to look past the Wanderer Poly Icebox. Also available in the popular 25-litre size that has proven ideal for picnics, parties and days at the beach.
Iceboxes & Coolers Full Range
As well as the icebox in Australia featured here, BCF also stocks a wide range of other iceboxes — many of which have been given an icebox review by satisfied customers — so you'll easily be able to make an icebox comparison to find the best icebox model for you. Additionally, BCF sells a wide range of other outdoor, camping and fishing supplies, including headlamps, tents, fishing rods and much more. So, when you pick up the best icebox in Australia at BCF, you know we've also got the other supplies you need for a great day out or trip away.
Stop by one of our locations today; we've got stores in and around every capital city so you'll easily be able to find a portable cooling solution in Australia. Our in-store staff will also be able to introduce you to Club BCF, the ideal membership for anyone who loves outdoor activities. They'll also be able to keep you filled in on any specials or sales taking place.