Additional Information
Description
If you're after a good quality, easy to use, reliable and portable BBQ, then the Weber Baby Q (Q1000) LP BBQ is just what you're looking for. Weber has a great reputation for reliability and ease of use, and the Baby Q is no exception. It has a sleek new design that looks fantastic, with a single spark igniter for your convenience, a stainless steel burner and a cast alloy lid and bowl. It's compact, portable and great for camping trips.
It comes with a drizzle collector to keep your meals healthy and has a thicker porcelain coating to make it easier to clean. It's sure to become your 'go to' cooking appliance for anything from fish and vegetables to lamb chops and steaks.
So what are you waiting for? Start entertaining your friends and family because the best meals are cooked under the open sky.
Bulky Item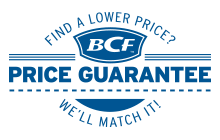 'Righto, here's how it works...Find a better price on any immediately available, identical product from another retailer operating in Australia. We'll be happy to match it. No dramas!

Simply show the lower price, including any freight or other charges, to our BCF Experts in-store and we'll price match it.
That's our promise to you!'
Features
Compact, portable and great as a camping BBQ
Stainless steel Q Burner with powerful 8,500 BTU output/hour
Heavy duty single spark piezo igniter
Durable cast aluminium lid and body
Rust-resistant cast iron split cooking grills
Easy to read infinite control burner control knob
Cool to touch thermoset lid handle
Removable drip tray
Weber 5 year limited warranty as a mark of quality
Tech Spec
WEBER Q RANGE
MODEL
WEBER BABY Q (Q1000AU)
WEBER Q (Q2000AU)
WEBER FAMILY Q (Q3100AU)
OUTPUT
9 megajoule (8,500 BTU) p/h output
12.7 megajoule (12,000 BTU) p/h output
22.9 megajoule (21,700 BTU) p/h output
GAS
Available in LP Gas
Available in LP (Natural Gas by special order)
Available in LP (Natural Gas by special order)
PATIO CART
N/A
N/A
Included
REMOVABLE DRIP TRAY
Included
Included
Included
IGNITION
Heavy duty push button piezo igniter
Heavy duty push button piezo igniter
Heavy duty push button piezo igniter
CONSTRUCTION
Durable cast aluminium lid and body
Durable cast aluminium lid and body
Durable cast aluminium lid and body
HEIGHT
60cm (lid open), 35cm (lid closed)
64 cm (lid open), 37cm (lid closed)
141cm (lid open), 109cm (lid closed)
WIDTH
69cm
80cm (side tables in), 131cm (side tables out)
93cm (side tables in), 140cm (side tables out)
DEPTH
52cm (lid open)
62cm (lid open)
74cm (lid open)
COOKING AREA
1200 cm2 (43 cm x 32 cm) approx.
1800 cm2 (54 cm x 39 cm) approx.
2400 cm2 (63 cm x 45 cm) approx.
COOKING HEIGHT
13cm approx.
14cm approx.
18cm approx
GRILL WEIGHT
4.75 kg approx.
7kg approx.
BODY WEIGHT
6kg approx.
9kg approx.
TOTAL WEIGHT
10.75kg approx.
16kg approx.
34kg approx.
WARRANTY
Weber 5 year limited warranty
Weber 5 year limited warranty
Weber 5 year limited warranty